With thanks to John F Robins.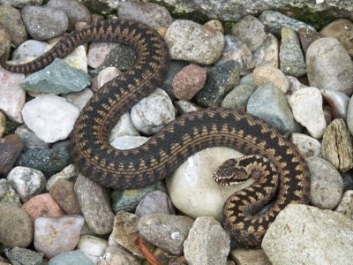 Aberdeen City Council have been warned that Council employees and volunteers could be bitten by adders during a tree planting day planned for the end of this month.
If they avoid being bitten by snakes the planters could still end up being prosecuted if nesting birds are disturbed during the event on April 28th, right in the middle of the nesting season.
John Robins of Animal Concern Advice Line (ACAL) states:
"I could not believe it when I learned that the tree planting was being organised for the time of year when both snakes and nesting birds are most likely to be active on Tullos Hill. The Council is supposed to be creating a wildlife woodland yet they are destroying an existing excellent wildlife habitat, killing deer – and now risk disturbing protected birds and reptiles at the most sensitive time of year.
"I've alerted the Grampian Police Wildlife Crime Officer, RSPB, SSPCA and some reptile conservation groups to the situation. I've also contacted The Woodland Trust who are involved in the project and should know better than plant trees at this time. I urge Aberdonians who want to protect wildlife to boycott this tree planting session."
ACAL has opposed the Aberdeen Tree for Every Citizen project for over a year since it emerged that roe deer were to be culled to avoid the expense of installing deer fences and tree guards. It has since been suggested that due to its poor soil and exposed situation Tullos Hill is not a suitable place to plant trees.
John Robins again:
 "The more I learn about this the more I am convinced that Aberdeen City Council have no idea what they are doing. I wouldn't employ them to manage a window box, far less a woodland project on this scale. You can probably spot the ACC delegate at a COSLA meeting. Just look for the person wearing a Jesters hat or a dunce's cap."