Local organisations are backing calls from NESTRANS, the statutory regional transport partnership for North East Scotland, to urge the European Union to exert powers to protect the current slots enjoyed by Aberdeen at London's Heathrow Airport, particularly in light of the proposed development of High Speed Rail to Edinburgh and Glasgow. With thanks to Dave Macdermid.
Rita Stephen, ACSEF Development Manager stated: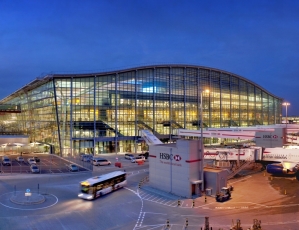 "The North-east of Scotland is a truly global economy, largely due to the oil and gas industry, which accounts for around £7.2 billion of economic output from this region.
Our export success relies on the ability of our companies to reach their markets easily and efficiently. In most cases this is through a hub airport and Heathrow is a vital hub for many of the oil and gas provinces around the world."
"This is underlined by the fact that Aberdeen Airport has an exceptionally high percentage of business travellers – 56% compared to around 30% for Edinburgh and Glasgow.
"The economic consequences for both Aberdeen City and Shire and the UK as whole of losing Heathrow as a hub would be disastrous, particularly at a time when the Government is relying on export activity to help drive the country out of recession.
"Air travel reduces peripherality and while efforts are rightly being made to switch to more sustainable modes of transport, locations such as Aberdeen and Inverness, must continue to have reliable and regular access to an airport hub."
Ian Diamond, Principal and Vice Chancellor, University of Aberdeen:
"The University of Aberdeen is in the top one per cent of the world's Universities, As such it competes and collaborates in a global market. Frequent and easy access to Heathrow is a critical to enable our staff to collaborate with the world's best and to access the leading conferences; and for our students, many of whom come from around the world or from the south of England.
"Without these regular links to Heathrow and thence elsewhere in the world it would become increasingly difficult to recruit and to retain the best staff and students."
Executive Chairman at Romar International, George Yule:
"Romar is a local company expanding its business interests into more overseas markets, as are many other Aberdeen-based SME's, and it is important that effective links to international hub airports are retained in NE Scotland, otherwise our geographic positioning will become a real hurdle to doing business on an international scale.
"This area contributes significantly to the UK economy and there is more that companies such as Romar can do – but we need the connections to the likes of Heathrow for incoming visitors to our business, many of whom fly into Heathrow from overseas locations."

Duncan Fraser, Dons' Chief Executive:
"Given our location, we sometimes have to really 'sell' the idea of coming to Aberdeen from players outwith this country and any dilution of the air links between Aberdeen and Heathrow would seriously damage the attraction to players moving forward. Rob Milsom, who we signed from Fulham, is a case in point while the connectivity from London was a significant factor to the likes of Rory Fallon, whose family are in New Zealand."
In addition to collating the views of businesses and individuals, NESTRANS is currently looking for politicians to add their weight to the debate in advance of the UK Government's aviation consultation, from which the EU will consider options for future aviation policy.