2014 will be the 50th anniversary of the then-terrifying outbreak of typhoid in Aberdeen, once commemorated by the scallywags of Scotland the What, 'I can mind the typhoid epidemic at its worst, we never washed wir hands unless we did the lavvie first'. Duncan Harley muses on food hygiene then and now.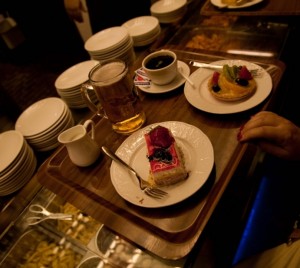 Sadly, three patients being treated in Aberdeen's City Hospital died, but it could have been much worse indeed had the authorities been slower to act.
There have been several such public health epidemics since 1964 but the 1996 Lanarkshire E. coli O157 food poisoning outbreak must rank as being among the most devastating, both in terms of deaths and of the failure of those charged with keeping our food supplies safe.
A total of twenty-one people died in the 1996 E. coli outbreak after eating contaminated meat supplied by a butcher's shop in Wishaw, Lanarkshire. In 1998, Sheriff Principal Graham Cox concluded after a two-month inquiry that the shopkeeper, John Barr, had been ignorant of food hygiene procedures and had also deceived food inspectors.
Sheriff Cox also severely criticised the Environmental Health service as acting too slowly in linking the outbreak to Mr Barr's shop.
Both the Aberdeen and Lanarkshire E. coli cases were, of course, public relations disasters for the businesses concerned. John Barr's shop was closed for three months but it did reopen at the end of February 1997 after remedial work had been carried out. However, the shop closed again in April 1998 when the building began to collapse because of old mine workings.
The source of the Aberdeen typhoid epidemic was a Granite City supermarket which unwittingly sold on contaminated supplies of corned beef imported from a cannery in Rosaria in the Argentine. The shop closed for good in the light of the episode and a good few folk breathed a sigh of relief.
Dr Ian MacQueen's use of the words 'leper colony' may have been particularly unfortunate
The economic effects on Wishaw are difficult to calculate. It was not a tourist Mecca nor was it endowed with copious volumes of North Sea oil. On the other hand, over a decade before the oil started coming ashore, Aberdeen suffered great economic hardship in the years following the 1964 epidemic.
Hotels and restaurants were perhaps the worst affected and the area Tourist Board's attempts to encourage folk back to the Granite City were not helped by the proclamation of the then Medical Officer of Health, Dr MacQueen, "we're not a leper colony!" His subsequent advice to Aberdonians and holidaymakers alike to avoid swimming or paddling in the sea led to a local paper headlining on 'Beach Bombshell' and pretty effectively killed off any short term prospect of the return of the lucrative 'Glasgow holiday trade' to the beach seafront area.
Dr Ian MacQueen's use of the words 'leper colony' may have been particularly unfortunate though. Perhaps lacking an in-house spin doctor, he may have imagined that the proclamation would have had a more positive effect. After all, the epidemic had more or less been contained and, from a health perspective, the battle was all but won.
The word leper however, then as now, is closely associated with grotesque suffering and disfiguration leading to the shunning of sufferers and their treatment as outcasts.
Leprosy is an infectious disease causing severe disfiguring skin sores and nerve damage in the arms and legs. The disease has been around since ancient times and is often associated with some quite terrifying negative stigmas. Outbreaks of leprosy have affected and panicked people on every continent.
The oldest civilisations of China, Egypt and India feared leprosy as an incurable, mutilating and contagious disease. According to recent World Health Organization estimates, around 180000 people worldwide are currently infected with leprosy.
Even today, over 200 people are diagnosed with leprosy in the US every year, mostly in California and Hawaii. There was even a recorded case in Eire a few years ago.
Leprosy died out in Scotland several hundred years ago although there are a few sites in Aberdeen associated closely with the disease. The Grampian Fire and Rescue Service headquarters, for example, was constructed on the site of an old Leper House just off Kings Crescent. Bede House in Old Aberdeen also has associations with leprosy and may be situated on the site of a lepers' hospital.
St Fitticks Church on Nigg Kirk Road reputedly features a leper's window although this is now in some dispute since the disease may well have died out in the area well before the small opening in the northern wall was formed.
St Fittick was of Scottish or Irish descent. He may have been a son of the Dalriadan King Eugene IV and might have been brought up on Iona. Equally, he may have been born into a noble Irish family. What is certain though, is that as a young man he lived in France.
Scottish tradition suggests he was sent by the Bishop of Meaux to deliver Christianity to the Picts in the North of Scotland. He was seemingly swept from his ship during a storm and washed ashore at Nigg Bay, where he refreshed himself from a well which took his name and caused the church to be built. Some accounts relate that he was thrown overboard by the crew of the ship who feared that he was unlucky.
The truth may never be known.
What is known is that St Fittick became the patron saint of gardeners, having performed a miracle in instantly clearing a large area of forest for cultivation.
He is also, seemingly, the patron saint of Parisian taxi drivers, which is hard to explain unless you are a Parisian taxi driver.
St Fittick's Day is usually celebrated on 30 August in the UK and a day later in Ireland.
As well as having a long and fascinating religious and social history, St Fittick's Church in Nigg is also where William Wallace, or at least the relic of the man which was sent to this corner of Scotland, is said to be buried.
But, back to the events of 1964.
We frequently hear complaints from restaurateurs and publicans about the strict food hygiene rules and the cost of training staff to adhere to the standards required by Environmental Health Inspectors.
It is most unlikely that food inspection or hygiene courses will cause either E. coli or leprosy, but they may prevent us getting sick. If Dr MacQueen had been more astute in the PR department in 1964, then perhaps Aberdeen would now be the tourist destination of choice for the cognoscenti of Europe instead of the Oil Capital of Europe.
Described by a colleague as 'a bulldog with the hide of a rhinoceros' Dr MacQueen's strategy of innovative traditionalism has been seen by some as an attempt to protect and extend his department's services. He was deemed to have made excessive use of the media and to have turned the outbreak into an event approaching a national crisis.
Compared to the human cost of the Lanarkshire E. coli outbreak, Aberdeen's typhoid epidemic pales into insignificance, except that we all remember it.
The legacy of Dr MacQueen lives on, even after fifty years.
Comments enabled – see comments box below. Note, all comments will be moderated.