Last week we brought you the first installment of a six part tragedy by Jonathan Russell concerning the decimation of services for disabled people in Aberdeen and what we can do to reverse the destruction.  This week we look at the excellent things that existed – and have been snuffed out. By Jonathan Russell.
The Growth Of  Community – '

Aberdeen

Social Work  Team Praised For Good Practice'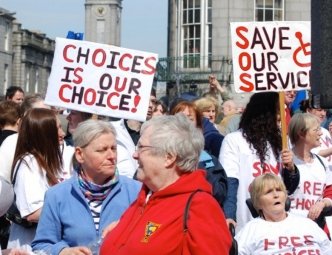 The Community Placement Team was set up to provide alternatives to day centre provision for people with learning and/or physical disabilities. The workings of the team were progressed through the development and operation of a business plan well ahead of such developments in other services.
The evolution of this plan involved staff, clients, council sections, and all relevant outside agencies. 

It set forward a vision with targets on a whole variety of areas including work opportunities, training, leisure, finance, fundraising, client involvement, promotion through the media and training of staff. There were also service developments requested by clients including a craft business, a cafe and horticultural opportunities.

A voluntary organization 'Access to Training and Employment' was set up by our clients to help progress these client-led resources. The response from management at the time in Social Work was that the objectives in the plan were unrealistic and would not happen.

In reality over a ten year period we achieved all our objectives and went on to improve and expand further opportunities for people with disabilities. Staff and clients were empowered to take on responsibility within clearly structured areas of responsibility. Each member of staff was given responsibility for particular areas of work. At the height of our work we were providing services for 480 clients.

Achievements included:-
Receiving the highest possible quality assurance marks for our Department of Work and Pensions scheme, supporting people with disabilities into real, fully-paid jobs.

Rapid increase in permitted work and voluntary placements. Work involved seeking out work placements and then supporting and reviewing the placements. People in the main were however supported by employers and their staff at no cost to the council. To resource this expansion as well as the hard and creative work of staff and supporting employers, we received funding for three European funded projects and one from the Scottish Executive, particularly aimed at young people.  A joint project was set up with Cornerstone Community Care which allowed this agency to get further European funding as well as funding from the private sector, which could not be applied for by a local authority. The Cornerstone Employment team was managed by a worker from the Community Placement Team which had an outstanding track record of finding work placements

We had an excellent partnership with Aberdeen College who provided pre-employment training courses.  The College was receptive to providing new courses dependent on need. The courses had no cost to Aberdeen City Council except referral and review work. The College also provided lecturers for Community Outreach classes in community settings
Services set up and developed included:-
 

Crafty Things

– making wooden, textile and art goods this grew and grew and was awarded the first Scot Rail award for Social Enterprise

Choices Therapeutic Gardening

  – a special garden was set up for the physically disabled; allotments were run, and we helped with the
setting up of the Manor Park Garden. Choices Therapeutic Gardening was awarded the Grampian Television Overall Adult Learners Award

'Inclusion for All,

– a project aimed at including people with disabilities in Community Centres. As well as integrating individuals into the wider activities of Centres, we also became involved in coordinating 12 Aberdeen College Community Outreach classes from computing to job clubs

Café Cairncry

– a café run by young people with disabilities for a group of Senior Citizens in the local community

ADAPT

– a project aimed at providing training in disability awareness for employers

Va –va -vroom

– a highly successful drama group run with the Lemon Tree and putting on a whole
host of successful stage productions
Access to Training and Employment, along with the Community Placement Team, were also involved in organizing two major conferences.  Out of the first conference a business breakfast was organized with the Aberdeen Chamber of Commerce and Scottish Enterprise.
All of these exercises aimed at promoting employment for people with disabilities in Aberdeen. They were well supported by politicians and local representatives of business. As was so often the case, Social Work Management at the time showed no interest and would not get involved.
Leisure and Social activity groups were set up for people with physical and learning disabilities including:
Two leisure groups where people progressed from one group to another depending on ability, and were given the opportunity to try out a number of activities. Those involved were actively involved in putting together new programmes. Wherever these groups went they were welcomed by the organizations who owned the facilities.

An Independent leisure group run by clients but with back-up support from the team

An evening social group

Two bowling groups

A swimming group
All of these groups were well attended  and operated on a philosophy of fostering independence and progression. Groups were developed based on the demand of clients. The team made good use of volunteers and worked with other agencies where appropriate in operating these services making the services of good value.
The Community Placement Team also worked closely with Adult learning which (until re-organized into three Neighbourhoods and then was dramatically cut), ran group learning and provided individual tuition.   We also worked closely with the Workers Educational Association Reach Out project which ran more informal educational groups ideal for those who found it a challenge to fit into more conventional educational situations and Inspires Local Area Co-ordination which worked primarily in Northfield and the Bridge of Don.
The team identified a gap in services for those with disabilities moving from children's to adult services. This concern was ignored by social work management until the report by the Social Work Inspectorate in 2008 which raised major concerns.   The Council's Education Department did employ a consultant, but after a number of (costly) meetings as sadly so often the case, nothing ever materialised — wasting even more valuable, scarce resources and time.
We worked closely with Schools, Skills Development Scotland and Aberdeen College to try and progress the situation for young people in transition. We managed to get some funding via Scottish Enterprise, European funding and from trusts, and developed a structure with Skills
Development Scotland so that duplication of responsibilities for individuals between the agencies involved did not take place. Hazlewood School organised a conference 'Moving On' with which a whole variety of agencies were involved: yet again management at the time in Social Work and Wellbeing showed no interest.
Crucially there was no financial analysis in the Aberdeen Strategy of what money was available
On top of this the team also provided a considerable Social Work and Care management role.  This included supporting clients and their career, helping with housing and welfare rights, finding, supporting and reviewing paid for placements with Social Businesses; and attending a whole array of multi-disciplinary meetings.
Like all working situations the Community Placement Team faced its challenges.  It did however have high morale and staff were supported by weekly team meetings, regular supervision and yearly appraisals. Appraisals and informal supervision were also given to part-time staff employed through Access to Training and Employment and Aberdeen College.
All client services were reviewed and this included active involvement of clients with this process. We also worked closely with carer's and parents and tried to create an ethos that was one of where all concerned parties were working together as part of a team.
The Scottish Executive had an excellent strategy called the 'Same as You,' which is presently being reviewed throughout Scotland whose aim was to include people with disabilities in the wider community. The Community Placement Team were involved in developing this agenda, there was, however, a distinct lack of support from management at the time.
As the Social Work Inspection pointed out management failed even to mention the 'Same as You' strategy in Aberdeen Councils own Learning Disability strategy.
Crucially there was no financial analysis in the Aberdeen Strategy of what money was available, nor how they could best provide services within financial restrictions. Management was out of touch with the developments that were taking place in other council areas across Scotland and were in effect burying their heads in the sand.
The Community Placement Team was well supported by outside agencies, the major challenge that the team faced however was the lack of support and involvement from middle and higher management within Aberdeen City Council.
Considerable effort was put into trying to improve our relationship with management but to little avail.
So what happened next?  Read all about this over the forthcoming three weeks of Aberdeen Voice in a tragedy in three acts called A COMEDY OF ERRORS MEETS MACBETH