Aberdeen Voice presents the fifth installment of a six-part tragedy by Jonathan Russell describing the shocking process of service closure for disabled people in Aberdeen – and asks what we can do to reverse the destruction.
A Comedy of Errors Meets MacBeth: Act III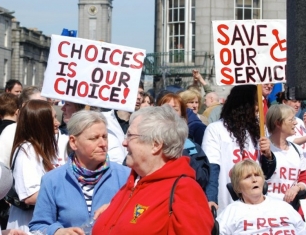 The next stage of the Community Placement Team fiasco was in November 2009 when we learnt firstly that as a team we were going to be stopped supporting staff at Glencraft ( just when Glencraft was in crises and potentially closing down ) and then the news came, not from our management but by someone leaving the information in a photocopier, that the whole team was to be closed.
This led to an outburst of public concern. Parents e-mailed councillors and officials, a highly successful public meeting took place which, despite high snow falls, was so well attended that not everyone could get in to the venue at the Belmont cinema. Council officials refused to attend.
The Director of Social Work put out an e-mail to Councillors telling them not to attend the meeting. This was a total affront to democracy and is an example of how the administration councilors have often lost control of our council. 
At the public meeting which was highly supportive of the need to keep the Team operating there was an apology for attendance from the SNP Convener of the Social Work Committee who was on holiday but only Labour Councillors actually attended the meeting. Concerns were raised in the media and STV news ran several news items, one being shown on the national news. 
Despite this public protest the council administration backed the recommendation to council by the officials. 
The Councillors had been told again that employment services would be re-provisioned but no services to date have been established though some clients have been supported by the Cornerstone Employment Team. This means that many people with disabilities have been left in employment with no back up support to employers or for themselves and the opportunity to run a modern cost effective service lost.
In 2009 there was a temporary consultant employed to be the lead officer in Social Work Services.
Once more scarce public money was being wasted
One of his colleagues also a consultant ran some excellent workshops, which were organized to run, following concerns from parents about the proposed closure of Learning Disability Day Centres.
Sadly parents of clients already receiving services in the community were not asked to be involved. A number of actions and targets were set. However following the workshops none of the actions were acted upon. The Head of Service at the time refused to meet with me concerning an action we were expected to work on together in relation to employing more people with disabilities in the council. Once more scarce public money was being wasted.
What did happen however was that one of the Team Managers, who did have considerable interest and commitment in the disability field, was given the responsibility and unrealistic targets of putting together a number of proposals for future day services.
Along with a number of agencies I had been working on a proposal called Aberdeen Inclusive Horticulture our aim had been to bring in lottery funding to support the horticultural projects we had been running and extend this to an allotment in Garthdee.
My team at that point thought the world had gone mad and, of course, it had
This proposal was then taken over by management in the council and rather than looking into getting extra funding, the emphasis went onto paying a consultant to carry out a feasibility study. Of course nothing  materialised out of this exercise and yet more public money was wasted.
With other agencies, I was also looking into funding opportunities to finance a pilot with the hospitality industry. Again this was taken over and lots of agencies were invited to meetings with the aim of them taking on the employment work that had been carried out by the Community Placement Team.
Again, nothing came out of these meetings other than more time and money wasted.
Even more bizarrely,  in 2008 due to new criteria that were introduced, we had  to cut all our leisure services. Yet suddenly in 2010 there was a Principal Planner getting involved in  organizing taster leisure events. This was crazy on two levels, firstly that while cutting low paid staff who had been running leisure groups, we now had a Principal Planner on a high salary organising such activities surely not part of their job remit, and doing work that should not have been happening if the eligibility criteria was being followed.
There was also failure to understand that it took time and at least a period of support for people with people with learning disabilities until they were able to attend events independently and those with a more profound disability need continued support. My team at that point thought the world had gone mad and, of course, it had.
There was also a proposal to develop the Skyline Café which was to be above the Bon Accord Centre. This was often heralded as the solution that would handle all the needs of people with learning disabilities. With a café and lots of activities it was also meant to have taken over Inclusion for All – coordinating classes in community centres.
In the end, The Skyline failed to materialise.
More recently Inspire funded by the council and put together by their excellent Development Manager and other staff has opened up what is called a Hub in Aberdeen market which is a very similar project. This project needs to be supported and hopefully it can lead to more opportunities for people with disabilities in the city. 
In reality however they filled the Seniors post which of course cost more money
Access to Training and Employment did carry on with 'Inclusion for All' until December 2010 but did this on a voluntary basis as a half promised payment was never received from Aberdeen City Council.  
Inclusion for All has never been picked up and, with the present proposals to cut Community Learning and cuts at Aberdeen College, will have less opportunity to do so in the future.
One very positive development is that three staff who had been employed in the day centres one of which Burnside has been closed have formed themselves into a voluntary organisation Create and have been providing good creative services this has included taking on the Va-va-voom theatre group. Individuals attending pay for their attendance and money has been raised from trusts etc.
The question has to be raised however as to whether such developments will be sustainable in the long term given that individuals have to make their own payment to attend and their savings could eventually run dry.
As part of the cuts there was going to be savings made by the Senior of the Learning Disability Team taking early retirement.  In reality however they filled the Seniors post which of course cost more money and was not a saving as said to the Social Work and Wellbeing Committee, but an extra cost to the Council.
In fieldwork, we had moved from two seniors with twenty one staff to two seniors and eleven staff.
Also as part of the cuts that were passed by Aberdeen City Council in 2009, four strategy posts were to go. To my knowledge all these posts are still in place.
The whole process has been strategically and managerially floored and has led to a significant loss of services that were being provided at best value, and instead money was wasted on consultants, extra management and strategist's time.
In the final installment, Jonathan Russell concludes this six part tragedy and examines whether

 there is a way forward for services for people with Disabilities in Aberdeen?

 Read his conclusions in Aberdeen Voice next week.