Forest Grove, which is believed to be the first short break carers' support centre in Scotland, was officially opened by Lord Provost George Adam on Wednesday morning.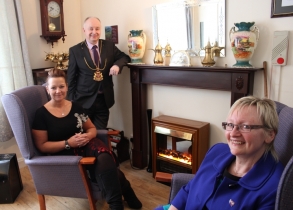 With thanks to
Claire McBain.
Social care charity VSA's Forest Grove facility will offer people living with dementia and other debilitating conditions, the opportunity to spend a morning or afternoon in the care of professionally trained staff and volunteers while their carers take a well-earned break.
Forest Grove is a partnership with the Change Fund, which is overseen by Aberdeen City Council, NHS Grampian and VSA and will provide company, conversation, tea, coffee and snacks.
Activities will be geared to the needs of those attending and individual programmes will be developed in accordance with service users' abilities and wishes. A carers' support and development worker will provide information, support and advice to carers.
Referrals to Forest Grove can be made via health or social work professionals as well as carers.