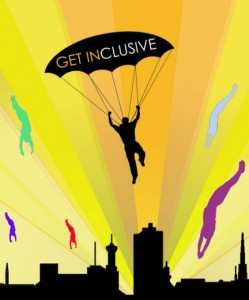 With thanks to Maree Adams.
The Aberdeen Arts Coalition are hosting Aberdeen's first ever inclusive arts festival on the 20th and 21st September 2013.
The Arts Coalition are a partnership of arts and disability organisations who are working together to promote opportunities for adults with learning disabilities to realise their hopes and dreams, and to flourish within the arts. The Festival will showcase a wide range of talented acts, featuring people with and without disabilities.
Acts at the two-day Cowdray Hall festival will include Leanne Smith, Tonik, Mixit, SCAT and 5th Avenue – an eclectic mix of North-east culture , including disco, pop, jazz, blues, and Scottish traditional and new music.
The festival will also showcase comedy from John Scott, along with art, film and photography exhibitions from established local artists. Satellite events will be staged in various venues in the city, including Gerry Jablonski and the Electric Band at the Lemon Tree, Dan Leckie at the Atheneum, and live comedy, art, dance and drumming workshops.
GET INclusive has been organised by the Aberdeen Arts Coalition with Aberdeen City Council, and is supported by many local and national artists and bands including world-renowned percussionist Dame Evelyn Glennie.
Dame Evelyn Glennie said:
"GET INclusive aims to increase awareness and to see beyond the disability. Projects like this have had an enormous impact on the lives of people who need to be included and given purpose"