Techfest rolled into town last week; one of its attractions was a free session of whale and dolphin watching from Torry Battery.  Ian Hay of East Grampian Coastal Partnership led the event. By Suzanne Kelly.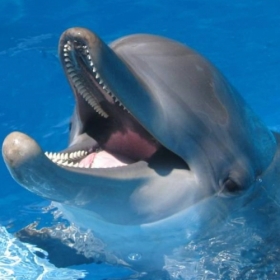 Torry Battery – Saturday morning 10 September: it was a bit windy, rainy and overcast – so it was almost perfect. Well, perfect for whale and dolphin watching anyway. Expert and marine mammal enthusiast Ian Hay of the East Grampian Coastal Partnership met a group which had gathered this morning as part of Aberdeen's Techfest. And the marine life did not disappoint.
There was a small pod of dolphins – but these decided to head north along the coast just as the talk was due to start.
Those who got there early saw an impressive display, and were able to make the dolphins out as they headed away from the harbour. Ian then delivered an amazing talk; everyone present took away new information however young or old they were.
As the dolphins headed away, Ian turned his attention to the rich, varied bird life.  He pointed out the cormorants and eider ducks on a harbour jetty.  He reminded us that bird watchers from all over the world come to our City and shire for the wealth of species that are found here. Some species are protected; but he mentioned that the eider ducks (from which eider down comes) were protected since the time of St Cuthbert in the 8th Century.
Some birds travel here in the winter from the north (soon the great geese flocks will appear); some come up in the spring from the south. The lighthouse in Torry is as useful to birds as it is to ships – it serves as a beacon and aids seabirds to find land. Aberdeen also has a famous Sycamore tree loved by bird watchers – any number of rare species can make their way here.
Ian then returned to his specialist subject, our marine mammals. He rightly called this harbour:
"The best place in Europe for watching whales and dolphins."
Ian said there are locally five predominant types of mammals:  Bottlenose Dolphins, Harbour Porpoises, White-beaked Dolphins, Risso's Dolphins and Minke Whale.
The Bottlenose are the animals most commonly seen here; they travel in pods of upto 30 or 40; and are a coastal animal. The Harbour Porpoises are the most common species in the area – but 'they don't do very much'.  The White-Beaked Dolphins are very special to the area, and the Risso's dolphins are identified by their large heads.
This species eat squid – and usually pick up a few scars in the process of catching them. The scars turn the Dolphin's skin white, so if you see a white one, it's going to be an older one.  This species is a bit more solitary than some of the other mammals which travel together in larger numbers.
If a Minke (or other) whale is around, a clue will be a large number of seabirds together at sea.
Their presence means a whale has found a shoal of fish and is rounding them up. Gannets, gulls and puffins will be seen picking fish up from the surface. Suddenly the birds will scatter as the giant whale's mouth emerges to catch the fish.
Ian told us the unfortunate (if not heart-breaking) story of some humpback whales that appeared here each winter. There were a mother and her calf, and a male.  They made an impressive sight, however it is thought that the mother and calf were found on an Angus beach having become tangled in fishing nets.
Being mammals, they could not surface; they could not free themselves – and they died. Thankfully in general terms the population of the Humpback and other whales is returning. (Feel free to write to the Norwegian, Icelandic and Japanese Embassies and protest at their pro-whaling stance in the meantime).
Fisherman or not, we can all act responsibly to encourage and protect our marine life. 
For openers, don't throw your plastic trash out near the shore, and don't flush anything plastic down the toilet. You otherwise risk having your unwanted plastic junk (like cotton buds) ending up eaten by sea creatures that will probably die.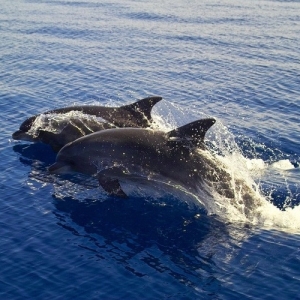 If you have slightly greater ambitions than not littering the sea with plastic goods, then by all means come to Torry Battery and look for marine life. Nine times out of ten, you'll find something to see.
As our talk came to an end, the dolphins reappeared almost on cue. Many people had been surprised to know whales could be spotted, and many people planned to head back to Torry soon. I had been asking a family (originally from New York) for some comments on the morning's activity.
The re-appearance of the dolphins left Iona and her brother little left to say except 'did you see that one?' 'Amazing!' and 'Look there they are again!'
Things to do further afield
Visit Fowlesheugh RSPB site, south of Stonehaven. The quantity of birdlife (c. April to July) is astonishing.

Go watch the incoming, dramatic goose migration at Strathbeg

Join a beach litter clean-up. There is an upcoming event tomorrow – Don Mouth at 10am – and one in early December. Further information from Techfest offices –

http://www.techfestsetpoint.org.uk/tis/

Consider joining a Norcet as 'Citizen Scientist' marine life observer – get a free trip to the Shetland Islands and help watch sea life at the same time – details on this opportunity and a host of other marine life issues and events from

http://www.egcp.org.uk/

Are you a jet skier? Then please stay away from the dolphins! It's the law: the dolphins cannot hear you until it's too late, and they can't get out of your way quickly. Thanks.