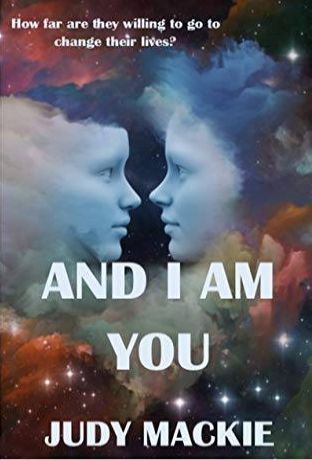 Duncan Harley reviews 'And I Am You' – the new novel by Judy Mackie.
Layla is a splendidly timeless song penned by Eric Clapton and co-songwriter Jim Gordon of Derek and the Dominos fame.
Inspired by an Arabian love story – Layla and Majnun – Clapton's song made 27 in Rolling Stone's list of the 500 greatest songs of all time and won a Grammy in 1993.
Clapton was of course in love with Patti Boyd – the wife of his friend George Harrison.
Clapton and Boyd would eventually marry for a few years and Layla – the song not the lady – would become ranked amongst the greatest rock songs of all time.
They all remained friends. In fact, Harrison attended the Clapton and Boyd wedding and gave his blessing to the unlikely pair.
Lyrics include the immortal lines:
'Let's make the best of the situation
Before I finally go insane.'
And now, some decades after the release of Clapton's Layla, North-east author Judy Mackie, inspired perhaps by the lyrics, has penned a novel deeply rooted in those far-off but timeless events.
In this exquisitely penned Gothic tale a lonely lady, recently abandoned by a long-time lover, examines her life and finds herself in another person's body.
Judy is of course well known for her stewardship and editing of Leopard Magazine and her love for all things North-east comes through strongly in this, her dark debut novel. And I Am You is set variously along the North Sea coastline with locations as diverse as Cruden Bay, the massive blowhole of the Bullers of Buchan and the tarry-sheds of Fittie.
Betrayed and abandoned by her husband and with a career in the doldrums thirty-eight-year-old academic Layla Sutherland longs to escape her shattered existence while half a world away, Australian journalist Stevie Nightingale is desperate to shed her identity.
A ground-breaking procedure developed by an Edinburgh neurosurgeon, Professor Blunstone, offers both Layla and Stevie salvation in the form of not just an identity swap, but a full-blown body swap.
The eccentric professor has discovered a previously unknown portion of the brain which, when transplanted, offers the subject the possibility of switching bodies whilst retaining consciousness within the new host.
His discovery of the 'Me Gland' throws up both moral and ethical dilemmas but, in the true traditions of eccentric scientist tales, nothing can halt the pursuit of knowledge and once the taboo of using humans for experimental purposes is broken, there is ultimately no easy way back from the unspeakable brink.
"He's not mad and he's not evil," says Judy,
"he thinks he's furthering human knowledge."
And I Am You, aside from being set in Bram Stoker territory, has all the elements of a contemporary Gothic thriller. A vast baronial mansion occupied by an obsessed researcher hides a secret hospital wing within sound of the Buchan coastline while two damsels in distress agree to help him crack the age-old secret of the seat of consciousness.
What could possibly go wrong and what might be the ultimate cost of tampering with our sense of self?
As medical ethics go out the window, Layla finds herself inhabiting Stevie's body while retaining her own identity. Likewise, Stevie inhabits Layla's body. At first all seems smooth and, alongside a practical exploration of the reality of the situation, elements of conflict creep in.
Layla for example meets up with errant spouse Calum, but in the body of the blonde-haired Stevie. Things, to say the least, become complicated.
Will Buller the dog sort out who is who? What will the subjects experience when, or perhaps if, the body-swap is reversed? Who, or what, is the mysterious stalker?
Blunstone makes clear early on that:
"Quite clearly, body swapping is not for everyone. But for those of a certain mindset the opportunity to occupy someone else's body is surely the most profound experience a human being could have."
As I raced towards the final pages of Judy's novel, I began to wonder if the eccentric professor's premise that body swapping is not for everyone might be slightly off the mark. After all, who amongst us hasn't imagined what it might be like to be in someone else's shoes?
And I Am You – by Judy Mackie (289pp) is available for download from Amazon Kindle at £4.99