A book launch with a twist is set to be hosted by local Dark Fantasy author, Carmilla Voiez.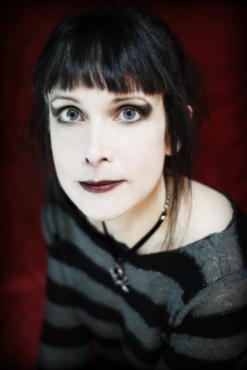 In celebration of the release of
Psychonaut,
the second book in Carmilla's
Starblood
Series, a special evening for fans will be held on Friday 8th February, at Cellar 35, Rosemount Viaduct, Aberdeen, from 8.30p.m. to 1.00a.m.
This event will allow readers to meet the author, hear readings from both of her novels and taking part in a question and answer session.
Entertainment specifically detailed around the worlds of Starblood and Psychonaut – including acts by spooky-magician extraordinaire Dean Spruce and an intriguing and beautiful burlesque performance by Magenta Lust – will also be provided throughout the evening which will end in party style with music by Aberdeen DJ, Jimsin.
A Goth for over 20 years, Carmilla sold her Gothic Clothing business last year since when she has been writing top selling books which are inspired by the Gothic subculture, magic and dark desires and explore sexual obsession and violence in often hard-hitting ways.
Carmilla finds inspiration in local beauty, stately homes, the Moray Firth and woodlands around the Scottish town where she has lived the past 10 years with Starblood, the first book in the series, being set partly in the beautiful Cairngorm mountains and partly in the city in South West England where she grew up.  She currently lives with her husband, daughters and numerous cats in Banff, where she is writing the final book in the series.
Carmilla's literary interests also extend to the Aberdeen Writers' Club which she co-founded in 2011 as a forum where local writers gather to discuss ideas and writing techniques.
Psychonaut has already been warmly received by fellow authors:
"Carmilla Voiez is more of a singer than a writer. She tells her compelling story in a hypnotic, distinctive voice that brings her eerie world vividly to life." — Graham Masterton
"Psychonaut is a book of mad impulses, inner vision, sadism, escape and belief.  You feel uncomfortable reading it, like Alex strapped to the chair in Clockwork Orange being taught to feel sick at atrocity.  Rather than leave us crippled by response though, Psychonaut bears you through the hurt towards the only paradise we can be assured of … a love past fault." — Jef Withonef, Houston Press
While there will be no dress code at the launch on 8th February, it will be full of amazing Gothic and Fantasy inspired costumes and will be set off by local jewellery and masquerade-wear businesses who will be on hand offering their unique designs.
Entrance this event is £3.00, which will be redeemable against the purchase price of one of Carmilla Voiez's critically acclaimed novels, published by Vamptasy worldwide.
Note:  This is strictly an over 18's event and proof of age will be required for admittance.
Comments enabled – see comments box below. Note, all comments will be moderated.