Glory In Gothenburg was launched at Pittodrie on Tuesday 23 October, in the company of Gothenburg legends Willie Miller and Doug Rougvie. David Innes of Voice had a few words with the author. Alan Jamieson took the pictures.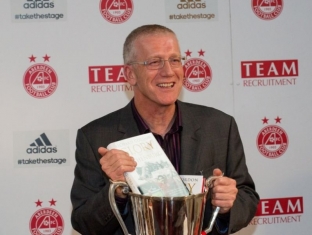 Richard Gordon has always worn his heart on his sleeve when it comes to football.
Always the reasonable and unflappable professional on air, he makes no excuses for being an Aberdeen fan and does not let that cloud his judgement, despite the barbed comments of several of his fellow broadcasters whose own claims of club allegiance do not always ring true.
So, who better to write the book commemorating the imminent 30th anniversary of the night that the Dons looked down on the rest of Europe as if the Broad Hill was loftier than the Matterhorn, than Richard Gordon?
Gordon told Voice,
"I love the fact that we can look back now and say that we won a European trophy, and we beat Real Madrid. That's much better than saying we beat Waterschei or Austria Vienna. That was as good a 120 minutes as I've seen from any Scottish side. We hammered  Real Madrid 2-1 after extra time. 
"They're a huge name again now; they've always been a huge name, and we beat them. They'd have gone into that game fully aware of what Aberdeen had to offer because of what we'd done in Europe already that season and they clearly thought they were still going to win. Whether or not they were over-confident, I don't know, but if they were, within five minutes it was knocked out of them.
"I know some people say, "Ach, you're always looking to the past," but, I'm sorry, the past is hugely important to me as a football fan. I don't know when the team I support is next going to win a cup. I'm hoping I'll see this in the not too distant future, but I love looking back on the trophies we did win. That's what football fans do."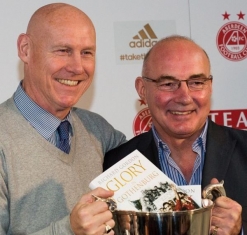 The launch was all about the club's unparalleled European pedigree and the book spans the period from John Hewitt's record-breaking goal at Fir Park which set Aberdeen on the way to the 1982 Scottish Cup win through to their coronation as 1983's best European side (go on, read that again) with the capture of the Super Cup in December that year.
Yet, both Gordon and Miller took time to share their excitement at the prospects for the current squad of Reds, a blend they both agreed, of youthful enthusiasm and energy and wily, street-wise experience.
We have a copy of Glory In Gothenburg for review and that will appear soon.
Glory In Gothenburg by Richard Gordon is published by Black and White Publishing, is available now and costs £14.99.
Comments enabled – see comments box below. Note, all comments will be moderated.