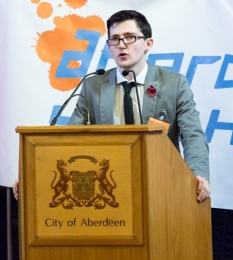 With thanks to
Kenneth Watt.
Aberdeen City Youth Councillors have welcomed news of the Westminster Parliament's backing for Votes at 16.
The House of Commons has just concluded its debate on lowering the voting age to 16, brought forward by Stephen Williams MP through a backbench motion.
ACYC Chair Barry Black ( pictured ), Member of the Scottish Youth Parliament (MSYP), said:
"We are delighted. This is a significant step in a long road to age equality for voting, which we have already come a long way on.
"Once this makes its way to law, which we fully expect it to do, we'll be working to get young people ready to make an informed vote in 2015. But before then, our generation will be able to vote in the independence referendum, a decision which we welcomed with open arms in last year."
Kris Chapman MSYP said:
"Today is a momentous day for young people across the country, MPs have voted to back voting at 16 by 119 votes to 46 – a majority of 73.
"I feel now, just as James Otis did in 1764, that 'Taxation without representation is tyranny'. 16 and 17 year olds should be given the right to express their democratic right.
"Across the country 16 and 17 years olds are making a positive difference to our society, managing responsibilities and making life decisions.
"I look forward to the next steps of this debate which will look to make this backbench motion UK law."
http://www.bbc.co.uk/democracylive/21163676
Supplementary information:Prime Minister David Cameron's official spokesman said the Government had "no plans whatsoever to change the voting age".
http://www.itv.com/news/calendar/2013-01-24/mps-back-votes-at-16-after-clashes-in-the-commons/

Comments enabled – see comments box below. Note, all comments will be moderated.