With thanks to Claire McBain.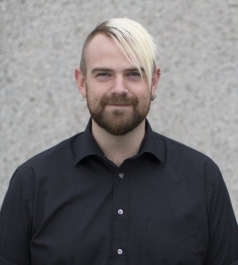 A new facility in Aberdeen, run by VSA, a social care charity that supports more than 2,500 people each year in the city and shire, has launched a plea to local people with unwanted memorabilia and accessories dating back to the sixties, seventies and eighties.
The project, funded by Aberdeen City Council's Change Fund will be a community-based facility for adults aged over 50 who are cared for at home.  It plans to support around 150 people each week.
Scott MacLeod ( pictured ), manager of the new facility at 22 King's Gate, Aberdeen, said:
"We're aiming for a March launch but are just waiting on confirmation from the Care Inspectorate.  We can't reveal too much until everything's confirmed. 
"The project has been on the go for months now and we don't want to jinx it.  But we can say that, as far as we know, there's nothing else like it Aberdeen.  We're so excited.
"But this doesn't mean we can't start getting organised.  Because it's a facility for older people, the building and activities within it will be largely based around reminiscence.  We're looking for a quirky selection of vintage items and hope that the kind-hearted people of Aberdeen can reach out to help us.  We have a wish list but we're generally really open to anything from the specified eras. 
"We're also keen to hear from people who want to volunteer their time to support the more vulnerable people in their community.  In particular, we'd love trainee hairdressers or beauticians who can offer a bit of pampering."
The 22 King's Gate wish list is based around memorabilia, decorations, wall-hangings and miscellaneous items from 1960s, 1970s and 1980s but specifically includes:
Old fashioned projectors
Old fashioned clocks
Old fashioned tea service
Picture books from these eras
Traditional scales for measuring sweets
Old glass bell jars to hold sweets
Vintage taxidermy
Wii games, especially keep-fit ones
A piano or full-size keyboard
Any CDs
Any DVDs
Any books
Games and activities dating from any time period, including current
If you have an item that may be of use to 22 King's Gate please contact Scott MacLeod on 07720972377 or e-mail scott.macleod@vsa.org.uk
Comments enabled – see comments box below. Note, all comments will be moderated.