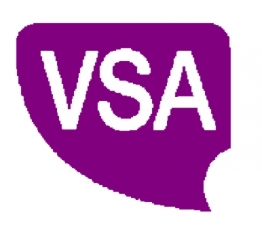 With thanks to
Claire McBain.
This month, VSA is urging unpaid carers who look after someone with a mental health condition to come together for the Mental Health In-Forum.
The monthly group ( on Tuesday 29 January 2013) offers mental health carers respite, education, support and socialising opportunities.
Arlene Malcolm, carers' support and development worker at VSA's Carers' Services, said:
"It's open to absolutely any person who looks after someone with a mental health condition, such as schizophrenia, depression, anxiety and bipolar disorder.  You don't have to be a full-time carer.  You might help out your parent or child, support your husband or wife or occasionally lend a hand to a friend or neighbour.  Anyone linked to someone with a mental health condition is welcome.
"I want to create a safe, informal place where people can share stories, tips and ideas.  It'll be a knowledge exchange with social and support elements too.  The idea is to get in insight into how the illness affects the person they care for but also to encourage carers to monitor their own mental health." 
A 2012 Carers Trust poll revealed that 60% of unpaid carers found their mental health was affected by their role.
"Each session will have a specific focus and staff from Cornhill will be on hand to advise too.  This month we're exploring therapy options.  We want carers to know that, although medication is available, it can be combined with other helpful rehabilitation, such as exercise and art, to help recovery.  We'll also help carers apply for new funding available for them and those they care for.  It ranges from short breaks to relaxation therapies."
The concept follows successful Aberdeen dementia support group, Information XChange, run by Alzheimer Scotland in conjunction with VSA.
"Three carers of people with dementia wanted to share their stories to help and inspire others.  It's evolved over almost three years.  About 20 carers come to each meeting, which is a lot considering their commitments, and we have a lot more on our books.  The carers really get something from it.  They enjoy the fact it's information-led but love the social side too.
"People worry that joining a group like this means lots of admin work or being talked into running for chairperson.  There's none of that here.  VSA does it all.  The group belongs to the carers but the administration side doesn't."
The January Mental Health In-Forum meeting will be the second so far.
"We had our first meeting at the end of November.  Numbers were small but it's all about getting word out.  I'm hoping we'll catch up with the dementia group in no time."
According to Carers UK, there are nearly 6 million carers in the country.  The Scottish Household Survey, conducted by The Scottish Government in 2010 reported 657,300 carers north of the border, more than 25,000 of which live in Aberdeen City.
The Mental Health In-Forum meeting will take place on Tuesday 29 January 2013 between 7pm and 9pm at the Recovery Resource Centre, Royal Cornhill Hospital, Aberdeen.  For more information about the Mental Health In-Forum or Information XChange please contact Arlene Malcolm on 01224 557868 or e-mail carers.info@vsa.org.uk.