With thanks to Claire McBain.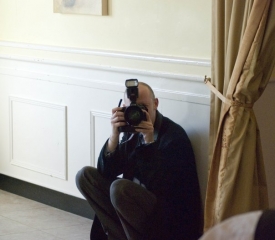 To mark World Photography Day on Sunday 19th August, Scott Hogg, of Aberdeen's Scott Hogg Photography, has listed one of his popular services – a professional portrait sitting and complimentary box frame print – on an eBay auction.
This is being done in aid of
Friends for Life
clubs, part of VSA, the UK's largest city social care charity which supports people in Aberdeen and Aberdeenshire.
Scott, a three-time finalist in the 2012 Fuji Awards wedding category, is hoping to ignite passion in big-hearted Aberdonians, encouraging them to bid well above the normal retail price of £275 and boost the Friends for Life fund.
Friends for Life, the only service of its kind in Aberdeen, is an informal weekly youth club for children with additional support needs who would find it difficult, if not impossible, to integrate into mainstream clubs.  Four clubs support 80 children at one time.
Scott, who owns Scott Hogg Photography, said:
"I'm determined to beat last year's figure and raise a big sum for Friends for Life.  These clubs are an important local institution.  Many children with additional support needs can't integrate into mainstream clubs due to staff numbers, noise and other restrictions caused by their condition.  But they're still kids.  They need somewhere to make friends, be themselves and, most of all, have fun. 
"I hope people in Aberdeen and the shire will generously demonstrate their support for VSA's Friends for Life clubs by pushing up the auction, and final, price."
After raising money in the same way for a Filipino orphanage in 2011, Scott is making his charitable efforts an annual occurrence:
"This year", he says, "I wanted to do something closer to home. 
"VSA provide more than 30 local services across education, older people's services and social care and wellbeing but Friends for Life is a cause close to my heart."
Elaine Michael, a day care manager who runs the Friends for Life club said:
"We create special lifelong bonds between like-minded children.  But to add this bit of sparkle to their lives and cover the running costs of the clubs, £50,000 per year is required, entirely from trusts, grants and fundraising.  Money raised by people like Scott helps us get children involved in activities they may miss out on in mainstream clubs."
Friends for Life often receives letters of support from parents and carers.  For example, a former member who is now a volunteer wrote:
"I always looked forward to the club.  It was great having friends. "The staff were more like friends than adults." 
Or, as the mother of one boy with autism and learning difficulties recorded:
"The club is the highlight of his week."
As Elaine went on to say:
"We must keep providing these excellent experiences and, with the help of Scott and others like him, we're in a better position to do so."
The auction item is for a sitting, worth £50, and 20 x 16 inch box, worth £225.
Scott's eBay listing can be viewed at http://ow.ly/d2hfd
More information on World Photography Day can be found at http://ow.ly/clD4h
For more information about VSA, for photographs, or to arrange an interview, please contact Claire McBain on 01224 358611 or e-mail her at claire.mcbain@vsa.org.uk