Aberdeen Sports Village has joined the Health Club Awards which recognises the best clubs based on research conducted on members around the country, Dave Macdermid informs Voice.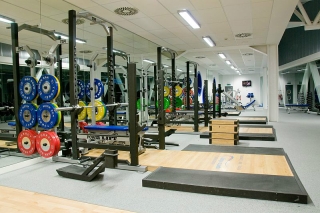 The Village, a partnership between the University of Aberdeen, Aberdeen City Council and sportscotland, has a large membership base, which makes full use of the extensive fitness suite and additional services.
These are offered both to members and non-members.
The awards, sponsored by Centrum Performance, ask members to rate the quality of customer service, facilities and value for money provided by clubs.
Simon Brown who runs the scheme explains,
"Belonging to a good health club is a rewarding experience. Members probably spend more time there than they realise, and it becomes an integral part of their lifestyle, providing a haven from their frantic day-to-day existence and helping them to tackle life in a healthier, more productive way.
"For the club it's not easy to get every aspect just right. It requires a lot of hard work and a belief that members should have a rewarding experience every time they visit.
"Through the Health Club Awards we will find out which clubs provide the most rewarding member experience. We will recognise those clubs for their excellence, and ultimately find out which are providing the best experience and membership value across the country."
Jan Griffiths, the Village's Sports Development Manager, said,
"We are very proud of the level of service we provide. We believe we offer excellent value for money and are very happy to be nominated to take part in the Health Club Awards this year."