Returning to Shiprow's Vue for a bit of horror, I actually found I quite enjoyed myself. Paranormal Activity 4 was a bit of a slow burner, meaning the last half hour was, hands down, the most intense period of the film, says Voice reviewer Andrew Watson.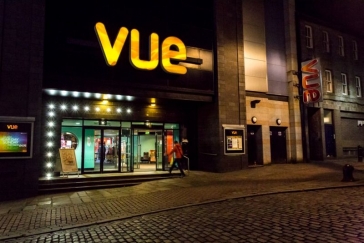 I spent Hallowe'en watching a rented copy of
Paranormal Activity 3
, just to make sure I was clued up on what I was in for.
PA3
is actually the prequel, so
4
beginss where
2
left off.
There's been a kidnapping, and the whereabouts of the woman and child are seemingly unknown – until now.
I have to be honest and say outright that I cannot stand creepy kid films. You know the type – the various spawn of the Sixth Sense phenomenon.
I really enjoyed this film, however politically incorrect I feel I'd get with the film's resident brat! I actually found myself reserving most of my ire for the 'boyfriend' of the film, a pervy chancer who I hoped would see an early end.
The film's family find themselves babysitting the child of a new neighbour. Yep, the creepy kid.
His mother's not feeling well and was taken away by ambulance, apparently. Their own son takes a shine to him, but finds himself dragged into realms of weirdness that wouldn't be Hollywood if they weren't evil. Sweet-natured Wyatt, played by Aiden Lovekamp, retreats into himself. So much so that he begins to insist his name is Hunter, the child kidnapped in 2!
Meanwhile, creepy Robbie (Brady Allen) doesn't merely sit on the sidelines goading Wyatt to do his bidding.  Why, he's at it himself, sleeping with Wyatt's big sister Alex (Kathryn Newton) while she lies there unaware! This scene is actually the catalyst for Alex and her boyfriend to attempt to unfurl the mystery of the weirdness going on.
You see, boyfriend Ben (Matt Shively) records their webchats. Or at least his computer does it automatically, so he says. Anyway, he comes a cropper when he sees this kid nestling up to his girlfriend. And so it goes until a rather messy ending.
There a few aspects about this series that merit some analysis I suppose. It's shown in real time, meaning it takes much from the style in which The Blair Witch Project was recorded. We must assume this technique is deployed to give the film a sense of realism, a cinematic approach that increased my viewing pleasure.
Specifically, what I enjoy about this is the fact that big events throughout the film are thinly spread, not necessarily a bad thing. In fact, it adds to the realism. Real life is punctuated with infrequent seemingly-inconsequential events which nevertheless impact upon all our lives. In Hollywood, stories are punctuated with life-changing events that occur, seemingly and rather predictably, every two minutes.
Which is why I come back to the point of the last half hour of this film. It's a wild thirty minutes, like a punch to the solar plexus. You've been caught unawares and now you're crapping your pants trying to keep up with what's going on.
Furthermore, there are murmurs throughout that a secret community, or covenant, is holding black masses. Ever since I watched The Last Exorcism, this concept has intrigued me. All I can say, or hint at, is that there are similar things going on in this film, particularly in the last two and a half minutes.
All in all – and I know the critics have panned this film – this is an excellent piece of cinema. I genuinely can't wait to see what's in store for Paranormal Activity 5.