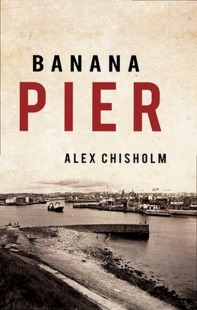 With thanks to
David Innes.
Described as a thriller and set in the USSR during perestroika, civil war-torn Northern Ireland and oil-driven Aberdeen, this is Alex Chisholm's first crime novel.
It has layers of intrigue, characters of multiple identity and enough Aberdeen humour in it to make it very readable and if not cliff-hanging, Banana Pier is at least vertigo-inducing. And any tome containing chapters titled, Affecting The Doric, Shaw's Oxters, A Bag Of Aitken's Rowies and The Gowk will hold a certain appeal for NE readers.
It moves more swiftly from Moscow to Bridge of Don than the number 2 bus service does from the city centre, flashes back to the menace of paramilitary activity in Belfast and has what looks to be a sound grasp of events, plots and underworld activity in all three locations, as the Soviet Union stuttered towards its current semi-capitalist economy, the Northern Irish conflict became ever more entrenched and corruption in the oil industry became the inevitable by-product of ambition to get rich quick.
Whilst very enjoyable, a word of warning. Like so many literary works with Russian characters, be prepared to learn the identity of each. A couple of days away from reading the contents I had to re-apprise myself of who was who, on which side. Then again, Alex Chisholm is in good company here, as I found the same issue dogged me when reading The Brothers Karamazov.