It seems all Aberdeen's comic characters are lining up to do PR with the BIG Partnership. Jake the Ghost ghost-wrote an article, Morris the Monkey has a blog. Even Sir Ian Wood has given interviews. Old Susannah always wondered what life was like for celebrity characters, and while Morris the Monkey hasn't as yet returned any of Old Suz's phone calls, Lena the Hyena had a window of opportunity, and spoke to Voice.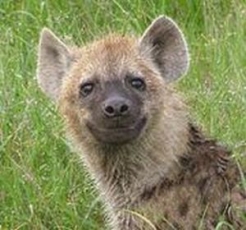 Old Susannah: Lena, you'll have seen the Morris the Monkey blog written in conjunction with BIG Partnership.
My question is, as a Hyena and a professional writer, are you worried about Morris the Monkey's appearance on the Aberdeen celebrity animal journalism scene?
What's your opinion of Morris' sensational new blog in support of the CGP?
Lena the Hyena: Hi Suzanne.
Morris, you're not alone in hoping that one day Aberdeen City Council would take its responsibilities seriously and give some much needed attention to Union Terrace Gardens. Sadly it has failed in that duty and, yes, its gates are locked early and too often.
I once stood with a group of embarrassed City officials, including the Lord Provost, locked out of the Gardens where a launch of a piece of granite art was supposed to be happening. So we slunk around Union Terrace for a while then sloped off to the Town House. Such is typical of Aberdeen City Council's slick operations.
Yes, Morris, the once vibrant Gardens have been well and truly abandoned by this irresponsible Council.
And talking about that my dear Morris, let me take you aside and explain that the reason no-one plays draughts in Union Terrace Gardens anymore is, Morris, because the Council took them away. The rascally spoilsports. Watching people playing chess in the centre of New York is a fine pastime for passers-by and so it was in Aberdeen. Then the Council stepped in, and you know Morris, when the guy from the Council, let's call him Mr No, turned up with his clipboard he wasn't going anywhere without confiscating the old guys' draughts.
You got friends in the Council, Morris? Perhaps if you asked the spoilsports to return the draughts they might oblige, it could be that they're still locked up in the Gardens just over the road from you.
Trainspotting, Morris? You do know that no-one will be able to spot trains once the concrete web is built don't you, Morris? Didn't spot that one coming either, did you, you wee monkey?
Oh Morris, Morris – just how will the concrete web make the gardens greener? Morris?
Please Morris take that banana out of your eye. Hemmin, gie's a packet o' that green grass. No nae that green grass that ither green grass.
Morris lad. You can't be serious!
Bigger trees, Morris? Now you really are taking the monkey. The big trees, Morris – and I'll say this very slowly – the big trees are being chopped down and wee trees will be planted, in tubs no doubt, supplied by a mannie who is backing this project. Not big trees, Morris, really quite wee trees. If you try swinging on any of them you're no going to last long when you drop off and plunge onto a whole lot of awfully hard concrete. And then Morris, you'll be on yer own, unless any of your pals in the Council are fellow swingers. A wee nudge there Morris.
Oh, Morris, lad, I sympathise with you that your bar is empty. God only knows why. Me? I couldn't hazard a guess. Hey – you got a good friend, Morris? Someone who could be honest with you?
And a wee word of advice, Morris, don't listen to rumours. Most of them are wishful thinking or even deliberately deceitful, Morris, can you believe that? Humans call that monkey business. Ooh, mischief-making, rascality, roguery but being a monkey you're probably familiar with this, eh Morris?