Mike Shepherd reviews Duncan Harley's latest publication, Long Shadows – Tales of Scotland's North East.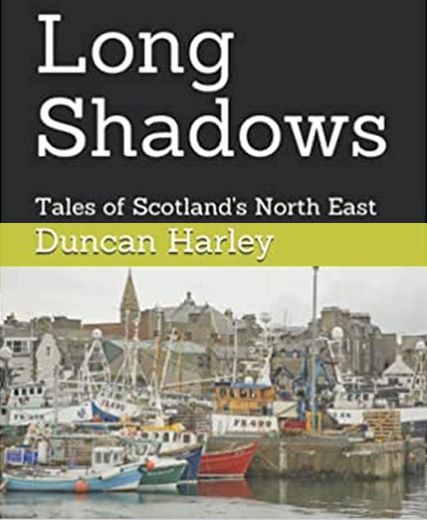 Authors are told that when they write the blurb for the back jacket of their book they should focus on explaining what the reader will get out of it when they buy it.
So let's apply this recommendation to Duncan Harley's new book, Long Shadows. What will you get out of it?
You will be entertained for sure.
Duncan is a walking encyclopaedia of curious and interesting facts about everything that's been written about Northeast Scotland.
If something extraordinary happened in your town or village, it's probably in this book.
I can assure you that after reading it you will never dare repeat that 'nothing interesting ever happens…' in Buckie, Kintore, Ellon or the likes.
Now I do like quirky stories, and there is plenty in here to tickle the fancy – unexpected tales; little known tales. Take the story on page 54 about the artist Joseph Farquharson from Finzean.
In 1883, Farquharson painted The Joyless Winter Day which hangs in the Tate Gallery. It depicts a shepherd tending his flock in a raging Deeside blizzard. The execution of the painting was tricky because as Duncan explains:
"sheep cannot easily be persuaded to stand still."
He adds:
"To solve this difficult problem, Farquharson commissioned a flock of life size plaster sheep from Monymusk born craftsman William Wilson of Kelly's Cats fame, and used these to mark out the positions of the original live subjects in order to preserve the scene as the work progressed."
The downside of all this ingenuity was that Joseph Farquharson ended up getting the nickname from his fellow artists of 'Frozen Mutton Farquharson'.
Or the connection between the horror writer Stephen King and Buckie.
Did you know (a phrase you will find yourself repeating after reading Duncan's book) that in the course of investigating a terrorist act in If It Bleeds, fictional private investigator Holly Gibney discovers that Buckie Academy is twinned with a bombed US High School.
The two schools take a mutual interest in each other's local sports teams – Buckie Thistle thus picking up a small fanbase in a fictional part of the US.
Long Shadows comprises thirty-three chapters starting with Aberdeen and ending up with Turriff.
In between are tales from local towns and villages, or in one case, the forest at Lenabo where there was once an airship base during World War I. The airships would fly silently out over the North Sea scouting for German submarines to shoot up with machine guns. The story is laid out in chapter 22.
Now I do know about this. My paternal grandfather, who was too old to fight in the trenches, helped to build the Lenabo base. If that makes me sound ancient – be aware that both my grandfather and father became parents in their forties.
Having written this I now take a peek at Duncan's back-cover blurb.
"In his two previous two books, Duncan exposed readers to an exciting mix of history and mythology. The intention of this new book is to expand greatly on these themes in an entertaining and informative way.
"Please enjoy these wee snippets of Scottish history and smile gently at the past. Long Shadows – Tales of Scotland's North East is guaranteed to enthral both residents and visitors alike!"
I must agree.
I enjoyed reading this book and recommend it. It's available on Amazon at a price of £17.95 and looks to be selling fast. Do buy it.