With thanks to Eoin Smith, Senior Account Executive, Tricker PR.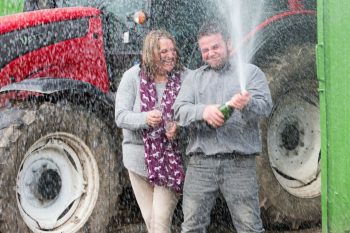 A Scottish farmer's wife who has won £1.2m on an online bingo and casino site won't be saddling up for a life of luxury or galloping off on a round-the-world cruise. Mandy Bowman, who scooped the jackpot on Glossy Bingo's Major Millions slot game, plans to spend her winnings on her beloved horses by building an indoor riding school and launching a livery.
Mandy (45), from Buckie in Moray, also plans to invest some of her prize money in upgrading buildings and machinery on the family farm so that she and husband, John (40), can expand their operations and have a more stable future.
The pair wed two years ago and have yet to have a honeymoon – but Mandy says there is lots of work to be done on the farm before they can even think about taking some time off to enjoy a much-needed holiday together.
"We'll soon be lambing and then the cows will be out to the field, so it could be May or even June before we can take a holiday. My husband doesn't have a passport, so when we do finally take a break it won't be anywhere exotic – it will be in Scotland," explains Mandy.
"I might treat myself to a 4×4 to make getting in and out of the farm easier. I asked my husband if he would like a new car, but he's happy with the one he's got. I've become a millionaire, but the day I really hit the jackpot was the day I met my husband."
Mandy says she is still having to pinch herself after hitting the jackpot on Major Millions, but is determined to keep her feet on the ground despite winning a total of £1,185,253. She has four horses and wants to expand the stables on the farm so that she can operate a livery business and an indoor riding school.
She's been a member of the Glossy Bingo website for around three years. She was at home playing the game on her phone, and had been able to win £400 before she decided to switch over to the Major Millions game – a five-reel online slot game with a progressive jackpot that is regularly over £400,000.
The object of the game is to match up three to five symbols in a row. Mandy says,
"When I switched onto the progressive jackpot, I started to lose. I was spinning away and I was down to my last £3. I thought there was no way I would win anything then.
"I spun again and all the symbols matched. I thought I was seeing things and then a message flashed up to say that I had won the jackpot. When I saw the number I thought it was a mistake or a joke – I really didn't believe it.
"I didn't sleep for about three nights afterwards. It has come as a huge shock, but a very welcome one. I'm not going to go wild and splurge it all on cars or holidays: we love this lifestyle and we love the farm, and we want to make a future for ourselves here.
"I wouldn't say that I am even that much of a gambler. I'll have a flutter once a month, and only with what I have in pocket money once all the bills are paid.
"My dad used to bet on horses and he always told me that you should only bet what you can afford to lose, and I've always stuck by that. It's very good advice. I was very close to my dad and sadly he passed away last year – I like to think he was my lucky charm and he brought me this win.
"I might still have a game now and again as I play when I can sit down and have a cup of coffee and relax – it's like a bit of chill-out time for me."
Vincent Viaud, VIP executive of Glossy Bingo, travelled to Mandy's home to hand over the cheque. He adds,
"I think that Mandy has shown a very sensible approach to online gaming in only betting what she can afford and playing only occasionally.
"This is the biggest win we've had on Major Millions. I hope that Mandy will enjoy the win and really do hope this hard-working couple can use some of the jackpot by finally taking a break from the farm and enjoying a honeymoon.
"Mandy does so much to help other people and does a lot of work for charity, and by winning I hope she will give something back to herself."
Glossy Bingo is a premium online bingo and casino site from the award winning team that brought you 'Butlers Bingo', home of the record breaking £5.8 Million Jackpot winner. Powered by Microgaming, one of the largest and most trusted providers of online casino and bingo software in the world, Glossy Bingo – www.glossybingo.com – offers a range of different 90-ball and 75-ball bingo games as well as a choice of over 250 state of the art slot and casino games, 24 hours a day, 365 days a year.
Comments enabled – see comments box below. Note, all comments will be moderated.