Books of interest to Dons fans are being published in ever-increasing numbers at the moment. David Innes advises Reds to remember this when writing to Santa next month.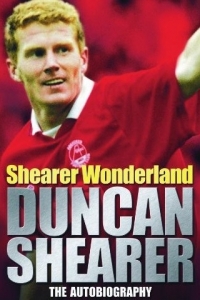 As probably the last Dons striker who fans would have crawled over broken glass to watch perform some mundane dressing room activity such as tying up his socks, Duncan Shearer's story is told in straightforward style, co-written by Paul Smith.
Fitba biographies are rarely controversial and the stories we really want to hear are inevitably kept from us. Shearer Wonderland is little different although Duncan expresses fairly strong views about his former boss Steve Paterson and that individual's unfortunate personal problems, and doesn't hold back when criticising former colleague John Inglis.
He also questions, as many of us do, the wisdom of spending precious cash on a Director of Football when the playing budget is pared to the bone. This is, however, no personal criticism of the current post-holder who Duncan describes as one of the most thorough and passionate managers for whom he played.
However, Duncan's stint at Pittodrie was only a fleeting part of a long career and he gives insights to his life as a professional at Chelsea, Huddersfield, Swindon and Blackburn. Especially interesting are his reminisces of the financial side of a game which was much simpler then and his reaction to the different managerial styles of those he served, including Lou Macari and Osvaldo Ardiles.
Of course, the chapters about his time in the sacred red will be of most interest to Voice readers. His love for the club he eventually joined in the latter stages of his career, and which he was eventually to manage with Steve Paterson, is obvious. If you were there, you'll know what a godsend a striker of Shearer's ability and power was, and how much he was adored.
This affection was reciprocated and Shearer believes that his relationship with the fans was due as much to his refusal to stay aloof from supporters but to mingle with them socially, eschewing the hip footballers' nightspots and lifestyle. Although he scored in our last trophy win, he is adamant that his most important Dons goal was the one which effectively put despicable Dundee United rather than the Dons into the First Division in 1995. And so say all of us.
Someone could have proof-read it better though – Neale Cooper is Peterheid's manager – Neil Cooper is youth coach.
There are also intensely personal passages about the poverty of working class Lochaber and his parents' struggle to survive financially and of traumatic family tragedies. Never forgetting his roots, there is significant coverage of his time in the Highland League as a Clachnacuddin player and as manager of Buckie Thistle.
Shearer Wonderland is well worth reading and it's refreshing to read the life story of one of life's good guys who appreciates the hand fate dealt him. Altogether now…"It's a goal, Duncan Shearer…."
Shearer Wonderland. Duncan Shearer – The Autobiography. Black and White Publishing. 247 pages. £14.99. Co-written by Paul Smith.