Review and photographs by Craig Chisholm.
The multi-million-pound revamp of Aberdeen's Music Hall, has breathed new life and opportunity into the historical and iconic city centre entertainment venue.
One of the innovative schemes was to create more usable space for concerts and events within the building and it is in one of these spaces – the Big Sky Studio – that an early evening show is taking place.
The intimate room, with seating for around 50-100 people depending on layout, provided a unique up-close-and-personal opportunity to see former Phantom Band members Rick Redbeard and Duncan Marquiss perform short sets for a bargain ticket price (only £8.00) and at a quite civilised post-work Friday time (6pm start!).

Opening proceedings is Duncan Marquiss. His set consists of effects laden, ambient guitar soundscapes and space age blues instrumentals that lift the listener to transcendent realms of bliss.
Hunched over his bank of guitar pedals, Marquiss coaxes beautiful textures from his instrument looping himself, manipulating the sound to create a cascading ocean of sound textures.
Using a slide or an e-bow to great effect, he strays into the world of avant-garde minimalism and experimentation, creating new and interesting sounds, with a screwdriver under the strings on one track, or laying his instrument on the ground and using small sticks to drum on the strings.
It's a beautiful and satisfying experimental set that has the audience listening in hushed silence before erupting in rapturous applause at the end.
Rick Redbeard, better known to his parents and friends as Rick Anthony, offers a more straightforward but, nonetheless, satisfying set that is steeped in folky acoustic heritage whilst remaining topical and forward thinking.
His acoustic guitar strapped round him like a shield, he offers a satisfying nine song set of beautiful, heartfelt campfire melodies.
His intricate finger picking style is flawless and mesmerising, creating space to allow the songs to breathe and for the listener to fully embrace his well thought out lyricism.
Songs from his two previous solo albums – 'No Selfish Heart' from 2013 and 'Awake Unto', released in 2016 – are given an airing alongside sneak previews of a track or two from his proposed third album which he hopes to release this year.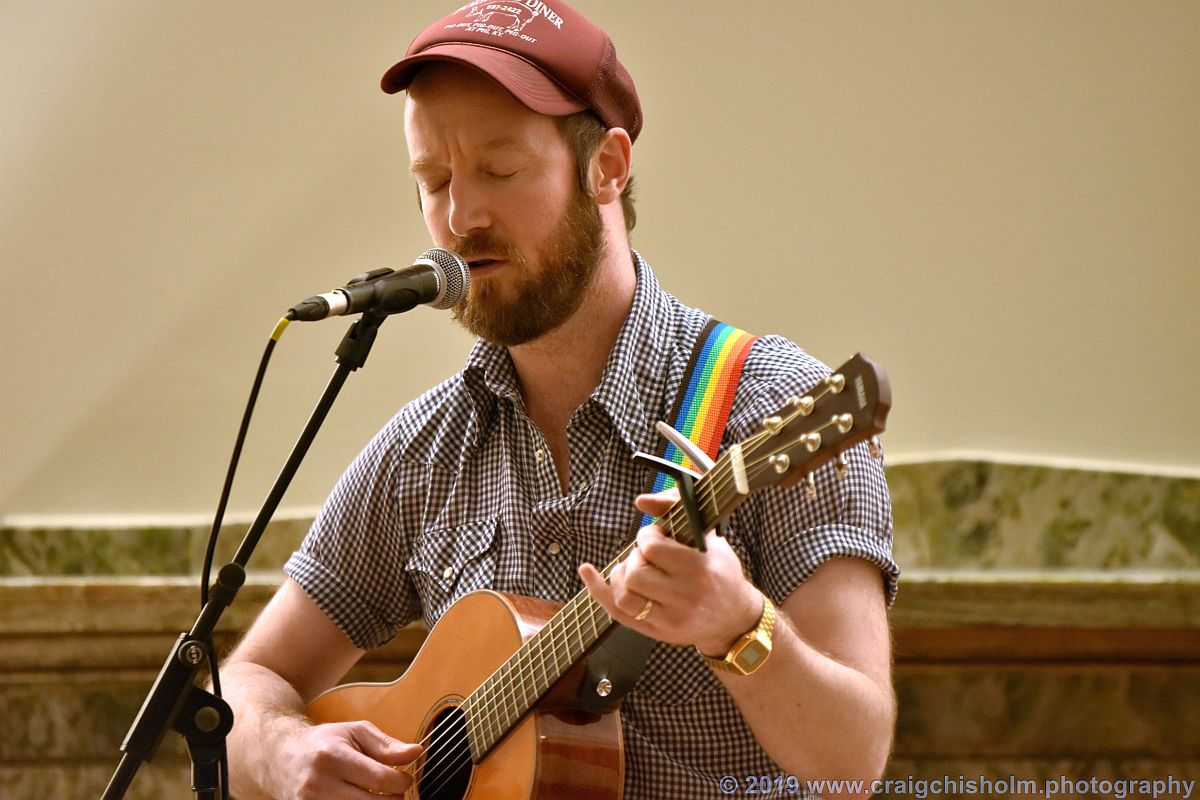 Between songs he is friendly and chatty, acknowledging his family sitting a couple of rows from the front and discussing Brexit and the irony of his track 'The Golden Age' given the current political situation.
There's a moment where a new song is stopped as, he says himself, his "brain and hands stopped communicating" and there's a moment of amusement – and bemusement – when the tannoy announces that the show in the main hall is due to start in 5 minutes.
But moments like these add to the intimacy and personal feel of the performance rather than detract.
One can only hope that the success of this show encourages the Music Hall staff to organise more events of this nature – the early start is an interesting novelty that may encourage people to seek out new and interesting music and sounds whilst enjoying a post-work pint at the end of the week.
Overall, the evening proved to be a success – enjoyable music, an appreciative audience and a wonderful atmosphere. Here's to the next one!
Big Sky Sessions returns to the Music Hall at 6pm on Friday 19th April with Iona Fyfe, Calum Morton-Teng and Ellen Gira.
Then on Friday 31st May with The Dark Carnival : Unplugged (which also includes a free glass of whisky).
Tickets for Iona Fyfe are available here. and for The Dark Carnival : Unplugged, click here.