Duncan Harley reviews Sunshine on Leith @ HMT Aberdeen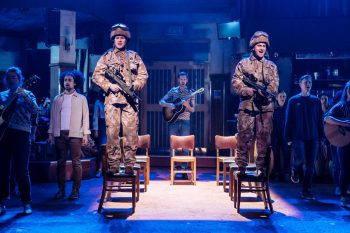 A modicum of politics, a wee measure of Leith and a whole lot of heart inhabit this latest production of Sunshine on Leith.
The musical first saw light at Dundee Rep in far off 2003 following a review of the back catalogues of several Scottish bands by playwright Stephen Greenhorn.
Awaking from the whisky-fuelled review session, Stephen found a post-it note, written in his own hand-writing from the night before, with the words "Proclaimers musical?" written on it. Sunshine on Leith was born.
Since then the musical has morphed into film then back to stage again and now features around eighteen original Proclaimers songs from the day.
Director James Brining would go on to say that:
"One of the really interesting things about the Proclaimers as musicians and songwriters is the breadth of their influences. They're political – they're fiercely supportive of Scottish independence and they write about relationships with brutal honesty."
With a central theme which can only be described as a search for belonging, Sunshine on Leith paints a sometimes-difficult portrait of Scottishness. Identity, sentimentality and relationships come under the spotlight as returning heroes Davy – Steven Miller – and Ally – Paul-James Corrigan –  struggle manfully to reintegrate following a tour of the Afghan battlefields and Davy's dad Rab – Phil McKee – wrestles with truth, love and morality as he faces consequences of a long-forgotten affair.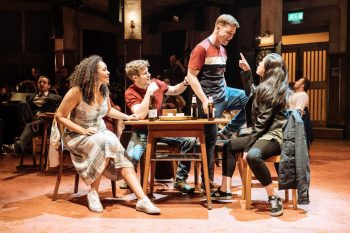 The script seamlessly flits from the crisis-fuelled love lives of the ex-squaddies to the crisis-ridden events which emerge to challenge the community. A vicious bar-fight in a Hibs pub, a break-up or two and the emotional rollercoaster of that long-hidden affair inhabit this tale of ordinary folk facing ordinary challenges.
Indeed, the complete ordinariness of this storyline is its true strength. There are no high-kicking brashly dressed chorus-lines here.
The folk in Leith are only slightly caricaturised and, with a fluid set flitting from the familiar High Street to the local boozer, one could almost be forgiven for walking on-stage to mingle with the performers.
As for the songs, all of the big Proclaimers numbers are there. Sky Takes the Soul, Hate My Love for You and Letter from America are just for starters.
The musical numbers sit seamlessly within the dialogue and the band, who are onstage throughout the entire performance, wander amongst the actors sometimes as buskers more often simply as cast-members. Even the title lyrics:
"My heart was broken, my heart was broken; Sorrow, Sorrow, Sorrow, Sorrow." are used with commendable restraint.
All in all, this is a splendid revival of a commendable classic.
Directed by James Brining with choreography by Emily-Jane Boyle, Sunshine on Leith plays at HMT Aberdeen until Saturday 02 June 2018

Tickets from Aberdeen Performing Arts Tel: 01224- 641122
Words © Duncan Harley and Images © APA