Duncan Harley reviews Flashdance The Musical @ HMT Aberdeen
It's steel-town Pittsburgh Pennsylvania circa 1983 and, in this Billy Elliot come Rosie the Riveter aspirational tale, dance junkie Alex dreams of graduating top of the class from Shipley Dance Academy.
Played by Strictly Come Dancing Champion Joanne Clifton, our heroine is addicted to both welding-rods and rhythm, but not necessarily in that order.
Boiler-suited to the local steelworks by day, Alex twilights' as an exotic dancer at the local night-club.
Pursued by Nick the factory boss's son, she sticks to her career plan and eventually, following a series of set-backs, bags both the dancing career and the heir to the family fortune. It's a familiar story-line.
This kick-ass juke box style musical has the verve to include the legendary Harry's Bar – birthplace of the Bloody Mary – in the line-up but there is no sign of Hemmingway. And as the dedicated Alex struts her stuff a splendidly curmudgeonly club-owner in the shape of Harry, played by Rikki Chamberlain, provides a warm-hearted sanctuary to all and sundry.
Maniac, Steeltown Sky, Gloria, I Love Rock & Roll, Manhunt and of course that sensational What A Feeling title track inhabit this juke-box musical and a good few Brit-stars strut the stage.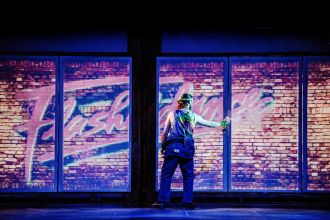 Heart throb Ben Adams and Strictly Joanne Clifton certainly fulfill a promise or two and the band of course play on.
In the big-kickass scheme of things, despite the dazzling choreography and the explosive energy, Flashdance The Musical somehow hasn't aged gracefully. There are occasional attempts at humour and the dialogue is well enough put together but the 'Cinders makes good' storyline has maybe been done to death over the decades.
It may have been Sondheim who mused on those heady production-lined musicals which, in the main, seem to follow the chemistry of old established fame:
"If you emerged from the theatre humming all of the tunes, it's probably because you entered the theatre humming all of the tunes".
Go see this though. You won't be disappointed; that is if you can bag a seat. It's all in the best possible taste and it generally does pretty much what it says on the tin.
Five stars? Well maybe four. And, of course, I really enjoyed the nostalgia element of it all. But blown away? I'm not completely sure. What a Feeling.
Directed by Hannah Chissick with choreography by Matt Cole, Flashdance The Musical (A Selladoor Production) plays at HMT Aberdeen until Saturday 09 June 2018

Tickets from Aberdeen Performing Arts Tel: 01224- 641122
Words © Duncan Harley and Images © APA