Duncan Harley reviews The Wedding Singer at His Majesty's Theatre Aberdeen.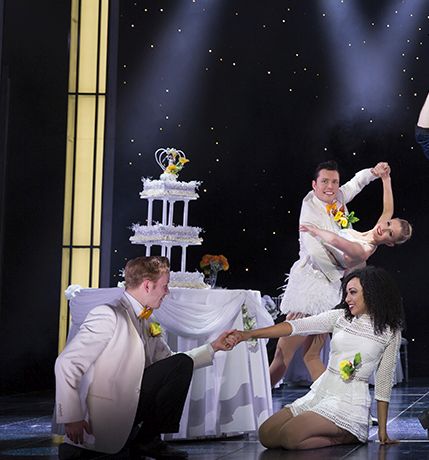 Once you get to grips with the schmaltzy 'girls just wanna get married' portrayal of the eighties which haunts this musical from the very start, The Wedding Singer is actually a whole load of fun.
Despite a story-line thin enough to gladden the heart of a coronary bypass surgeon and sufficient cheesy humour to keep McDonalds going in triple cheeseburger's for a month, the entertainment value more than makes up for this sugar-sweet take on the Reagan decade.
Based on the hit 1998 film of the same name, the musical tells the tale of wedding singer and emcee Robbie Hart.
Robbie and his band 'Simply Wed' – yes you read that correctly – play the New Jersey wedding circuit making a precarious living on the back of those who have popped the question. Jilted and depressed he abandons the wedding gigs and comes of age on the bar mitzvah circuit. Predictably he gets the girl and equally predictably he gets invited to sing at his own wedding.
Starring Jon Robyns as the multi-talented Robbie Hart and X Factor/singer songwriter Cassie Compton as love interest Julia Sullivan, it would be difficult to imagine this production going far wrong really. Well known for roles including secretly-gay Rod in Avenue Q and Sir Galahad in Spamalot Jon's performance literally shines.
Add in a mix of stars including Ray Quinn, as Glen Gulia, and Barbara Rafferty in the role of Rosie the rapping-granny and The Wedding Singer is off like the clappers. A clutch of iconic dance-numbers including Saturday Night in the City and All About the Green plus some pretty dang impressive lighting and audio complete the line-up.
Alongside the main characters, the cast list includes a motley crew of 'fake' characters including Ronnie Reagan, Billy Idol, Tina Turner and Cyndi Lauper. Additionally, and I could be wrong, amongst the line-up in the bar scene I swear I spotted a suitably inebriated Charles Bukowski
As a feel-good, Aspartame sweetened heart-warming trip into the past, The Wedding Singer works really well although the story-line does pose awkward questions for those who were actually around at the time.
Will Hart get the girl? And does Julia really want to be Mrs Gulia? For a definitive answer or two you will just have to join the audience. Oh! And watch out for those brick-size cell-phones and, of course, that singing cake!
Lighting Designer Ben Cracknell/Sound Designer Ben Harrison.
The Wedding Singer plays at HMT Aberdeen until Saturday 24 June
Tickets from Aberdeen Performing Arts Tel: 01224- 641122
Words © Duncan Harley and Images © APA