Duncan Harley reviews Wonderland at His Majesty's Theatre, Aberdeen.
When Lewis Carroll ran an early draft of Alice's Adventures in Wonderland past fellow fantasy writer George MacDonald of Huntly, neither man could have had the remotest idea that the tale would still have currency some 150 years on.
The original story-line has seemingly never been out of print and literally hundreds of adaptations have emerged from a myriad of genres over the years.
Film, stage and parody head the long list; with comic book, opera and even Xbox 360 take-ons not far behind.
Herein lies a huge problem. Inevitably, reinterpretations trading on the back of this classic tale of literary nonsense will invite comparison with Carroll's original.
If the Cheshire Cat fails to grin cheesily enough or if there are too few tarts at the tea party then heads will invariably roll.
Happily, theatre audiences are not as fickle as literary critics and if the stand-up-ovation enjoyed by the cast of Wonderland at HMT last Tuesday is anything to go by, then this latest anthropomorphic adaptation has ticked many of the boxes.
With Britain's Got Talent Finalist Rachael Wooding as Alice and Coronation Street's Wendi Peters playing the Queen of Hearts this musical is off to a stomping start. Add in Dave Willetts of Phantom fame as White Rabbit and Natalie McQueen as the Mad Hatter and things can only get better.
And get better they do. From shaky beginnings, down to the script and not to the cast, Wonderland soon gets into its stride.
Alice, in this adaptation, is a divorced single mum who after five years of separation clings to the past and, despite admirable encouragement from teen-daughter Ellie, is experiencing what can only be termed an extreme bad-hair-day.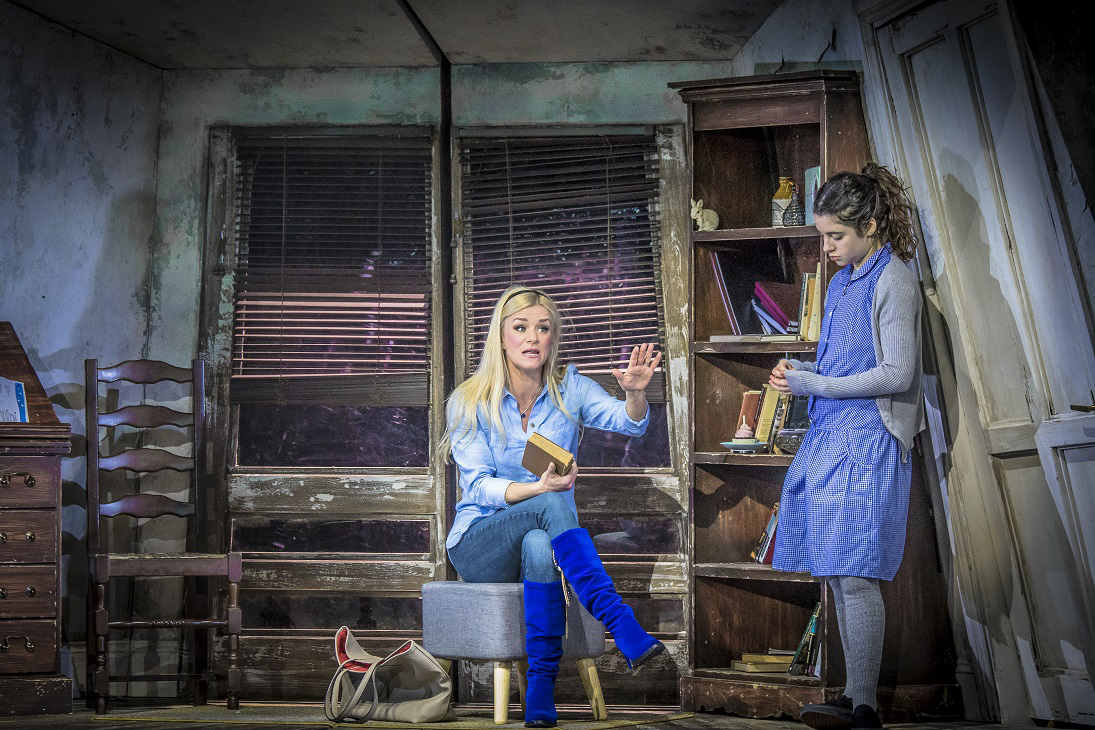 Aside from losing her beau, she has lost her job and some scumbag has pinched her car. Ellie (Naomi Morris) and love-interest Jack (Stephen Webb) are at pains to comfort the stressed-out Alice but to no avail.
Predictably, a white rabbit appears and they all head downwards in a council high-rise lift to meet with the entire Lewis Carroll cast including a talking mirror. After typical Alice type adventures, the heroine is bundled through the looking-glass and her life takes a turn.
The musical numbers here are great, the dialogue is perhaps not so. At points I almost expected a harassed Compere to rush on stage to ask the audience if there was a scriptwriter in the house.
Music and movement is where this production is at. With around twenty numbers packed into two hours there is plenty for all including pounding rock, laid back jazz and heart-warming duets.
A hard-working cast make this Musical an entertaining and at times a truly magical experience. By the final curtain one could almost imagine an appreciative Dickens clapping softly from the Gods.
Directed by Lotte Wakeham and adapted from the works of Lewis Carroll, Wonderland plays at HMT Aberdeen until Saturday 20th May.
Tickets from Aberdeen Performing Arts Tel: 01224- 641122
– Words © Duncan Harley and Images © APA