Duncan Harley reviews 'Rent, the Musical' at His Majesty's Theatre, Aberdeen.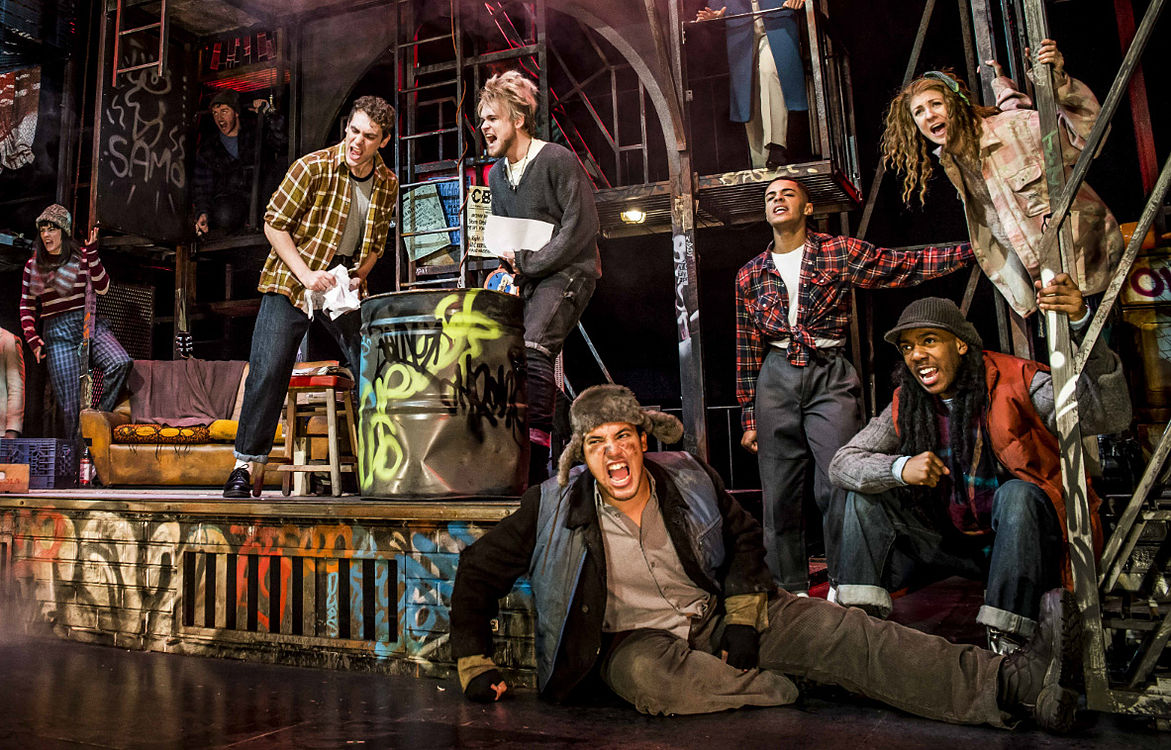 It is Christmas Eve 1896. A painter, a philosopher, a musician and a writer are planning a bender.
The writer needs a bit more time to work on his play, and as his pals set off for the pub, he receives a visit from a neighbour Mimi, a poor seamstress, who chaps on his door in search of a light for her candle.
Mimi and the writer fall madly in love then they too head off to the pub.
Eventually it all goes pear shaped. Mimi contracts tuberculosis and dies of exposure. The writer is left bereft. Well, that at least was Puccini's La Boheme operatic take on the cruel realities of inner-city poverty in Bohemian Paris.
Substitute Bohemian 1990s New York for 1890s Paris. In Rent the Musical, writer Jonathan Larson takes La Boheme, turns the opera on its head and gives the tale a garishly glorious modern twist.
The poverty and the ill health are still around, but instead of the scourge of tuberculosis, Larson has substituted the scourge of HIV. Instead of a lack of fuel for the fire we have a bad-ass landlord, in the shape of Javar La'Trail Parker's Benjamin Coffin the Third, who cuts off the power on a whim. And in lieu of Mimi the Parisian tuberculous seamstress, we have a 20th century Mimi nicely portrayed, by Philippa Stefani, as an HIV-stricken East Village sex worker stroke exotic dancer overburdened by a major smack habit.
Puccini's poverty-stricken painter is portrayed as an independent Jewish-American wannabe filmmaker by the name of Mark Cohen who, Super-8 in hand, is single-handedly tasked with recording for posterity the tribulations of the East Village community.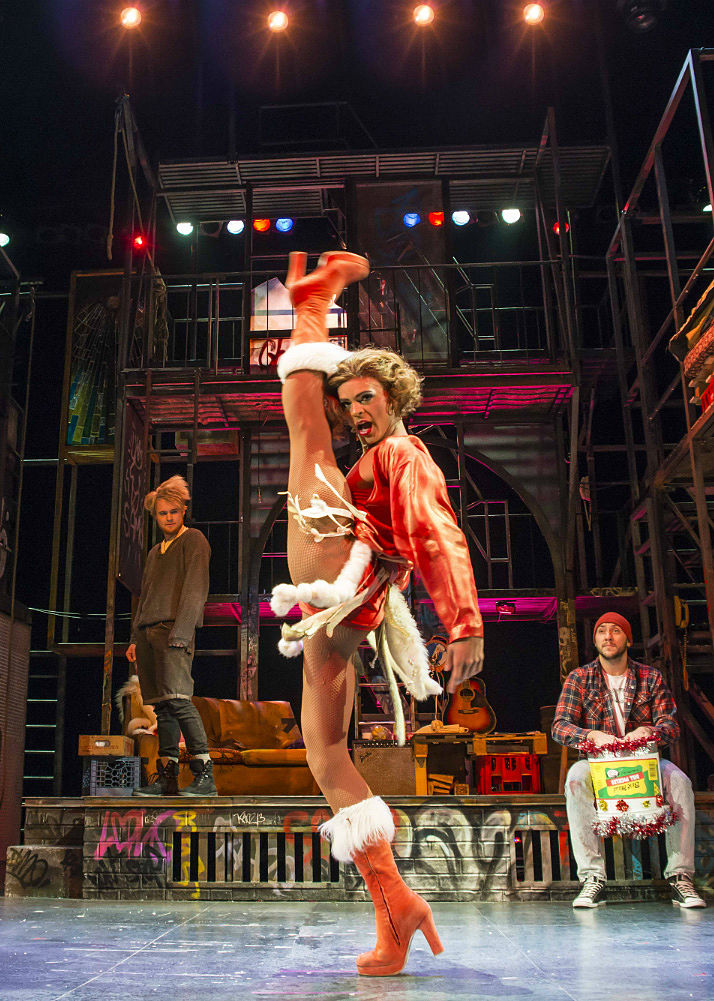 On first night at HMT the role of Mark fell to understudy Joshua Dever, since lead Billy Cullum had a chest infection.
A veteran of The Rocky Horror Picture Show, Grease and Jesus Christ Superstar, Joshua's performance was seamless and came with the welcome bonus of a clearly enunciated commentary on what at times can be a convoluted and maybe even over-complicated tale.
There are rock arias galore, multiple phone messages from friends and even a little bit of tango. But perhaps the star turn was Layton Williams as the controversially clad Angel Schunard, a high-heeled power-dressed drag queen and committed partner to gay philosophy professor and sometime anarchist Tom Collins.
Caring, giving and kind, but with a penchant for murdering canines for cash, she/he, or is it he/she, executed an absolutely astonishing gravity-defying triple entendre somersault plus twist whilst clad in pink fluffy five inch heels!
Fast-paced, rock-solid, mega-loud and at points furiously intensive, Rent the Musical presents a heady mix of anti-establishment sentiment combined with perhaps an overload of doom-laden prophesy. The spectre of HIV and AIDS perches Damoclean over the entire production, and multisexuality is the order of the day.
Songs include the classics 'Seasons of Love', 'Goodbye Love', 'Over the Moon' and 'Light My Candle'. In all there are around thirty musical numbers in this revival.
Both the established Rent Heads amongst us and the newbies to the genre will be in rock heaven throughout this entire performance. And of course, Angel gets to heaven and Mimi's tiny hand is frozen.
Directed by Bruce Guthrie. Lighting design Rick Fisher. Rent the Musical plays at HMT Aberdeen until Saturday 19th November
Tickets from Aberdeen Performing Arts Tel: 01224- 641122
Words © Duncan Harley and Images © APA