Duncan Harley reviews Chicago the Musical at His Majesty's Theatre, Aberdeen.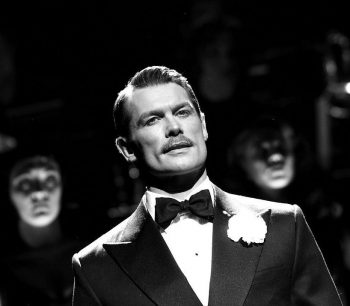 Take a few soap stars, add some distinctly slinky costumes and pour in a few measures of Prohibition-era corruption and what have you got? Chicago the Musical, of course!
In modern times, superstars such as Oscar Pistorius and Phil Spector attracted extensive media interest before receiving lengthy terms of incarceration, following high profile televised murder trials watched in some cases by upwards of 100m viewers.
They were perhaps unlucky: if they had lived in Chicago in the pre-TV era, and had been female, things might have turned out very differently indeed.
The 1920s media moguls of Chicago Illinois were intent on selling newspapers at all costs, and were not above sensationalising the stories of low-life female killers in order to transform them into front page stars.
Crime reporters, known derisively as sob sisters, were despatched to the local prisons with firm instructions to work up a good story at all costs. Morality and criminal justice came second to a juicy tale, and a homicide involving a lover or a spouse often led to fast-track celebrity status.
Chicago the Musical tells just such a story. Based on a 1926 play of the same name by local newspaper reporter Maurine Watkins, the plot follows the corrupt creation of celebrity criminals in Cook County Jail in the U.S. state of Illinois. While media moguls and fat cat lawyers prospered, the rule of law went out the window as attractive prison belles were groomed to evade justice by playing on the public's insatiable appetite for poor, but pretty and defenceless murderesses.
This new revival of Chicago strips back the production to the bare bones. Most of the stage is occupied by the band and the action features some highly minimalistic costuming, plus the very minimum of props.
The storyline is well known. Self-confessed murderesses get off with homicide due to good looks, or as headlines of the time put it more aptly "Pretty girls get free, ugly ones sent to Pen".
As the band plays, the cast play out the sensational stories of Roxie Hart and Velma Kelly in a series of high energy vaudeville routines interspersed with an occasional murder or two.
There are villains aplenty in this production, and apart from the pathetically downtrodden Amos, soundly played by Neil Ditt, the only real heroes are the cast.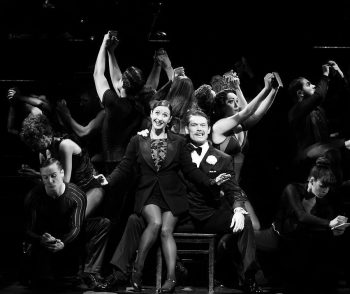 Emmerdale's Hayley Tamaddon fairly threw herself into the 2010 TV production of Dancing on Ice, and she drew gasps from the audience this week as she strutted her stuff on the Aberdeen stage.
Playing the part of the unrepentant Roxie Hart, she proved once again that she can perform equally well with or without her ice skates.
Co-star Sophie Carmen-Jones also wowed the audience as double murderer Velma. In a series of complex song and dance routines she proved once and for all that vaudeville ain't dead yet.
For my money though, the supreme accolade must go to seedy lawyer Billy Flynn. Flynn is played exquisitely by John Partridge of EastEnders fame, who not only manages to squeeze out the longest single note ever heard on an Aberdeen stage but, in a hilarious scene, also proves his worth as a stage ventriloquist.
This is an engaging and exciting production full of dark humour and fast movement. At its core Chicago the Musical presents as a satirical take on the cult of the celebrity criminal, and as such is as relevant today as it was when first produced as a play almost a century ago. A must-see.
Chicago the Musical performs at HMT Aberdeen until Saturday 1st October
Tickets from Aberdeen Performing Arts Tel: 01224- 641122
Words © Duncan Harley and Images © Aberdeen Performing Arts