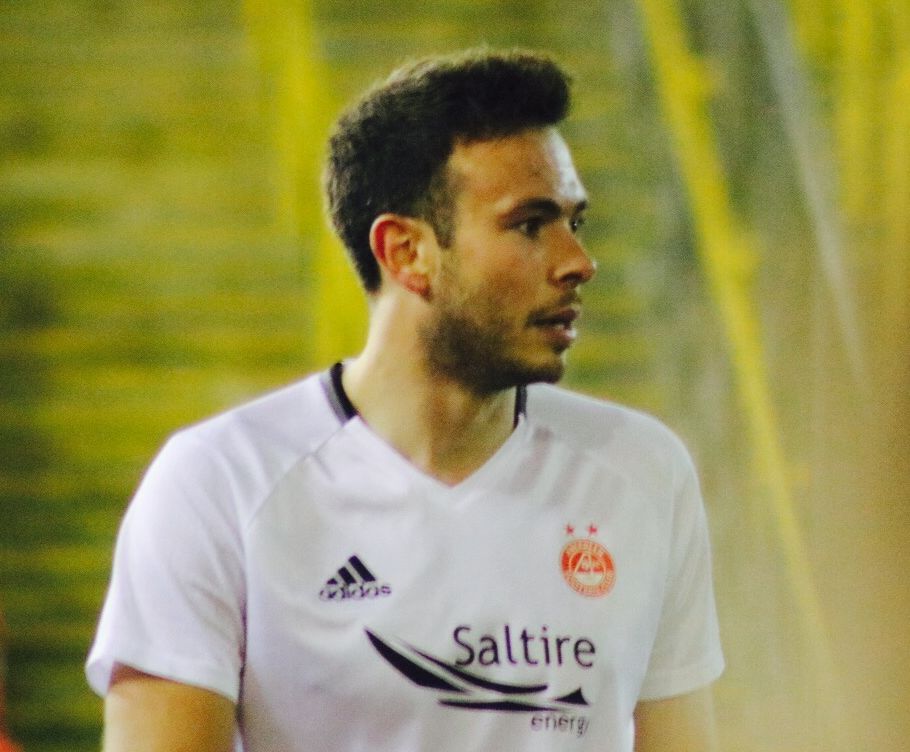 By Red Fin Hall.
This rescheduled league game is Aberdeen's game in hand over the rest of the league. It comes two days after defender Andy Considine became the third player to commit their future to the club, and Derek McInnes telling the media that still has a lot of unfinished business in the North East, and has no interest in The Rangers' managerial position.
Being unable to field an unchanged team tonight due to the suspension of Graeme Shinnie, Ryan Christie stepped into the breach.
Referee Alan Muir got the game under way in fin not of a crowd of just over 10,600 on a clear and fine evening.
With Andrew Considine having just signed an new contract keeping him at the club for another couple of years, and Derek McInnes reiterating his desire to stay at the club, despite the (by now boring) insistence of certain sections of Main Stream Media that he is certain to be on his way to Govan, the good feeling amongst fans was running high.
That feeling was well and truly justified when the match was but a mere two minutes old when a shot toward Motherwell's goal from Shay Logan was blocked. It fell to Adam Rooney whose shot also was blocked. The loose ball fell to Jonny Hayes who, from the edge of the area, shot into the goal past all the defenders from a tight angle to make it 1-0 – before some fans had even taken their seats.
Motherwell were awarded a corner in the 4th minute, but it troubled no-one.
Setting the tone of the game, Aberdeen were looking sharp and pacy as usual. With ten minutes having elapsed, Logan had a go from the right side of the pitch but his shot was more than wayward, and almost high enough to go over the roof of The Merkland Stand.
As the Dons pressed hard looking for more goals, even this early, Christie had himself in a good position just outside the box, but looking a tad unconfident, dithered about too much and the chance was squandered.
Some nice interplay between Niall McGinn and Hayes and Rooney followed, but the latter's overhead kick went just wide.
With not even 15 minutes in the clock, Christie again had the ball at the edge of the box, This time he didn't hesitate but his shot too went wide. Aberdeen were certainly looking hungry for more goals. This piece of action was swiftly followed by a very good pass by McGinn to Christie, who was running through. The ball was just a tad too long and fast for he youngster to reach.
Aberdeen were given he first free kick of the game when Hayes was tripped in his own half.
Still looking strong going forward, Christie became the provider and Hayes the receptor. Taking an example of Logan some minutes previously, he too blootered the ball high and wide. Nevertheless this pair were leading by example and, linking up well, another effort from the loan signing, Christie was the result of this partnership.
finally fulfilling his potential since signing from St Mirren a couple of seasons ago
Lee Lucas for the visitors tripped Kenny McLean. McLean took the kick himself, but it was too far out to cause any concern for Craig Samson in goal.
With even the home defence venturing upfield, an excellent ball in to Ash Taylor from Christie saw the tall Englishman head just wide. Desperately seeking a second goal, Hayes saw another attempt go just wide.
Lucas then found himself being the first player to be booked for committing a second foul; this time on Christie. From 30 yards out, the kick was taken by McLean who seems to be finally fulfilling his potential since signing from St Mirren a couple of seasons ago. He aimed the ball for Considine, but a corner was the only reward.
Coming from the left side, McGinn took said corner kick. He too aimed his shot towards Consi. The defender was standing at the far post, he gratefully got on the end of the ball and headed it downwards and bouncing into the net for Aberdeen's well deserved second goal.
2-0.
Great persistent play just a wee while later, by Hayes, after a mistake by Motherwell captain, Keith Lasley, as he failed to get the ball clear in his own area, saw the Aberdeen number 11 pass to Rooney, who was situated by the back post. He made no mistake and slotted the ball into the net.
3-0

Rooney was through on his own again a few moments later, after he gathered a slack ball from a Motherwell player , but a well timed tackle from Richard Tait prevented another goal.
With 41 minutes gone, McGinn took another corner. He passed the ball to nearby Hayes; he touched over to Considine, he then slipped to Christie who was badly marked just inside the opposition's box, and with the outside of his left foot chipped it smartly into to top right corner of the net.
4-0, and potential goal of the month.
Two minutes later, a superb angled, long ball by McLean found Rooney who proceeded to sky it ala Logan and Hayes.
Just as half time was upon us, Christie, enjoying his first start, made a great run and cut the ball back to captain Ryan Jack. His shot went marginally wide.
Half time: 4-0. The players left the field as the whole stadium stood and gave them a rousing ovation. Well, apart from the few visiting fans.
The second half got underway, with no changes made by either side, and The Dons starting off just as the completed the previous 45 minutes, with Christie bursting through again. This time his pass found the ever willing Hayes but the Irishman's shot went wide.
Whatever Motherwell manager Mark McGhee said to his players at half time, it certainly had an effect. For the next 10 -12 minutes they made a bit more effort to try and get something from the game, but without really causing Aberdeen any real cause for concern.
it took five tellings from the ref and the intervention of a police officer
Considine was booked for something unknown, as many fans were expecting the free kick to be awarded the other way for a handball. The resultant free kick was assuredly snatched out of the air by Joe Lewis and the ball promptly dispatched to Christie.
At the end of that move McGinn fired an absolute screamer from around 39 yards out. It was turned out for a Corner by Samson who was having a good game.
The referee then gave a free kick to Motherwell for another mysterious infringement.
On the 60 minute mark, Taylor was rightly booked for for a badly mistimed challenge on Ryan Bowman. Before the free kick was taken, the referee had to go over to the dug-outs and and deal with the Motherwell manager who, apparently was having a right go at the fourth official. He was then summarily dispatched to the stands – although it took five tellings from the ref and the intervention of a police officer before he made his way to a seat amidst of a bunch of Aberdeen fans.
Shortly thereafter, Aberdeen were awarded a penalty when Logan was bundled over in the box. Obviously Rooney stepped up to take it, and obviously he didn't miss.
5-0
Motherwell introduced the first substitute of the evening in the 67th minute, when Elliot Frear was replaced by Craig Clay.
That didn't help them though, as they hadn't had a chance to get into the game, when another McGinn corner found Rooney, who netted his hat trick.
6-0
Rooney was then taken off and Jayden Stockley came on. McGinn also left the field of play, and Peter Pawlett took his place.
Mark Reynolds proceeded to foul Louis Moult, and a free kick was given.
Lewis then makes an uncharacteristic error and came off his line to try and pull the ball out of the air and missed. Bowman headed the ball over him and into the net.
6-1
Taylor then had a second of carelessness by passing the ball a few feet to Bowman, who, fortunately, didn't manage to take advantage of the mistake.
Stockley, who has more to his game than just his height, made a great cross to McGinn who's effort was saved.
There followed a great run by Hayes, who crossed the ball to the far post to Logan, who in turn passed it to Stockley. His overhead kick, like several attempts by others previously, went a tad wide.
Aberdeen made their final substitution of the game, when Miles Storey came on, and Christie went off to a standing ovation.
Motherwell went upfield on a rare foray, and were given a corner. The said corner was missed by every defender to get to the far post, where number 88 for the visitors, Stephen Pearson, scored.
6-2
Aberdeen weren't finished yet. Enjoying their dominance, and perhaps aggrieved by conceding two poor goals, and with only 8 minutes to go, Hayes led the charge back up field. He slipped the ball to Pawlett, and the substitute put it away.
7-2
This goal was the 7999th goal to be scored since the SPFL was formed 3 1/2 years ago. Stockley had another shot saved by their keeper, who was the only player in their team who can hold his head up, despite the deficit.
He was called into action again, and quite spectacularly so, when Taylor picked up the ball just around his own half and set off on a run, before firing in a fantastic shot from about 35 yards out. Samson reacted brilliantly to what would have been goal of the game, if not goal of the month, and dived and palmed it away.
The match ended soon after with home crowd exceedingly happy with the unexpected result, and the few fans from Lanarkshire anything but. I expect some would have demanded their money back, if they hadn't been given free admission due to the fact that Aberdeen decided, because of the floodlight failure in the original game, it would be unfair to charge them twice.
Full Time: 7-2
Up next for The Dons is an away trip to Ayrshire on Sunday where they will meet manager-less Kilmarnock. Since Derek McInnes took charge, we have played them 12 times and won every time.
Comments enabled – see comments box below. Note, all comments will be moderated.