Aberdeen couldn't pounce upon Celtic dropping points against Hamilton, and dropped points themselves against a late levelling St Johnstone, says Voice reporter Andrew Watson.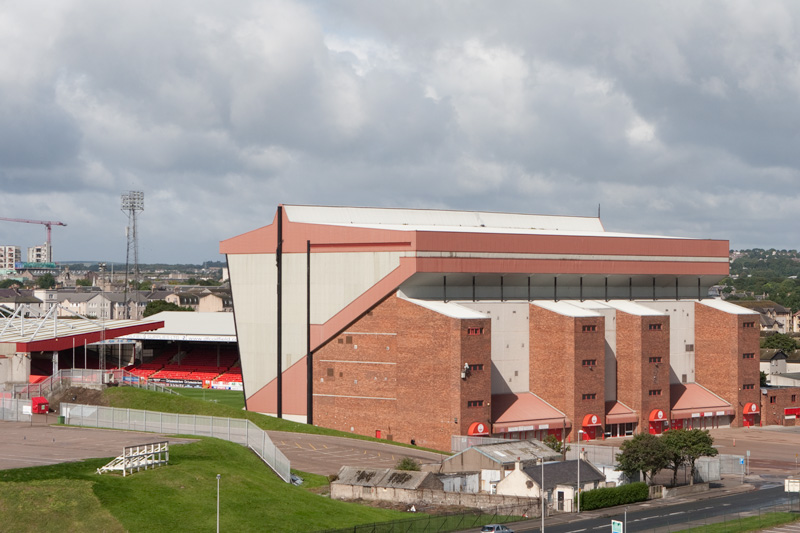 It was a clear, dare I say, spring looking afternoon, but the pitch looked a tad patchy. Around the country though, it could've looked a lot worse.
Gradually things became overcast, and without that sunlight you could truly see the brown of the earth and mud all over pitch.
U2's 'Beautiful Day' belted out the tannoys, which would be about half right. Hard-Fi's 'Hard To Beat', however, didn't seem to ring as true, given recent form.
Again the weather changed, weirdly, as AC/CD's 'Thunderstruck' came on. With this came more sun light and the illusion the pitch wasn't so bad. The attendance, from first impressions, seemed also patchy.
With Adam Rooney out injured with a leg strain and Shaleum Logan suspended, it didn't look to be the typical, straightforward home fixture for the Dons. It would be down to Simon Church to deliver the goods up front, more or less.
An early chance to score was foiled by the Saints keeper, Alan Mannus, but frankly, it was an ordinary effort. They had their own chance, but this went over the bar.
Graeme Shinnie later made what looked like a karate kick for a bruising challenge.
Kenny McLean was then fouled; winning a free kick in, more or less, the centre of the pitch. This attack was repelled.
Dons keeper Scott Brown safely picked up a trundling ball.
Up the other end, Saints scramble away after attempt on goal. A cross results in another attack upon them, but no cigar for Aberdeen.
Down the other end, Dons clear ball from danger.
There's then a dubious free kick for the McDiarmid Park men, as McLean appeared to be the fouled party.
The Pittodrie side struggle to get the ball away from danger. However, Shinnie then homes in on goal but the resulting ball was deflected.
A Saints ball is mopped up by a pressing Aberdeen side, but not clinical enough.
Willo Flood gets binned with a wild challenge. Free kick ensues and Saints parry it away, again.
There's an important throw in for Aberdeen in key area. This earns them a subsequent corner.
Niall McGinn whips in super cross, but Saints' stopper and his back four command their area with force.
Aberdeen's own back four make a heavy pass, and are fortunate not to gift a golden opportunity.
As said, Saints are a fair unit at the back, good team play and coordination. Flood gets frisky with opposing players after one of their number gets decked.
Aberdeen then have a fortuitous refereeing decision as Saints home in on goal.
Double defensive errors gift Aberdeen a golden opportunity, which isn't taken.
Saints win a throw in a key position.
Flood appears to be losing his rag, giving away not his first foul.
Slack passing almost gifted Saints an interception in dangerous area.
Shinnie's low cross is straight at the away side, right onto the defensive header away from goal.
Peter Pawlett earns Aberdeen another chance, via a corner.
Shinnie almost gets there, with attempted diving header.
Church though, much like in the Celtic game, bundles the ball over the line with a predatory pounce.
1-0 Aberdeen after 35 minutes!
Saints then send, down the other end of the pitch, a ball that eventually finds itself over the bar.
Captain Ryan Jack almost latches onto a expert long ball, a move that could've been a second good attempt on goal.
A Saints player is then bundled over behind the referee, and things get shirty. Jack, and Saints' Danny Swanson are both booked. At one point it looked like the former perhaps had latter in a headlock.
Andrew Considine's subsequent headed effort lands safely into hands of Mannus.
The late David Bowie's 'Heroes' signals end of play. Perhaps conveying Aberdeen's status as current frontrunners in the eyes of the Red Army?
Halftime 1-0.
Aberdeen are intercepted, but go on to win a corner. They then come close with another corner.
An Aberdeen header is then nullified by Saints' defence.
Shinnie finds himself on the floor, and hobbles off. The resulting free kick goes close.
Flood is dogged, winning the ball when the chips were down.
Aberdeen scupper their best chance so far to go two goals ahead.
Saints scramble the ball away, and they're fortunate the decision points to a goal kick.
Aberdeen's following advance into box is blown over the bar,
Shinnie's determination forces a chance in box, but the ball is swept away.
Saints then clear their lines and Aberdeen get a throw in their opponents half.
Aberdeen seem like they've kicked a rugby ball over the sticks, to score a conversation, and not a goal. A prime chance wasted.
Saints are then awarded a free kick in a dangerous area after their goal bound man is taken down outside the box.
Church heads down a perfect ball to a teammate and an Aberdeen attack begins. A later move sees Saints side foot the ball into the side netting.
"What's that, eh?"
This from the usually rather quiet Mark Reynolds, railing against the linesman's decision.
McGinn appears to fall foul of an over demonstrative Saints man, writhing on the floor.
This follows a dubious decision not to award an offside decision in Aberdeen's favour but thankfully, Brown saves.
Ashton Taylor again wins a header to keep his team safe.
"Cheat, cheat, cheat, cheat"
This rang through Pittodrie as a Saints man goes down on the wing of the box.
Then a sustained Aberdeen attack ends comfortably in the keeper's arms.
Shinnie gets booked. McGinn wins the ball but is chopped down.
Taylor comes in with emphatic header to keep team out of danger, and goes out for a throw.
Then a sustained Saints attack ends, thankfully, with an attempt well over the bar.
After 84 minutes Pawlett came off for Scott Wright. He makes an immediate impact, stubborn to the last and not going down for a foul.
Saints send a trundling ball way off the mark.
Four minutes after that substitution, however, St Johnstone are awarded a penalty.
Substitute Liam Craig sends Brown wrong way. Craig turned to the Main and Merkland Stand corner, goading the Aberdeen support, fingers to ears. The intention, supposing, that the sound, or lack of it, was deafening. The wind had been taken out of the sails of the Red Army.
1-1.
Three minutes of additional play were then called.
McGinn blootered the ball over the bar after a meandering dribble around Saints' box.
"Cheats, cheats, cheats, cheats"
This after the obligatory shaking of hands at the fulltime whistle.
"Oh, when the Saints/
Go marching in
Oh, when the Saints/
Go marching in
I want to be in that number/
When the Saints go marching in"
Some of the Saints were still doing drills after the game. Perhaps those who deserved to win won, as opposed to those who thought it was an entitlement.
Final score:  1-1.