When Big Country played The Lemon Tree last year as part of their 30th Anniversary 'Steeltown' Tour, fans had come from all parts of Aberdeenshire and further afield. The atmosphere was intense as well as friendly and warm, the band seemed to enjoy themselves as much as the large crowd. It was a great night – but when Big Country came to Huntly last week, there were a few new and special things going on. Suzanne Kelly reports. Photos by Rob Scott.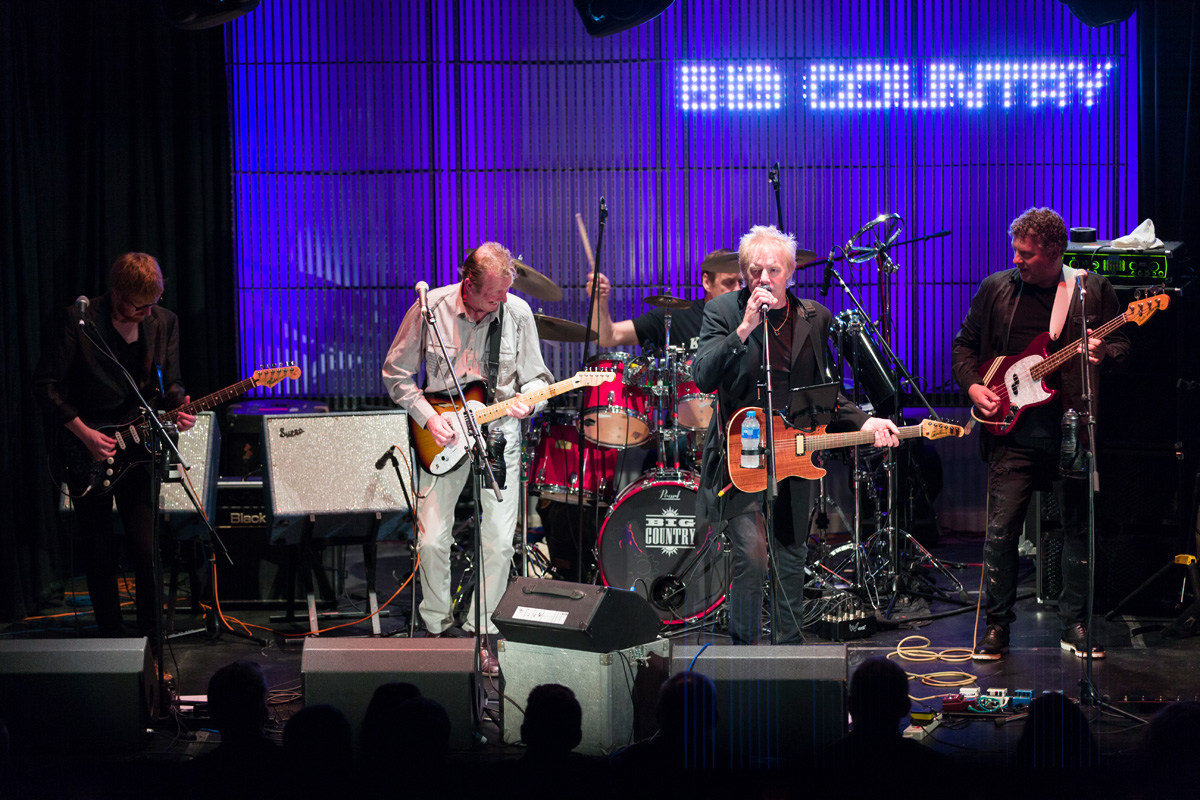 Big Country have seen many many changes during their long, hit-filled career. Huntly was the scene for a further lineup change with Simon Hough on vocals.
There was something about the intimate old venue with its high ceilings having a definite acoustic edge over venues such as Aberdeen's Lemon Tree.
There was something about the crowd; all who spoke to Aberdeen Voice on the night having encyclopaedic knowledge of the act. There was something about the Aberdeenshire setting and the summer evening that made it the perfect time and place for Big Country's decidedly Scottish unique sound.
As the photos show, they also looked great. Things look very positive for the rest of this year's demanding tour schedule.
The opening act, actor and singer Tom Urie entertained with covers and good humour.
The band played their classic hits and live favourites including Harvest Home – Fields of Fire – In A Big Country – Chance – Wonderland – Look Away – The Teacher. 
This line-up was a new one for us all; and it worked. The band line up – BRUCE WATSON (guitars/vocals); MARK BRZEZICKI (drums, vocals); JAMIE WATSON (guitars/vocals) and former SIMPLE MINDS' bassist/vocalist, DEREK FORBES – was augmented on stage by SIMON HOUGH, ex-front man for Denny Laine (Wings), Eric Bell (Thin Lizzy) etc.
Event organisers Huntly Live said:
"after a shaky sound start, we did really good. The band are getting tighter and the sound of Simon's voice won't be Stuart's – but it ain't far away."
Any sound issues were minor if not unnoticeable to those front of house on the floor or in the balcony, where the sound was perfect. Perhaps a few larger / city centre venues could learn a thing or two from Huntly.
The organisers have a mission to bring acts out of the big cities to the lovely Huntly area. As they told Aberdeen Voice:
"The idea behind the company is a simple one. To provide good quality entertainment on our doorstep… we have some great venues around the region and it's our plan to use as many as we can."
They'd succeeded on the night.
On a personal note – I was taken ill (very ill), or I'd have had a few words from the band to share. This will definitely be redressed when they play Aberdeen later this year. And even though I could barely stand, when they played, my focus was on them and I forgot how badly I was doing.
For further information on the rest of the band's 2015 tour dates, news and more, visit www.bigcountry.co.uk including their future Lemon Tree date.
Visit Huntly Live Entertainment for information about further shows.