Lemon Tree 26 April 2015; it's been snowing, most people are cancelling their plans to stay home and be warm. The result is an audience size below what was expected for Wire. But completely undaunted and unphased, they air their new album Wire to Aberdeen's hardcore, devoted live music fans. Suzanne Kelly reports. Pictures by Dod Morrison.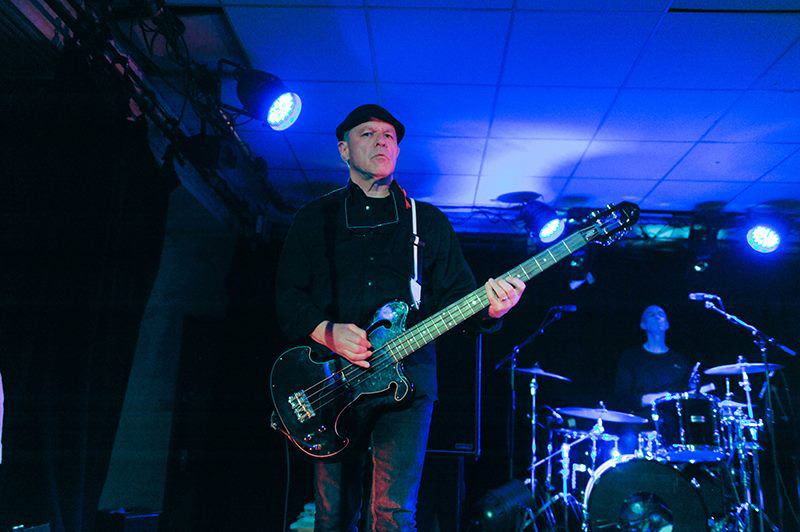 I wish I'd stayed until the end. I wish I'd stayed until the end. Having to leave this show early is a huge regret a week later.
With a new album to promote, long-running, ever-evolving punk/art/rock act Wire played a, well – sweet and strong set to an audience that loved it.
The Lemon Tree was not packed, but almost everyone I'd ever met in Aberdeen who loves music was there.
One proud fan had bought everything the merchandise stall had to offer. A beautiful silver foil on black poster, signed by Wire, was his prized possession.
The geometric graphic was composed of many smaller elements making a striking, elegant, strong overall design. And that's kind of how I see their music as well. Complex, perfectly executed percussion layered with bass, guitar and vocals combine; and rock-solid, cohesive and compelling music is the result.
As another person who loved the show said:
"they're artists; this is art." 
Wire formed around 1976 and today are Colin Newman (vocals, acoustic guitar , electric guitar, keyboards, and more); Graham Lewis (bass, effects, keyboards, vocals, backing vocals); Robert Grey (drums) and since 2012 or so Matt Simms (electric guitar, 12-string electric guitar, lap steel guitar, effects, keyboards)
Of this new album they've said:
"Their 13th studio album — simply titled 'Wire'— comprises material that was written with the album in mind, but toured extensively first, as well as songs that Newman introduced to the group in the studio just prior to recording.
"The idea was to get the most spontaneous reaction possible from the musicians, and far from the rough and ready results one might expect from such a tack, Wire is full of swooning pop melodies with a '60s tinge and an irresistible, near motorik rhythmic momentum. One can recognise certain melodic inflections, guitar and bass motifs, and drum rhythms from Wire's idiosyncratic vocabulary but it has a remarkable freshness." 
http://www.slicingupeyeballs.com/2015/02/12/wire-new-album-tour-dates/
The new guitarist Simms in particular seems to be enjoying himself and is smiling at his bandmates and the crowd; other than that the rest of the act seems focused on every note. I wonder how they're feeling: it's the end of the UK tour; it's Sunday night; it's snowing; they're probably shattered. But they're here and we're glad of it.
A sound engineer is darting all over the place; some said as I left the vocals could have been higher in the mix and brighter, but I've no complaints myself.
No point in pretending I know what the new songs were or what the complete set list is. (If someone out there wants to share the set list, please do weigh in). What I did hear was infectious and beautifully delivered. Know the names of the songs? I wasn't sure whether I was in the 1980s 90s or the future. But I liked it a lot.
If you want a sample, here is Joust & Jostle.
I'd not previewed the new album; this show was mainly dedicated to tracks from this their 13th album, the self-titled 'Wire'. As my friend said later:
"They've finally put out an album named 'Wire' – its brilliant, it IS Wire." 
I find them crisp, smart, sharp; the drummer is absolutely amazing; at one point I'm not at all sure how Simms is getting his guitar to create the most amazing sounds; I'm a bit mesmerised by this and several other passages.
My phone's SoundHound app didn't recognise any of the new pieces, which I thought I'd try for a variety of reasons; but I was far too busy listening to them to worry about it. But I'm sure that once this album's been properly launched, everyone, even SoundHound will be familiar with this impressive new material. Aside from the people who came and stood directly in front of me after the third song and didn't' stop talking once, it was a gripped and attentive audience.
By the time this review is out, the UK tour will have finished; the band will tour the US in May. If you can't get there, I'd get the album.
Is it punk? Is it new wave? Is it PostPunk? Is it electronica? Is it rock? Yes. And I'd like more of it.
Album and Wire info here: http://www.pinkflag.com/