When Spear of Destiny played the Moorings Bar this past Saturday, it was a case of 'they came, they saw, they conquered' (in the words of Dod Morrison). Suzanne Kelly agrees.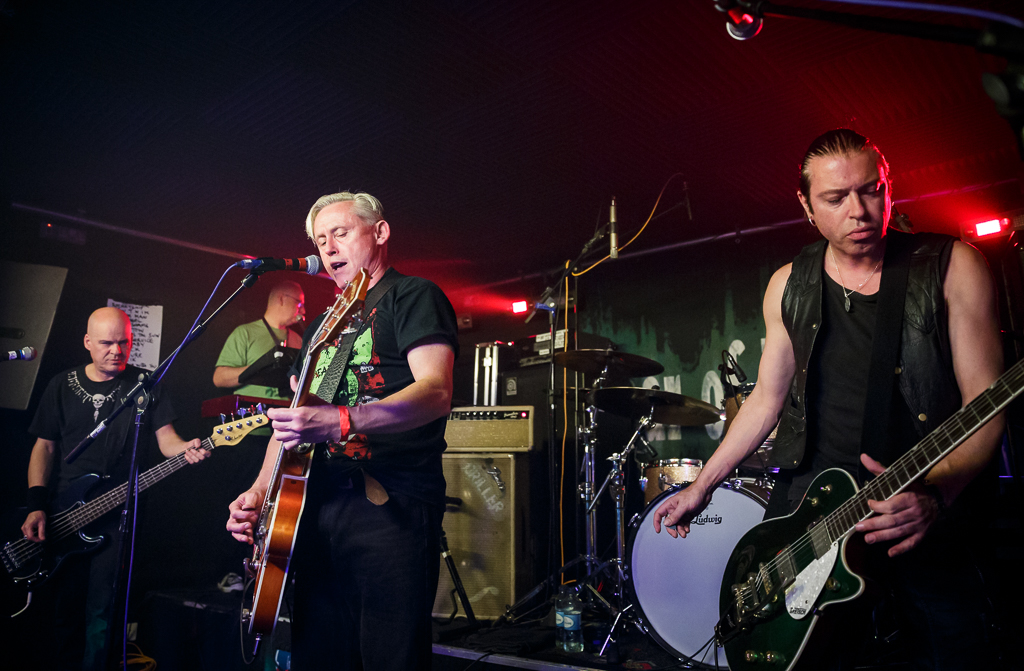 Spear of Destiny's  show last year in Aberdeen was a powerful, heady affair.
This year was another triumph, and surely one of the best nights at the Moorings or any other local venue in ages. Striking new material from the new album XXXI added to the evening beautifully.
The  line-up if it needs re-stating is Kirk Brandon (guitars, vocals), Craig Adams (bass), Mike Kelly (percussion), Adrian Portas (guitar) and Steve Allan-Jones (keyboards).  If you're touring exhaustively as they are, keeping things fresh for your audience is hard work – but they did it.
The set list was spirited away after the show by a frenzied, deliriously happy 'Big Steve', and alas, I can't tell you precisely what order the music came in. I sort of just remember the overall effect of time going too quickly and overwhelmingly powerful, varied material.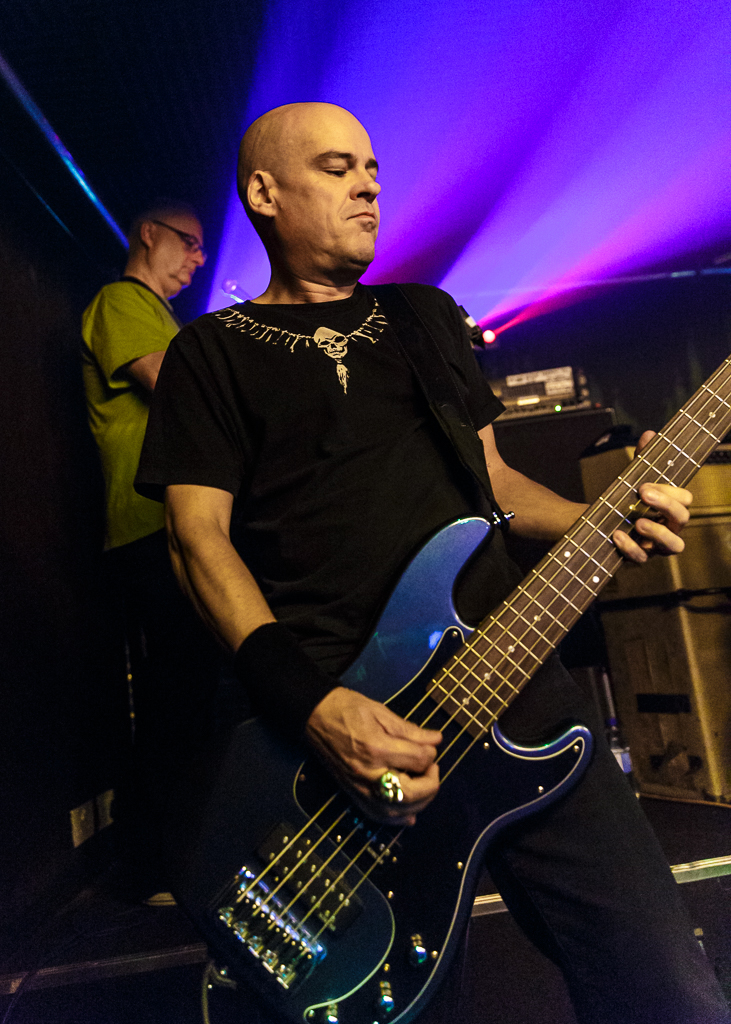 The new track Sputnik was introduced by Brandon talking about the Russian satellite programme Sputnik and the monkey and dog it sent into space – the audience and Brandon were making animal noises, and it was all good fun.
Last year Brandon asked about the referendum, and took a little vote which saw the audience nearly split down the middle.
It might have been a bit soon for some to have contemplated the referendum result, and I'm glad he didn't go there.
Sputnik, Titanium Man and Here Comes The Sun are infectious tracks from the new album; they went over beautifully.  World Service had the whole room singing.  Babylon's Burning was covered powerfully (NB – The Ruts come to the Moorings soon), and we were left wanting more.
Apparently a review requires some negatives for balance, but I'm finding this a struggle. We didn't get to hear everything we wanted to hear, but with a 31 year back catalogue, there was never going to be time to play all the favourites. (The only other criticism is that Kirk Brandon doesn't seem to like BrewDog, proving that no one is perfect).  Wish I'd seen the opening act for that matter as well.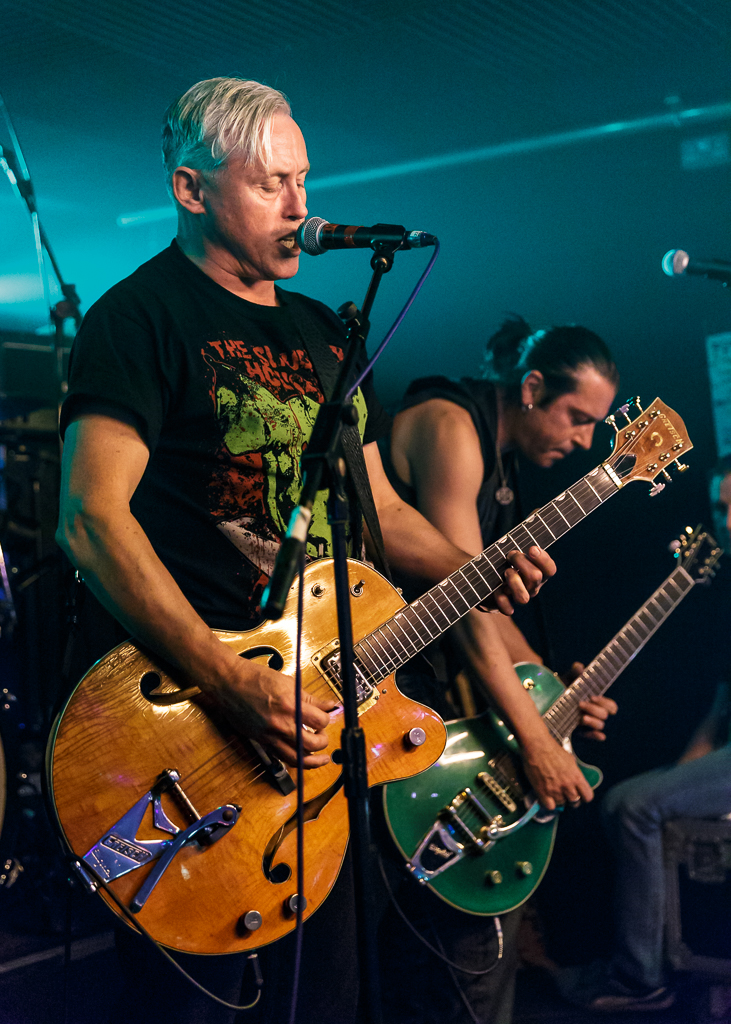 If I can't find a bad word to say, then neither can any other person I spoke to on the night or who came forward since. Here's what longstanding as well as new fans had to say.
Roddy Kennedy:
"Kirk's been my hero/idol for near enough 3 decades so to have a wee chat like that with him was brilliant [note – the band could not have been more accommodating to their fans after the show – SK] I dunno if my review will be balanced, after all they are my favourite band of all time, but it's definitely one of their best performances up here. Here Comes The Sun, The Wheel, Titanium Man and Babylon's Burning were the stand out tracks for me and of course Liberator is always a crowd pleaser."
Photographer Dod Morrison [who has seen god knows how many acts] :
"Yet again SOD came saw and conquered an captivated Aberdeen audience , they come back year after year and never disappoint…"
Shaun Young:
"SOD brilliant as always. great set list too, played all my favourites the new album I never listened too yet but sputnik and titanium man I think sounded great. the one that stood out was world service still sounding great so overall really enjoyed the gig and wouldn't hesitate going to see them again. 5 times I've seen them now everytime's a belter of a night."
My friend Alex (who great  enjoyed speaking to Mike Kelly, who was most generous with his wine):
"Spear of Destiny gig – As a total newbie who has never heard any of their music I thoroughly enjoyed the gig. I'm a staunch lover of rock music and there were plenty of beats to enjoy bobbing around and stomping my feet to overlaid with some powerful vocals and catchy rhythms. Excellent performance, would see again."
Victor Beattie:
"they were great. Mr Brandon's voice has passed the test of time and their new material stood well with the old. The crowd seemed to enjoy it and I'd definitely go to see them again.."
A virtually unanimous thumbs up from a diverse audience.   Thank you Spear.
On a personal note.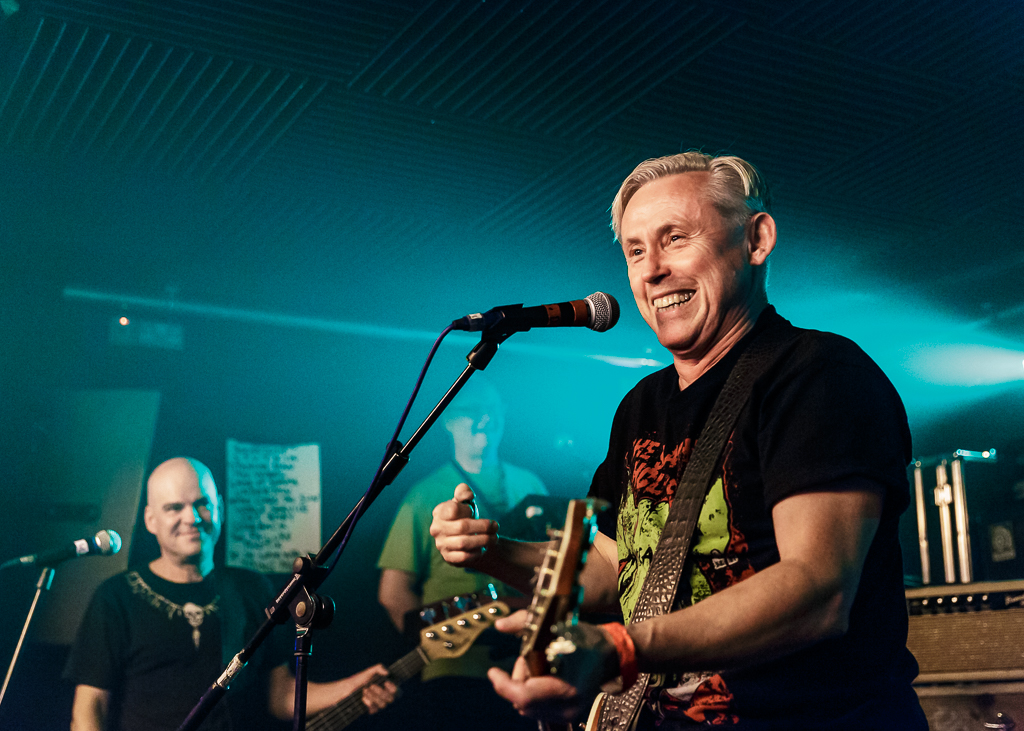 A failing on my part, which I can't fully explain, is that I had never seen them live before last year.
Perhaps I was busy with other bands and genres; perhaps it was that I'd only moved to the UK in '88. (Likely because I also got very jaded with the industry – I'd worked in some majors and that brings cynicism, well for me anyway).
Most likely it was that I expect far too much from live music and stuck to acts I knew to be flawless live.
Les Paul set the standard by which I would judge any guitarist; I grew up (as far as I've managed to grow up) by seeing him play as often as I could. I'd happily (and fairly frequently) walk out on any act that got on a stage and proved to me their music was a studio engineering feat and not a musical one. I knew SoD from albums.
No one was going to play like that live and make it gel, never mind excelling the studio work. And certainly no one was going to sing like Kirk Brandon outside of a studio. So, I never saw them live until last year. I guess I had a wasted youth after all. There's a reason that so many people have followed them faithfully for a remarkable 31 years.
I will be back for more.
Comments enabled – see comments box below. Note, all comments will be moderated.