Spear of Destiny haven't let up these past 31 years. Released last week, XXXI/ Thirty One is their first studio album in six years. And they'll be appearing at the Moorings soon. Suzanne Kelly reviews.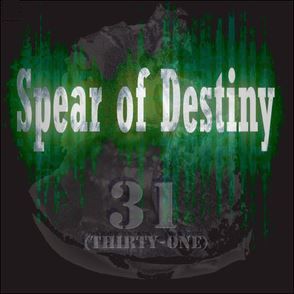 'XXXI / Thirty one' was pre-released to fans, and is out to the rest of the world now; details here http://www.kirkbrandon.com/ where you'll also find a montage of the new material to listen to.
Jools Holland called it 'possibly [Spear of Destiny's] best album in 20 years'.
Holland is right. XXXI marks another major milestone in SoD's continuing voyage.
Spear of Destiny are Kirk Brandon (voice, guitar), Craig Adams (bass, vocals), Adrian Portas (guitars), Mike Kelly (percussion), and Steve Allan-Jones (keyboards).
The music is beautifully written, arranged and recorded; the diversity of the material is striking. XXXI offers epic guitar and vocals as fans would expect. It's a journey through rockabilly, melancholic dirge, '60s retro, uplifting anthems and still each work is instantly, unmistakably identifiable as Spear of Destiny at its finest.
When the album was being recorded, Brandon wrote on his website:
"…it promises to be a more up-tempo record than most in recent years, which can only be a good thing I think. A bit of a kick to it!" 
Here Comes The Sun is perhaps the most positive and affirming track in this collection.
Equally infectious, equally powerful is the haunting, melancholic Sputnik, which was the first track released to those who pre-ordered the album. This builds from a minimalist start featuring electronica echoing what a satellite might sound like in the depths of space to a rich crescendo. Spear's trademarks are the blistering layers of Portas' and Brandon's guitars supported by Kelly's drums and Adam's bass, these two tracks exemplify those traits so loved by the fans.
The diversity of this collection is something to marvel at; particularly when a Marvel Comic anti-hero/villain Titanium Man is brought to life. To those of us of a certain age who remember the animated television Marvel comics Iron Man and Spider Man and their theme music, this song could have been written at the time; its 1960s/70s retro feel belongs to a golden age of comics on television.
If Marvel is planning to revive the Russian Titanium Man in one of their upcoming films in the wake of renewed East-West tensions, SoD is in pole position with this track. But it's not quite as fun as it seems at first hearing; the music is positively fun; but in the lyrics dark roots appear.
An early album review comes from Louder than War; it's an appropriately enthusiastic thumbs up. It aptly describes the song 'Australian Love Song' as 'a rockabilly trip-out that sounds like a piss take/homage to Nick Cave'. It certainly nods to Cave's landmark 'Murder Ballads' album.
Thirty one years together makes for flawless instrumentals, a unique sound, and some remarkable riffs and harmonies. The layers of vocal and guitars is transporting throughout, though notably in Here Comes The Sun, and the solo in Sputnik. Here Comes The Sun begs to be released as a single; Fascinations offers scathing social critique as it describes bullemia and other ills.
Hurry Home (which features ethereal, plaintive vocals from Heidi Berry) is a worthy addition to the band's anti-war arsenal
Falling Down is remarkably sad ('this is the sorry state of our lives'), angry ('smiling idiots only want to take it away from you'), and harsh ('the sunlight's a happy place / but I guess you wouldn't know').
The instrumental section of this piece is likewise equally remorseful.
It opens with a single guitar rising and falling at the chorus ('you could be anything in this life / but you chose every time falling down'), and after the angry part subsides, it fades away in the word 'delusion' sung over and over again as if in some tranquilised haze of thought. Between this and Here Comes The Sun is an entire spectrum of emotions.
Write On:
If there is any fault to be found in this latest release, it's that the lyrics aren't supplied in the CD; it would be good to have them laid out. As Brandon advises:
"This marks a very big moment for Spear and for myself; it marks a return to the writing process… and the writing deserves as much consideration as the instrumentals at least"
Hurry Home (which features ethereal, plaintive vocals from Heidi Berry) is a worthy addition to the band's anti-war arsenal. In simplest terms, Hurry Home presents us with a soldier who's not going to make it. It immediately opens with mournful guitar, and then the vocals. While all the tracks' lyrics demand attention, these lyrics are particularly worth delving into. Brandon's written:
"They'll be no reveille in the morn
They're be no sleep tonight
We haven't talked on the phone
I ain't lonely, but this breeze is"
The word 'reveille' puts us in the barracks; the sleeplessness implies worry and the unstated cause of this worry foreshadows a tragic end. The soldier's denial of loneliness is a very lonely, heartbroken depiction of bravado.
It continues:
"Blue on blue
Afghanistan
Shot in the back
I understand"
Thinking on this seemingly simple passage for any length of time raises several questions. Is Brandon meaning our soldier was literally shot in the back, or is there an implied dig at the UK's military?
Could this be a reference to the military continuously betraying troops by sending them on missions without the right equipment and protection, or by sending them on futile life-risking missions (the unfinished Helmand electricity project having just been criticised in the news this week)?
Is the 'blue on blue' line echoing the many occasions on which troops have been killed by people who infiltrated the Afghan police and armed forces only to turn on their former comrades to kill them when their guard is down?
This line isn't likely to have been written without some meaning intended. When Brandon writes 'I understand' does he simply mean he believes the soldier was shot in the back – or is Brandon saying he knows what it's like to be metaphorically shot in the back? In ten, plain, short words Kirk Brandon gives you some fairly large questions to think on – it's a master class in poetic economy which layers several ideas in a condensed verse.
And if you're not delving deeply into what ideas may be hidden here, then the last unambiguous lines close the story:
"No last hurrah for you
Just a stone in Arlington"
As poignant and political as Hurry Home is, Titanium Man is as playful (well, on the surface at first hearing anyway). Cry Baby Cemetery is laced with menace and Americana; a synthesizer mimics a rattlesnake as it opens, putting the listener on a dark lonely Louisiana highway at night before the song is halfway started. There really is something for everyone on this album.
The Album Live
Live music trumps studio work and always will. There are acts who put out simplistic but highly produced studio albums but who can't get cleanly through a single song live (don't mention the Cardigans… oops).
There are acts like the Grateful Dead which, love or loathe them, created studio albums more often than not as an afterthought to the unpredictable, whirlwind live shows built around remarkable impromptu improvisations which frenzied fans adored. And then again, there are acts which do great work in the studio and equally great if not greater live renditions, like SoD.
They proved this at the Bisley Underworld Festival as the album was launched; the new material was as equally well performed and well received as their cornerstone works such as Take Me Alive. There was also a well thought out, apt cover of Babylon's Burning, perfect for this punk festival. Cover songs do have a time and a place* (see footnote).
Kirk & Jools
Brandon appeared on Jools Holland promoting the album last week; discussing his music, early life and influences. His choice of material played / performed in the show earns him triple points:
Robert Johnson – Love In Vain
Led Zeppelin – The Lemon Song* (see footnote)
Free Walk In My Shadow
Clash Complete Control
From the new album Holland's show included:
SoD XXXI – Fascinations
Sod XXXI – Sputnik
Brandon and Holland's live version of Free's Walk In My Shadow was high voltage, good fun, and just a bit dirty. You can still access a clip from the show; catch it here.
Brandon's rendition of Paul Rodger's vocals were splendid (note – Paul Rodgers will perform at the Royal Albert Hall in early November to benefit Aberdeenshire's Willows Animal Sanctuary. He and his likewise animal loving wife Cynthia are patrons of Willows. Also on that bill is the Deborah Bonham band; she has likewise donated generously to Willows and is a fellow animal lover).
Back to Brandon's website where he's also written:
"These are exciting times… See you on the album release tour in September! I for one cannot wait."
The wait's over, and if you make it to the Moorings, or one of the album playback dates (there's a show near Glasgow on the 12th), you'll be glad you did.
A Date With Destiny
Experience Spear at the Moorings; they return on Saturday 11 October (do hurry if you expect to get a ticket).
* Compare and Contrast – A Footnote
When Spear of Destiny performed at the Moorings last year, Miley Cyrus had just released something called 'Wrecking ball', which involved her straddling said wrecking ball without benefit of protective clothing, or actually any clothing at all (I'm sure it was essential for the creativity of the artist, for expressing individuality, etc. etc).
In that same year that Spear, ToH and Brandon toured and created this remarkable new album, Cyrus has brought us 'twerking', taken her clothes off, and has just slaughtered Zeppelin's 'Babe I'm Going to Leave You'. We are inexplicably in a world where the latter earns more money than the former. Then again, people will be listening to XXXI decades after anyone wants to see Miley with or without clothes.
A performer (or a stripper with a famous line dancing relative) just can't buy an ability to write, to perform, to sing (please do not listen to the live Cyrus version of 'Babe' – it will stay with you for a long time for all the wrong reasons), however much money they and their team have. Apparently you can't even get competent advisors however much money you have.
La Cyrus has explained she committed this crime to bring Led Zeppelin to a new generation. Don't know where she's been, but Zeppelin is deservedly everywhere. Cover songs do have their place and time; this slaughter of a classic will send banshees screaming into the night in terror. In fact people on Facebook are reporting that when she starts screaming frightened pets are hiding under beds and trembling.
It occurs to me that Van Gogh never sold a painting in his lifetime. Perhaps he should have taken his kit off. Thankfully, this particular cover version shall pass, if not soon enough.
Comments enabled – see comments box below. Note, all comments will be moderated.