Deborah Bonham launches her new album, Spirit, with some Scottish dates.  A supporter of Aberdeenshire's Willows Animal Sanctuary and lifelong animal lover, Deborah has dates in Dumfries (Friday 21 March   http://www.thevenuedumfries.co.uk) and Kinross (Saturday 22 March http://www.mundellmusic.com/). With thanks to Suzanne Kelly.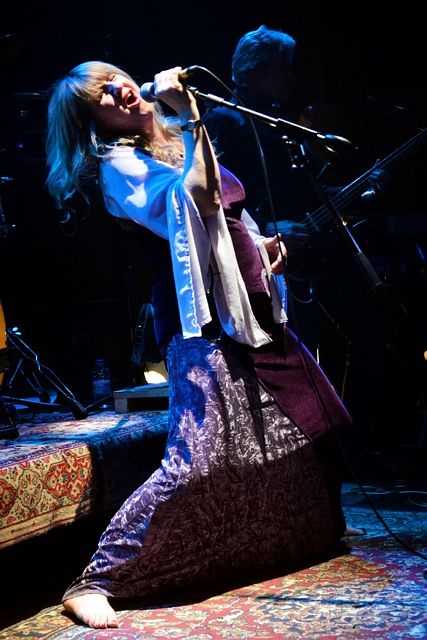 The spirit in the songs and music of Deborah Bonham draws on the hurt, pain, joy and anger that come with life for all of us. Negatives are decanted as positivity, from mistakes comes learning.
From that spirit comes the determination to always push forward and celebrate life, sharing experiences with her audience.
As she sings in the opening salvo from the album: "Pain is going away, it's gonna stop today. I'm gonna fly".  So there could be only one title for the new album: 'SPIRIT'
But Deborah also has soul.  It's the soul that comes from her deep love and understanding of so many musical greats – Otis Redding, Aretha Franklin, Etta James, Bonnie Raitt, Lowell George and many more – all of whom are artists who surrounded themselves with great musicians who had that same 'feel'.
And so it is with Deborah's band. It's also their instinctive affinity with the words being sung and how they absorb her emotions; sometimes soft, sometimes fierce.
Recorded at a highly charged, personally emotional time in Chichester UK and Nashville USA, Deborah instinctively channeled all that was going on in her life into the sessions, which she co-produced with Glenn Skinner (Deborah Harry, Killing Joke), who also manned the desk for her last album, 'Duchess'.
On Drums is Marco Giovino (Robert Plant's Band of Joy, John Cale, Norah Jones).
Marco flew in especially from Nashville to record the drums in a Chapel local to Deborah and she then joined him in Nashville to finish the recording and mix with Mike Poole (Band of Joy, Rickie Lee Jones) and master with Jim DeMain (Michael McDonald, John Hiatt).
Pedal steel supremo B.J.Cole also guests together with a special guest appearance from Robert Plant on harmonica, whilst the remainder of the musicians are her long-time, forceful working band – including bassist Ian Rowley, keyboardist Gerard Louis, and guitarist Peter Bullick.
Embracing more than ever before the bands' rootsy-Americana influences of the likes of Tom Petty & The Heartbreakers and Little Feat, 'Spirit' seamlessly travels through Deborah's songbook of original compositions, alongside two co-written with John Hogg (Moke, Hookah Brown – with the Black Crowes' Rich Robinson) and 'Painbirds', written by the late Mark Linkous and originally recorded by Sparklehorse for their debut album.
In the same way that Hendrix made Bob Dylan's 'All Along The Watchtower' his own and as did Joe Cocker with The Beatles' 'A Little Help From My Friends', Deborah Bonham and band firmly stamp their identity on this stunningly powerful song.
Elsewhere on the album, mandolin, cello and dobro weave throughout 'Fly' (co-written with John Hogg and Simon Sessler) and the irresistible 'Take Me Down' the first single to be released and a ReverbNation Rock Chart Number One – twice – which is perhaps reminiscent of The Eagles' 'Take It Easy' but more intriguingly, uses a recurring lyrical theme in Deborah's work – that of the mercurial nature of the rivers and the seas, to heal or devour.
Throughout, Deborah's sympathetic band sear, coax, blend, sweeten, compliment, rock and groove
The Cajun stomp of 'What It Feels' builds on Marco Giovino's percussive box of tricks, giving way to a harmonica solo from Robert Plant, that delivers  in the most concise way and not heard perhaps since Led Zeppelin's 'Custard Pie'.
The Byrds-esque 'I Won't Let You Down' follows before a sultry, hot n sticky atmosphere permeates 'Good Times' and there are echoes of Christine McVie and Bonnie Bramlett sweetly lingering in Deborah's delivery of  album closer, 'Lay Me Down'.
Perhaps the most tellingly autobiographical song is 'Spirit In Me'. If there is a defining song of this albums' genesis and attitude, then this is it – lovingly dressed with B.J Cole's sympathetic, yet playful pedal steel performance.
Throughout, Deborah's sympathetic band sear, coax, blend, sweeten, compliment, rock and groove, proving (if proof be needed) why Paul Rodgers would have them as his band of choice for recent shows drawn entirely from his catalogue of legendary songs by Free.
This Deborah Bonham 'live' band also includes drummer Rich Newman (Sam Brown, Steve Marriott, Rory Gallagher) and the band have showcased several of the new songs in recent months, including the show-stopping, classic Bonham blues rock ballad, 'I Need Love' at Festivals and shows in the UK and Europe: The Great British Rock & Blues Festival, the massive Harley-Davidson European H.O.G. Rallies in France, Austria and Portugal and The Great British Folk Festival, where, even in the bands' stripped-down acoustic format, the songs connected with the audience.
And why? Because they all see and feel the SPIRIT.