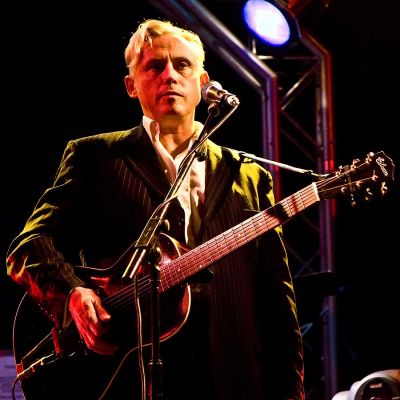 Kirk Brandon will be appearing in Aberdeen on Sunday 9th of March as part of his aKoustiK nights 2014 tour. With thanks to Hen Beverly.
Kirk Brandon is the voice of Spear of Destiny, Theatre of Hate and Dead Men Walking. With over 15 studio albums and countless single releases, his career now spans well over 30 years.
He has enjoyed worldwide success with all three of the above bands and is also a leader in every punk rock poll by being the singer and songwriter in The Pack.
Over the last 8 years, Kirk has released five solo acoustic studio albums (the Dutch Masters series) that have pulled tracks from all eras of his career, these albums have featured many of the people he has worked with and collaborated with over the years including Derek Forbes, Slim Jim Phantom & Clint Boon.
The latest of these solo acoustic albums entitled Dutch Masters Volume Five has become, in it's first year of release, the best seller in the series.
DM5 features two outstanding Theatre of Hate interpretations, a James Bond theme and a Country & Western cover of a Ry Cooder tune.
Kirk has spent his Christmas break preparing a brand new solo show for 2014, even some of his best known tracks (Never Take Me Alive, Do You Believe In The Westworld? & Young Men) have been dusted off and given a given a good spruce up.
The aKoustiK nights 2014 tour kicks off in Brighton on February 20th and ends in at the beautiful Hermon Chapel in Oswestry on March 15th.
Joining Kirk on all these dates will be long time friend Dave Sharp. Dave, best known as guitarist, songwriter and sometime vocalist of The Alarm, will be show -casing a selection of songs that cover his thirty plus year career.
 "Kirk Brandon is one of the UK's most underrated songwriters and 'Omega Point' is a fine addition to his arsenal of epic albums" – Vive le Rock! Magazine.
 "Kirk Brandon is on of the UK's best kept secrets" – Mojo
 "@kirkbrandon is one of our greatest musical geniuses" – BBC's Jeremy Vine
"Spear of Destiny are criminally underrated and are one of Britain's best, Boys Own, punch the air, grandiose Rock'nRoll bands" – John Robb's Louder Than War
 "Brandon's vocal is fuller, it is more powerful, it is more tuneful. But what impresses me more is his total clarity; not only vocally but his overall performance – he lives, breathes, screams, shakes these songs out of his body. At times he appears to be in the throws of an exorcism, bent double and shuddering rhythmically" – gettotthefront.co.uk
Links:
www.kirkbrandon.com
https://www.facebook.com/pages/Kirk-Brandon/35405326217
www.davesharp.org
https://www.facebook.com/pages/Dave-Sharp/43087293724
Comments enabled – see comments box below. Note, all comments will be moderated.