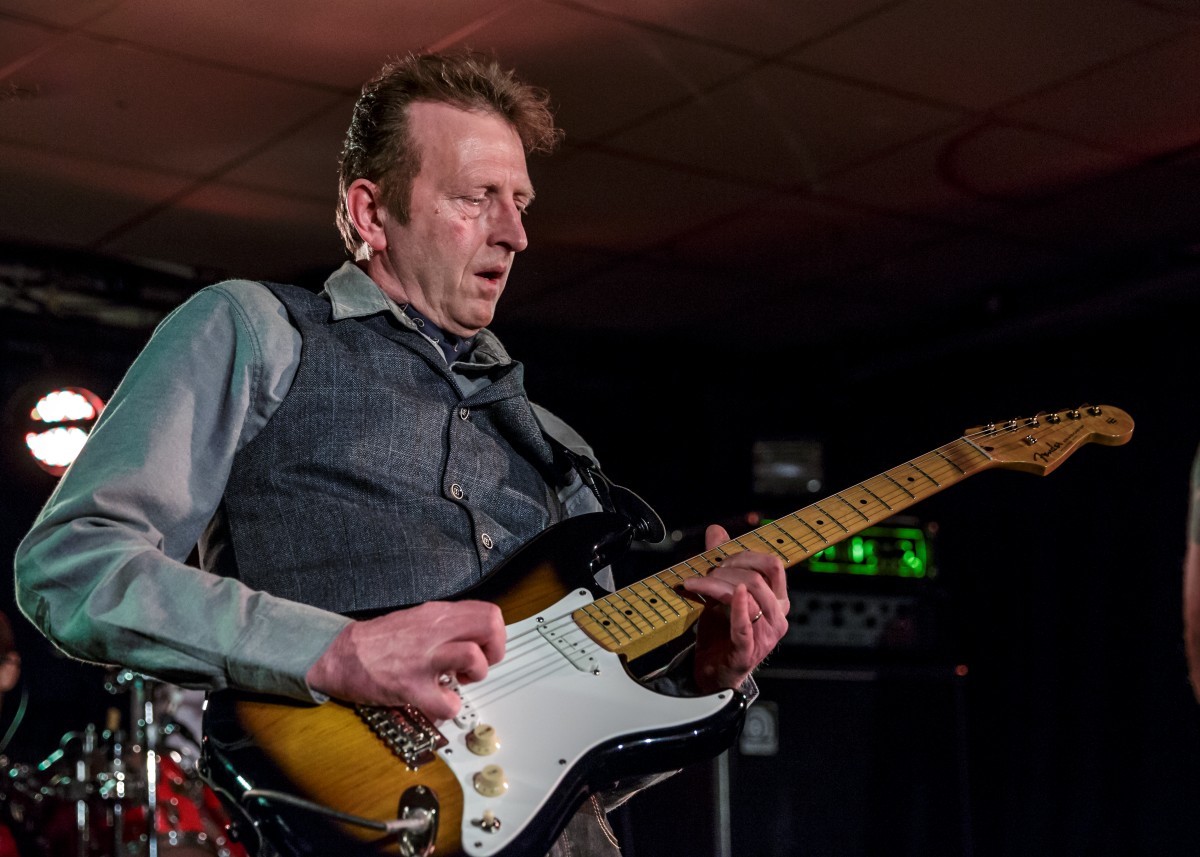 By Suzanne Kelly. Photos by Julie Thompson.
It's been said that the greatest acts and greatest guitarists have a sound which is unmistakably theirs alone.
This remains true of Big Country, Scotland's longest-serving, most successful, arguably most loved rock act.
You can identify a Big Country track within the first few notes, and the sound instantly evokes bagpipes, highlands countryside, pipe bands… the sound of Scotland, if you will, is the sound of Bruce Watson and Big Country.
The last time I saw Big Country they were opening for the Rolling Stones in front of thousands. Now their tour took them to my doorstep and the intimate Lemon Tree. Julie Thompson and I arrived early to find dozens queuing to get in. As to the audience, I think every age group was represented. Once inside, we found the whole front of the stage area had been staked out, and the Lemon Tree filled rapidly.
I spoke to Stuart, "a fan of the bands for 25 to 30 years now" and his son Cameron. "I brainwashed Cameron into liking them" Stuart says; "You didn't brainwash me at all. I like them a lot" is the son's answer. Stuart has seen them many times "mostly back in the '80s". 
He continues:
"I saw them here about 3 years ago too; they were amazing.  I'll be interested to see the lineup now it's changed…we'll see how it works with a few more faces."
The lineup has changed over the years with Bruce Watson being, for many fans, the lynchpin around which everything works.   Mike Peters has amicably left after three years and the current line up is BRUCE WATSON (guitars/vocals); MARK BRZEZICKI (drums, vocals); JAMIE WATSON (guitars/vocals) and former SIMPLE MINDS' bassist/vocalist , DEREK FORBES.
No rock act of this longevity and success is without personnel changes, but Big Country take it in their stride – they keep touring, writing and releasing new material; without a solid lineup, the sound wouldn't have remained the same. And while the lineups change, the crowds keep coming.
I'd spoken to Watson on the phone not long before this date; it was clear that Big Country had been on the road a long, long time, but were genuinely looking forward to being here in Aberdeen, and spending some time in Scotland.  We discussed playing stadiums as compared to smaller venues like the upcoming Lemon Tree date; Watson told me the band enjoy playing smaller venues:
"We played Shetlands for the first time… there are lots of people who can't get to see bands…"
Making live music accessible is something I wish more major acts could or would do.
When we spoke, Bruce Watson told me that Dave Sharp from The Alarm was going to do a set, and that Big Country like 'mixing it up a bit to keep things fresh'.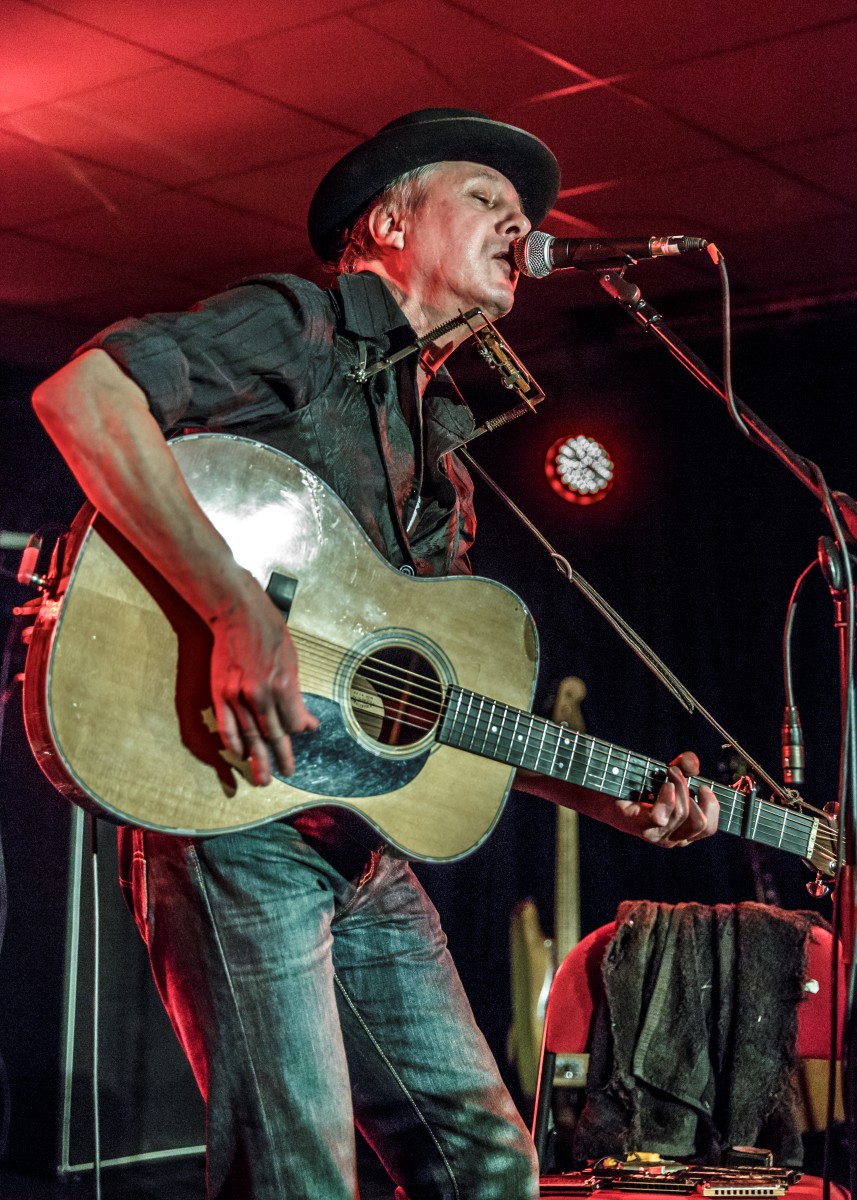 Sharp is a good choice of opening act; as he comes on stage he's been introduced as being 'from a wedding band called The Alarm'. Sharp opens with Woody Guthrie's I Ain't Got No Home in This World Anymore.
His music seems to take most of its inspiration and flavour from American folk/traditional/blues road music. His short, sweet set goes down well and sets a good tone for the night ahead.
Big Country come on to huge cheers and applause; AnglePark is the opening number and a rousing one. The harmonies are working well; everything's gelling; and the band seem happy and relaxed.
Porrohman is next. It's likewise rousing; a sort of Scottish marching band/traditional percussion-driven rock anthem.
I find it still has a hypnotic quality to it (I'm not sure they'd appreciate the comparison, but for me U2 is to Ireland what Big Country is to Scotland – this thought hits me in the middle of Porrohman). I see what Watson meant about 'mixing it up a bit'; band members are swapping roles and instruments.
I've never seen an audience at this venue so attentive. No one is talking through songs; no one is talking on their mobile or texting; they're all singing with every face fixed on Big Country. This is a room filled with devotees, and clearly the current line up has gone over smashingly.
By the third number, all the band members have been introduced, and Watson announces 'a song for my favourite politician' which can only be Republican Party Reptile. I hope future writing will continue this tradition of pithy political satire. Not only do I love the lyrics, but I am remembering how much I always rated the slide guitar work on this piece.
It's been performed beautifully with high-energy and that little hint of menace the words convey.
The night feels like it's over far too quickly. The audience has loved the new material from The Journey as well. We're all glad we were there – the audience and the band alike. Stuart and his son Cameron will definitely go to see Big Country the next chance they get – and I'll be there as well.
 More photos:
Comments enabled – see comments box below. Note, all comments will be moderated.