Apologies to those who will (probably) castigate me (I'm used to it) for putting a piece in Aberdeen Voice which is arguably not strictly related to Aberdeen. I hope though that as AV has over the years carried pieces on everything from the history of instant coffee to UFOs that there is room for one more piece tenuously related to the granite city. It's the absolutely infectious fandom of some Aberdeen music lovers that got me to this event last year, and while I wasn't going to write a piece on this weekend concert, they asked me to. Turn away now if this piece offends you. Suzanne Kelly reports (unapologetically).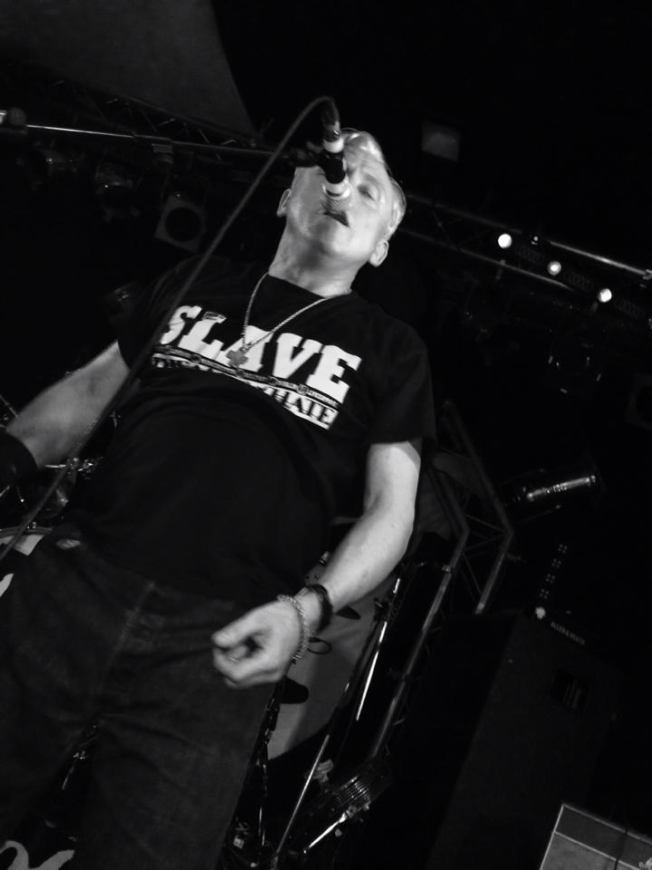 It isn't British summertime without a few dozen music festivals.
(Dad) rock fans descend on Glastonbury for several (increasingly expensive and increasingly sanitised) days of events and bands; it's become a bit like Marie Antoinette playing peasant at her pretend peasant village.
Punk fans converge at Blackpool for four days of ear-piercing, liver-damaging mayhem; sometimes forgetting the festival is over for a week or two after it's closed (Dod this means you).
Classical music fans recline on blankets on Glyndebourne's lawn, drinking champagne while Chopin hangs in the air (not literally). Fans of a different sort gather in Crewe for Westworld.
By all accounts this thirteenth Westworld was the best one so far. If it's possible to have more fun on a £40 weekend ticket anywhere else in the world, I'd be surprised, and I'd definitely be in – let me know.
Westworld is a music festival featuring sets from Kirk Brandon, Theatre of Hate, Spear of Destiny, and support acts. There is something about the musicians and the fans that sets it apart from any other festivals; there is something of the crazy carnival feel-good party that the Grateful Dead and the Deadheads created, only without the LSD, hour long instrumentals, hippies or patchouli.
Westworld and its music is more intimate, friendly, frenzied, electric, gentle, dark, uplifting, and inspiring than anything else. This is not T in the Park.
Fans of Kirk Brandon, Spear of Destiny and Theatre of Hate from all corners of the world make their way to Crewe's intimate performance space The Box. There is a faithful following from Aberdeen who go every year, and the ranks are swelling. Some people – notably longstanding Aberdonian fans Roddy Kennedy and Steve Watt – have already bought tickets for next year.
This year sold out in record time, and with fantastic video snippets and high praise floating around on Facebook, the demand for Westworld XIV is going exceed capacity. Two hotels for the (unofficial) 2016 dates 6 and 7 May have already sold out. Westworld XIV, I do believe, is going to need a bigger boat.
Here briefly is what we got. We few; we happy few.
The Family:
The Westworld weekend is a sort of family reunion (without the relatives you'd rather not see). Friendships were renewed and made; the conversations were lively and great fun. Musicians mingled with the crowds; if it was a chore or obligation for them, they hid it well. There were a few people down for the first time; they were introduced and welcomed. Strangers went for curry dinners with strangers, and emerged as friends.
Facebook friend requests were flying around nearly as much as the newly shot photos and videos. The newbies vowed to return next year; I know they will.
Aside from risking some serious bruising at the front of the stage, it was all comrades together; there will be people who appreciate this good humoured fellowship nearly as much as they do the music.
Masterpiece Theatre:
The Royal is the bar connected to the venue The Box; it began filling up with loud and happy voices hours before Theatre of Hate were to open the weekend's bacchanalia on Friday night. Those who had previously met at Westworlds past greeted each other warmly as long lost friends do. Newcomers were welcomed and included in discussions about music, music, drink, football and music.
As if some unseen unheard signal had been given, everyone emptied out of the bar and upstairs to the weekend's theatre of operations.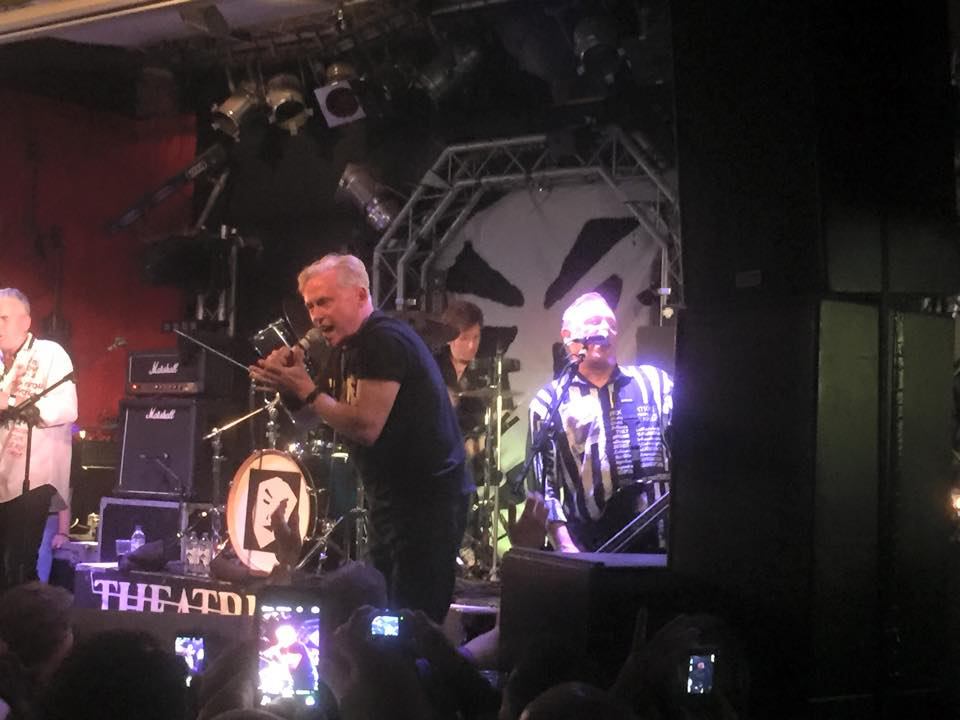 Theatre of Hate's members are Kirk Brandon (guitar, vocals), Stan Stammers (bass), John Lennard (saxophone), Adrian Portas (guitar) and Danny Farrant.
The opening piece for Westworld was Do You Believe in the Westworld.
This wild west tinged song was flawlessly and energetically executed.. (It put me in mind of a soprano I know who opens her shows by singing Queen of the Night to show the audience just how strong a singer she is).
ToH recently released a stunning four track EP, Slave; their first new material for some time or so I understand. The song Slave is a hyponotic, intoxicating entrancing piece which was beautifully performed; it's one of those pieces of music which makes you wish it went on for far longer than it does. In fact, the song order for the rest of the weekend is kind of a blur that comes and goes out of focus in my memory after this piece, which I can practically hear in my head now.
Also from the Slave EP is a powerful political piece Eyeless in Gaza. (Over a curry with a dozen fans later in the weekend we discuss Eyeless in Gaza and the need for musicians and artists to comment on the world's problems. Over the naan bread we wonder about the freedom an artist has over their work if they're independent as compared to being signed to a record label. We decided very few labels would have happily released and promoted works like Eyeless or Spear of Destiny's newly-released single, Fascinations).
The set seemed to be over before we knew what hit us; everyone wanted more. But that was it for Friday.
Also on the weekend bill were two brilliant, individualistic support acts. The Death Valley Surfers provided speedy rockabilly punk (or something to that effect). Without much persuasion I picked up their CD 'Last Dance Saloon' which has a left of centre cover of Johnny Cash's Folsom Prison Blues.
When Folk Grinder took the stage everyone sang along with them; and cries of 'Heave Ho!' bounced off the walls. This trio mixes folk, sea shanties rock and commentary with great effect. Kirk Brandon has produced their new album, The Devil's Mariner; a single has been uploaded to youtube, which you'll find here: https://www.youtube.com/watch?v=1dJdt8PGock&feature=youtu.be .
Kirk Brandon Acoustic Set:
Accompanied by a cellist and keyboard artist Steve Jones, Saturday afternoon's performance was elegant. This was music to tame the most savage of punk breasts. Roddy and I stood near the merchandise stall. A man on my other side and I started talking before the set; he was from Newcastle and he was built like a particularly large rugby player.
After Kirk's performed 'I'm So In Love With You' the guy turned to me and commented:
"That's given me goose bumps that has."
Him and a few hundred other people. Sam Sansbury's cello brought a warmth giving some of the music new nuances; the keyboards were nearly as expressive as Brandon's voice and playing. This set probably deserves a full in-depth review on its own. Suffice it to say if someone had dropped a pin we'd have heard it. The audience was rapt. Here's to next year's acoustic set.
Spear of Destiny:
Spear went onstage Saturday night a little past 10pm. In a set which must have stretched every musician to heroic proportions, an hour and a half set ended in a frenzied fever.
SoD took us everywhere. Early on we heard 'Walk in my Shadow' – classic, upbeat traditional rock and roll (Brandon had performed this live on Jools Holland's radio show some months back; hearing it again was great and great fun). A good portion of material from the (deservedly acclaimed) album XXXI got an airing; my own favourites the uplifting, rejuvenating Here Comes The Sun and Sputnik were remarkable.
This version of Sputnik had an interesting percussion treatment; another reminder why live music can and should throw up surprises subtle and large (the larger ones were still to come). Fascinations, the newly-released single began to steer the set towards darker, deep emotions. Also from XXXI were Failure and Delusion.
'You could be anything in this life, but you chose every time falling down' 'This is the sorry state of our life' 'The sunlight's a happy place, but I guess you wouldn't know' – we were in dark waters for a while, with Brandon remarking to the effect 'this ends the happy part of the show'.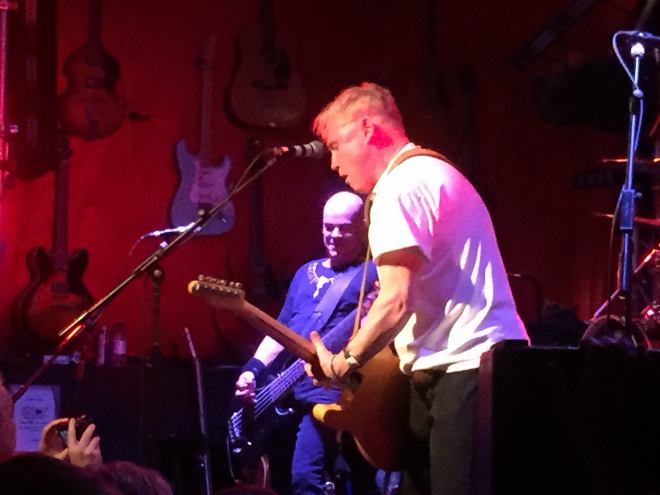 The gears switched violently and swiftly; 'Once in her Lifetime' was captured on video by Roddy; as he filmed it he said 'well, that's me completely satisfied then.'
He and I briefly said in between songs of course that we were nearly done in just from standing and watching; how anyone could play/sing/drum for this length of time with such precision and power was beyond us.
It wasn't exactly freezing cold in the Box, and the small overhead fans did little more than mock us.
Perhaps one of the things Brandon's writing does best is to highlight political and social ills. The video for 'Fascinations' features images of bondage and abuse, with the face of a known serial abuser (eyes covered with a black bar) as Brandon sings about power, abuse, degradation and anorexia, leaving you asking more questions about society than can be answered.
Further, and particularly timely social commentary came with 'Playground of the Rich' a contrast of the privileged and those who were born to serve them 'Playground of the rich, you know it's – it's kind of sick' was sung by the audience with a fair amount of understanding. The anti-war anthem Mickey likewise was sung by everyone in the room.
I find myself hoping there will be more social commentary/protest music coming from Brandon at some future point; somehow I am sure there will be.
The venue was filled with energy, cheering, screaming and singing. More was to come. It seemed like seconds later we were all singing along to Rocket Ship. We are at a party; no one wants this to end; no one can figure out where they're getting the strength to continue with. And then a surprise special guest arrived on stage – Alan St Clair.
World Service pleased absolutely everyone; the entire room was singing every line by this point. The final encore was Liberator and all the players took to the stage. Stanley Stammers shared a mic with Craig Adams; John Lennard's sax added to the absolute frenzy that had broken out everywhere. Limbs and heads pitched up and down in the pit and I was glad to be far from this mad crowd (a few bruises and bumps are no longer my idea of a great souvenir).
Wrapping up:
That this has been a carefully, precisely, thoughtfully considered weekend is not lost on anyone. Theatre, Spear, Folkgrinder, Death Valley Surfers – each person involved in bringing off this huge success of a weekend deserves serious respect (particularly Vince Davey, who must have nerves of steel). As to Adrian Portas' guitar; his solos never cease to amaze the audience, and it looks effortless; I remember someone poking me in the ribs during one such passage to ensure I was getting it. I was.
If you were there, you won't forget this weekend any time soon
Stan Stammers has truly thrilled the crowd and seems perpetually smiling ear to ear. Steve Jones was perfection for the acoustic session and in Spear; offstage, he was chatty, friendly, and witty.
Craig Adams is a formidable presence and player; I still can't reconcile the man's soprano/falsetto vocals with his physical presence. The lynchpin of the weekend is Kirk Brandon; he's brought 30+ years' worth of material spanning several acts to us with emotion and energy. That voice. That playing. There is no other combination of people and musical elements that resembles what's happened here this weekend; it was Avengers Assemble.
If you were there, you won't forget this weekend any time soon. If you weren't, best try and get a ticket for next year.
Want to get something of the flavour of what it was like? Get to Facebook or Youtube and find some footage; there is plenty about.
Don't take my word for it:
Many people feel this year's event was the best ever; social media sites are filled with fans singings its praises. I'd only been once before, but I'll agree with the majority that this had to be a new benchmark.
Kirk Brandon posted on Facebook:
"Arguably the best 'Weekend at Westworld' ever. The finale to the whole weekend last night at the 100 Club, London. Thank you every single one of you who came! A weekend to remember. Kirk"
Koozie Johns of the remarkable Folk Grinder said:
"I would say that WESTWORLD is an experience like no other. so much love for a common cause the love of great music good people and a lot of respect. Folk Grinder are produced by Kirk Brandon and it is an honor to work we such a legend."
WW is not strictly a boys' club either as some might assume; new fan, first-time attendee Cheryl Cotterill said:
"[I was] recently introduced to spear of destiny and thoroughly enjoyed the atmosphere and the dedication Kirk has to his music."
Of the Aberdeen attendees, Roddy Kennedy said:
"Ever since I first saw Kirk Brandon's Spear of Destiny play at the Capitol back in 1985,I've tried my best to see them as much as possible and they never disappoint, I've seen them play in venues like the Capitol right down to an upstairs room in a Dundee pub with no more than 20 people including the band, the one constant being Kirk Brandon who never seems to give less than 101% to his performance.
"I'd heard about Westworld Weekend a few years back but never had anyone else who'd commit to a weekend of all things Spear of Destiny/Theatre of Hate to go down with,by strange coincidence one of my friends Steve had also fancied the pilgrimage down to Crewe where it's been held for over a decade.
"Anyway that was back in 2013 and within minutes of the opening song to their first set Steve and I had made our minds up that we were coming back, just an amazing atmosphere in good company, every year has gotten better and better and I've yet to see any trouble there, just rock n roll in its purest"
Steve Watt said:
"There is something about TOH/SOD fans that come here that makes it so special, three years ago me and Roddy were WW virgins, but was taken in by the most wonderful ppl you could meet even before we left the hotel to go to the venue. After the first song a cover of Joy Divisions Transmission, we turned around to each other and said we're back next year.
"I can't think of any band, except New Model Army have a near cult following like this, and go camping together, drive from all over the country just to meet up for nights out, even if no bands are involved, yes we do like a party. It doesn't matter wherever everyone comes from, there is no animosity and everyone looks after everyone else.
"Of course it helps that the music is amazing, and Kirk Brandon does try and mix it up every year, and every year I say that it can't get any better but it does, this one though will take some beating…"
And Phil Beefy Bergin said:
"All I'll say about Westworld is it was very emotional spent with wonderful people."
On a personal note:

I'd firmly planned not to write a Westworld review for several reasons. First, I will now confess that since starting (quite late in the game admittedly) to see Theatre, Spear and Kirk Brandon acoustic shows, I'm a biased convert (and I've grown respect and fondness for all concerned). I'd question my own objectivity but for the fact every single attendee and musician who I spoke with thinks that all the bands we saw were strikingly, undeniably on top form.
Whether or not this belongs in Aberdeen Voice may be open to debate, but I'd argue that it's the passion and devotion of Aberdonian fans like Steve and Roddy that help make Westworld such a unique animal, and which drew me in in the first place. I also wasn't going to spoil my fun by having to write a review; I can't now remember the last time I've tried to have a holiday without some kind writing project being involved or arising.
However, the fact is this weekend demands to be written about. Not to write about what we experienced in Crewe would be like a UFO spotter watching a volcano explode with spaceships landing without bothering to write about it. So, either skip this little review if it's not for you or thanks for bearing with me.
More:
You'll find some Westworld photos, comments and video here: https://www.facebook.com/groups/Sod.toh.fans/
Folkgrinder – https://www.facebook.com/folkgrinder?fref=ts
Death Valley Surfers – https://www.facebook.com/DeathValleySurfers?fref=ts