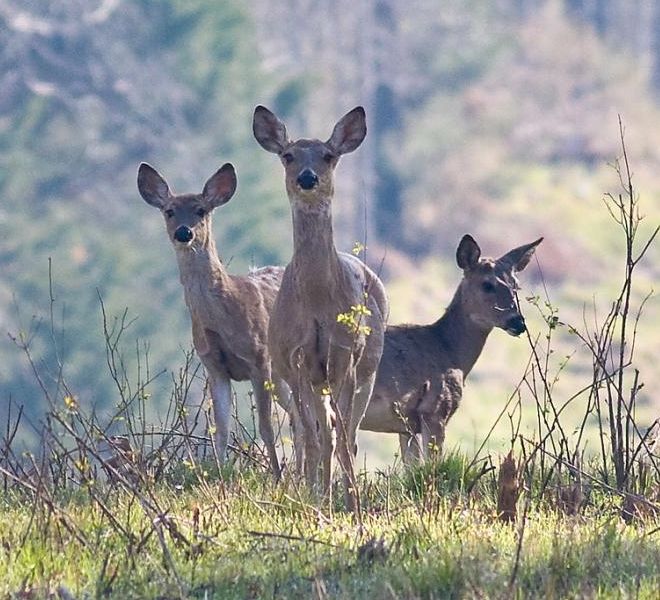 With thanks to Suzanne Kelly.
A petition to examine issues surrounding Aberdeen's Tullos Hill has gained sufficient public support for the city's Petitions Committee to address the issues.
Campaigners were told today that they had exceeded the threshold of 250 signatures, and the city's Petitions Committee will meet with the petitioners on 21 April.
Text of their petition can be found here http://committees.aberdeencity.gov.uk/mgEPetitionDisplay.aspx?Id=13 .
In May of 2011, campaigners wanted the deer spared and for Tullos Hill to be left as a meadow and the roe deer to be allowed to remain. The hill once had a field of dame's violets, which a city official, Peter Leonard, dismissed as 'garden escapees'. Campaigners argued that the flowers and the gorse were important habitat and should not have been removed.
The hill is a former industrial and domestic rubbish dumping ground with serious soil pollution issues. A 'Tree for Every Citizen' scheme was put up for public consultation, but it omitted there was a deer cull already planned for the tree planting. When the public found out about the cull, thousands signed petitions and several community councils objected as well.
STV reported that 80% of the city opposed the scheme. The convener of the Housing & Environment Committee, Liberal Democrat Aileen Malone, demanded that the public come up with £225,000 for fencing – or the deer would be shot. Animal welfare charities and organisations were alarmed at this unprecedented demand, and people were urged not to give into the demand.
Free of charge services were offered to show the city how to grow the trees using non-lethal methods – these were dismissed out of hand.    A spokesperson for the Scottish SPCA referred to the culling of the deer for the tree scheme as 'abhorrent and absurd.'
The public were initially told the tree planting would be at no cost to them. However, a Freedom of Information request revealed that an expert C J Piper, was paid £72,212 for services to the tree-planting scheme. Other expenses include fencing, the cost of having the deer shot, and a previous failed planting on the same hill which saw the taxpayers returning £43,800 to Scottish Natural Heritage.
The campaigners want to know what all of the expenses are both historic and ongoing.
John Robins of Animal Concern said:
"Aberdeen City Council have all but wiped out a perfectly healthy herd of deer which had existed for generations on a piece of rough land which has never been suitable for anything else. Tullos Hill evolved into its own natural habitat and should have been valued and protected for what it was and not destroyed to fit in with the grandiose plans of petty politicians. It is extremely unlikely that any new woodland will survive on Tullos Hill. The Council should stop wasting public money and leave the area to nature – in this instance mother nature definitely knows best."
Kelly, who has written several articles for Aberdeen Voice and a report, continued:
"People feel they were misled on several aspects of the scheme.  People do not know how much money is involved,  how safe or otherwise the soil on the hill is, and why more deer must be shot. 
"There may be very few deer left in the entire city according to a recent SNH count. We want to know how much tax money has gone on this scheme, we want no further culling, and we want the city to seek assurances from the SNH that we won't see another £43,800 bill coming our way: the trees are covered by weeds in many places, no matter how many awards have been dished out."
Background:
http://news.stv.tv/north/17223-campaigners-hand-over-petition-opposing-deer-cull-to-council/
https://aberdeenvoice.com/2011/05/you%E2%80%99re-shooting-yourself-in-the-foot-cults-cc-tells-malone/
http://suzannekelly.yolasite.com/
Comments enabled – see comments box below. Note, all comments will be moderated.