Voice's Suzanne Kelly reports from a dramatic meeting ( 26.05.11 ) of  Cults, Bieldside & Milltimber Community Council she was kindly invited to attend as a guest, and took the opportunity to discuss the roe deer cull  in person with Cllr. Aileen Malone, Convener of the Housing and Environment Committee responsible for the decision.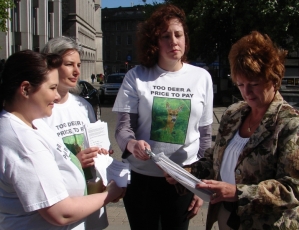 Lib Dem Councillor Aileen Malone avoided debating with me the Tullos Hill Roe Deer cull she supports  on Northsound 2 a fortnight ago.
She 'had a prior engagement' and could not spare 20 minutes over the phone on a Sunday morning to give Aberdeen her reasons for wanting the deer shot.
Cllr. Malone successfully silenced me and the Nigg Community Council representative when we wanted to debate the cull issue at the 10 May Housing & Environment Committee meeting.  We weren't allowed to speak to the Committee because there was no written report on the cull  – just a verbal report.  It didn't matter to the Committee (except for four members) that new information had come to light, and the Community Councils wanted to be heard.
After the Housing Committee voted to get on with killing the deer to plant 'a tree for every citizen,' Malone told the media she hoped that would be an end to the controversy.  With thousands of petitioners, four protesting community councils, and various animal charities against the cull, this was wishful thinking taken to a new level.
See: Tullos Hill Picnic
I was not alone in making complaints about the handling of the deer cull and tree planting issues to Aberdeen City Council.  It is hoped that any cull will be halted until a proper investigation and a democratic, fully informed debate can be held.  The 10 point report I prepared as a basis for my complaint is attached at the end of this article.  ( click here )
It had been circulated to the members of the Housing Committee and to  Cults, Bieldside & Milltimber Community Council, where Ms Malone is an elected City Councillor.   I told them I would like to attend their next meeting as a guest on this issue, and they kindly invited me along.
Having served as a Community Council member myself, I was not surprised to hear they have some of the same issues I remembered from my days on Torry's Council – litter, tree pruning, and so on.
I was surprised to find Mike Shepherd, Chair of the Friends of  Union Terrace Gardens at this meeting.  He gave a presentation on the state of play of the design competition, and what funding might be used for any scheme.  To his surprise and mine, Councillor Aileen Malone made a promise that was both dramatic and new to Mike and me.
Cllr. Malone categorically stated  and repeated this promise:  after a final design for the gardens is chosen, the people will have a vote on whether to go with the design – or to leave Union Terrace Gardens undeveloped (which could include some improvements and amenities)
She was not sure whether or not this would be only for the people of Aberdeen – perhaps the Shire would be voting as well:  but she was adamant this was the case.  So Friends of Union Terrace Gardens – do not despair just yet.  She also confirmed twice that "not a penny" of City Council money would be used to develop the gardens.  No doubt Mike Shepherd will have more to say on these matters.
Back to the deer...
The Cults, Bieldside & Milltimber Community Council Chairman, Peter Reiss opened the deer debate by saying he attended a recent Civic Forum meeting – and was struck that on the subject of the deer cull, there was virtual agreement across the ages and across the boards against the cull.  "For outsiders looking in, this looks like a no-brainer:  let's put the trees elsewhere" he said.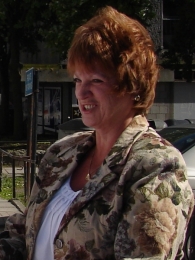 Ms Malone tried to use arguments which had already been dismissed in the press – not least in the Aberdeen Voice.  She said that expert advice had been given.  I countered, and explained to the Councillors that someone had briefed the SNH against the non-lethal measures (as shown in a letter of 25 November from SNH to the council), and offers from experts – who had knowledge and experience of ways to plant trees without killing deer – was refused.
I told the Council that the SNH letter proves someone had said tree guards were out because 'they had visual impact.'  This did not sit well with the Cults Council at all.  I explained that the phase 2 consultation documents made no mention of any deer cull – again, the councillors sided with me.
By now an increasingly desperate Ms Malone explained that the tree  planting was 'A Liberal Democrat manifesto promise' – as if that were justification of some sort.
Other council attendees had comments for her position such as:
"Aren't you shooting yourself in the foot,"
"other forms of deer control should be paramount",
"think about the reaction you have had here tonight – it looks like a stupid thing to do:  you have not won the argument."
Amazingly Ms Malone tried two further tactics.  One was to make general sweeping comments that deer culls are necessary, and her earlier, discredited ploy that only a handful of people initially objected to her in writing, and most were animal activists.
I reminded her that the full story had not come out immediately – the phase 2 consultation made no mention of the cull for Tullos Hill, and it had been subsequently proved that I was one of those who had written to her with my address opposing the cull.  She had gone to the Press and Journal at first, saying 'only about one' person from Aberdeen had objected to the cull. She later made private apologies – but none through the Press & Journal, leaving readers of it with the wrong impression.
Animal lovers and activists might be interested in two further statements Councillor Malone made at the meeting.
Firstly, there has been permission in place to kill the Tullos Hill Roe Deer since March.  The Council still are not answering questions about when the shooters will be sent in – I have asked – and if anyone else cares to ask the Council, it may help.
Secondly, Malone alludes to plans to kill the deer at Bridge of Don.
Some Councillors were all in favour of culls of animals – where the animals are in danger of starvation or over population.  They were reminded that 30 deer live on Tullos Hill.  Malone seemed to say that 9 to 12 of these would be shot now, and the shooting would go on.
She had no real answer why the £225,000 for ten years of fencing / protection was demanded up front.  One person present said:
"no one in their right mind would put their hands in their pockets" for protection in the circumstances – i.e. not knowing exactly what they were paying for or for how long.
I reminded those present that there were  plenty of ways to have deer and trees together.  One councillor suggested having less trees planted. I reminded everyone of the Scottish SPCA position on the matter – the Tullos Hill deer would be killed not because it was for their safety/health – but to plant trees .  "Abhorrent and absurd" were how the Scottish SPCA put it.
At the end of the day the Council decided to draft a letter to the City.  The debate was closed with Peter Reiss saying to Ms Malone "you have not taken the public with you, and people are saying "this is ridiculous".  It was suggested this might even damage Ms Malone's political career.
And that is where we leave it for now.
But one thing is certain, the opposition to the cull has not gone away by a very long shot.   If nothing else, the Cults, Bieldside & Milltimber Community Council gave me the democratic forum for debate that I could find nowhere else:  I am extremely grateful to them.
Suzanne Kelly's 10 point report – Click here. – Please consider writing to Aberdeen City Council's Housing and Environment Committee in support of this formal complaint.