By Suzanne Kelly.
·    Housing & Environment Committee refuse to hear Kelly and representative from Nigg Community Council
·    Deer Cull to go ahead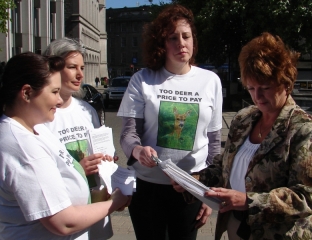 Two Thousand And Four Hundred area residents signed a petition asking for the Tullos Hill Roe Deer cull to be scrapped.  Two Thousand people from around the world likewise signed petitions.
Torry Community Council were kept in the dark about a cull; Nigg Community Council wished to speak on the subject today.  The initial consultation for the public to comment on said nothing about a cull.
In the 21st century in an allegedly democratic society, the above facts should have ensured that the proposed deer cull – designed to allow 40,000 trees to be planted – would have been debated and properly examined.  You might even think that local people would have had a say in the destruction of a generations-old population of perfectly harmless deer.
You might even have thought that those pushing for a cull would stop for a moment and wonder if they were possibly making a mistake.  And if you were really really an optimist, you might think that these same people bent on the destruction of the deer would have allowed people to talk about it – maybe even let Councillors have a vote on the matter.
You would be wrong.
I first got involved after Jeanette Wiseman wrote an article for the Aberdeen Voice.  In writing my follow-up, I was struck by how secretive the deer cull had been kept by those in power, seemingly favouring trees over deer (see 'Shhh! – Don't Mention the Pre-planned Deer Cull, Aberdeen Voice).  I was happy to help the animal organisations such as Animal Concern and Aberdeen Animal Action with further publicity and research.  I did my best as a spokesperson.
This Monday a small delegation presented Aileen Malone with a paper petition signed by 2,400 people – mostly people who live within Aberdeen.  Lush – who have been outstanding in their support and energy towards stopping the cull – came along, as did Jeanette, and Fred Wilkinson of the Voice.  We met the Press, presented the signatures, and hoped this would have some impact on Malone.
Yesterday, Tuesday 10th May I might have had a chance to address the Housing & Environment Committee.  Not only had Malone sent me an email saying they would vote on the cull, but the extraordinary lack of consultation with Torry Community Council had – or rather should have – been grounds for speaking.
Anne Begg is on record as saying 'I see this (demand for money) as an appalling attempt to fudge their responsibility.'
If as has been shown, the Community and the people had been kept in the dark about the cull  – then how could the Committee continue as if nothing wrong had been done?   Surely all of the elected members would want to know how extremely badly the pro-cull Councillors and City officials had acted.
If the Nigg Community Council (which probably should have been consulted, too) had seen fit to send a delegate to this Committee meeting, surely the Councillors would want to know what the people of Nigg wanted to say?  Certainly  not.
First, Malone addressed the Nigg Delegate as being from 'Nigg Community Centre'.  "Nigg  Community Council" several people shouted.  She corrected herself.  Tut, tut:  Nigg had MISSED THE DEADLINE TO ASK TO SPEAK.  Malone made a move to have his deputation request rejected.  Someone else suggested that my request and the Nigg request should be jointly put to a vote.
( See Suzanne Kelly's intended  Speech – https://aberdeenvoice.com/2011/05/a-plea-for-the-deer-a-speech-unspoken/ )
It was on an incredible technicality that Aileen Malone suggested we should not be allowed to speak.  No physical, paper report had been attached to todays Housing & Environment Committee Meeting's papers.  The previous meeting's minutes reported that 'a report would be made' concerning the deer cull.
Some of the Councillors – Neil Cooney and Yvonne Allan – said that a report should have been attached, and that the deputations should be allowed.  Malone decreed that the report was always going to have been a verbal one, and our requests for deputations were not valid.
A vote was held which went against us speaking.  I wrote down the names of those who were trying to save the deer by allowing the speeches, and can report that they included; Neil Cooney,  Jim Hunter,  Norman Collie, Yvonne Allan, Muriel Jaffrey, and Jackie Dunbar.  The Convener Aileen Malone, Vice Convener, and Councillors  Yuill, Noble, Cormie and Robertson were among those who voted to kill our deer.

They had seemingly deliberately made a mockery of the public's not stumping up the ransom money – they had one Mr Reilly, ( derisively I thought) announce that a total of 2 donors pledged a total of £51.00 for fencing.  As every Councillor knew – the animal groups were not going to submit to the demand for £225,000 for deer protection.
I hope every anti-cull person out there will contact all of their elected representatives and the Housing & Environment Committee
The word blackmail was used by many individuals and groups to sum up how they felt about the Council's demand for the money.  Anne Begg is on record as saying 'I see this (demand for money) as an appalling attempt to fudge their responsibility.'
I waited a few minutes before I left.
Even though I was not surprised by the decision, the concept that the absence of a written report was sufficient to derail any debate was a  bit of a shock.
When I did leave, I was quickly followed by virtually all of the Media present – BBC, STV, P&J, Northsound, Evening Express.
I gave a fairly lengthy, comprehensive account of past and present developments and issues.  And then I raced home to brief the legal team ( yes, legal avenues to save our deer are being actively pursued ) – and to thrash out this swift article.  I will also publish my rough draft speech notes.  Who knows?  Someone on the Committee might actually want to read these.
I have to say that some of the Councillors – Cooney and Allan in particular – did all they could today.  The rest seem to have either been sleepwalking – or voting the LibDem line.  I hope they realise this is a beginning and not an end to the story.
What now?
If the feelings of the thousands of people and dozens of animal organisations can be swept away, our willingness to take action cannot be so easily stopped.  Many groups are planning to 'take to the hills' to stop the slaughter.   I hope every anti-cull person out there will contact all of their elected representatives and the Housing & Environment Committee (feel free to copy to me) to demand a full enquiry into the tree initiative be held before the £2,500 (yes that's a correct figure) is spent on the first round of deer slaughter.
You can certainly send in some Freedom of Information Requests to Aberdeen City Council; the email address is: foienquiries@aberdeencity.gov.uk
why not ask the Council:
– who wrote the phase 2 consultation?
– who decided to leave the deer cull out of the consultation?
– does the city already owe £44K or so for previous failed tree planting?
– who decided not to tell Torry Community Council about the cull?
– who decided to tell SNH that the non-lethal options would not work – and that 'tree guards have visual impact?'
And tell them we demand warning in advance of any cull.
Aberdeen Voice will do its best to publish updates relevant to this story.  Personally, nothing would make me happier than  having the opportunity  to write that this whole sorry cull has been stopped.