Voice's Suzanne Kelly has over the past 10 weeks campaigned tirelessly in her efforts to oppose Aberdeen City Council's proposed cull of roe deer on Tullos Hill, writing letters and liasing with groups and individuals on both sides of the debate. Suzanne wishes to share with Aberdeen Voice readers her latest letter to Cllr. Aileen Malone and the Housing and Environment Committee in the hope that others might be encouraged to add their own voice to this controversial issue.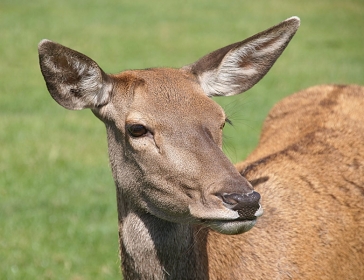 20 April 2011
Councillor Aileen Malone
Convener, Housing Committee
Aberdeen City Council
Dear Ms Malone
Re:  Tullos Hill Roe Deer
I am writing this open letter to you in your role as Convener of the Housing & Environment Committee and leading proponent of the 'A Tree for Every Citizen' Scheme.
I am sending this letter to you in this format for two reasons.  Firstly, you 'accidentally' deleted  an email I sent you (with my street address) in which I protested against the Tullos Hill Roe Deer Cull, which is being planned as a result of the tree scheme, and I would hate for you to similarly lose this letter.
Secondly, I want to enlist the help of as many Aberdeen citizens and others opposed to this senseless cull as possible:  if anyone reading this letter agrees with it, kindly add your name and address, and send it to Ms Malone.
Your committee came up with the ultimatum to citizens:  give us £225,000 before 10 May – or we will kill the deer.  'Blackmail' is the word that springs to mind.  I would never have believed a City would consider blackmailing its citizens.  To do so after what seems like deliberately concealing the planned cull from the 'Phase 2' consultation which closed in January is inexcusable.
It has been demonstrated that before this consultation was launched, someone involved in the 'Tree' scheme had been briefing Scottish Natural Heritage and deliberately steering them away from the many humane alternatives to a cull that exist.  I thought it was very clever to leave out the deer from the consultation but to mention rabbits – it certainly fooled me (and no doubt many others) into thinking that all animals had been duly considered, and that only rabbits were worth mentioning.  Some might call that sneaky.
If the public consultation ending in January mentioned a deer cull or the need to raise money for tree protection, there are hundreds of people who would have objected.  The opportunity was lost to them because the consultation was so very flawed.
The Scottish Society for the Prevention of Cruelty to Animals is completely against the cull, as are many other animal welfare organisations, and thousands of Aberdonians  as well as concerned  people living further away.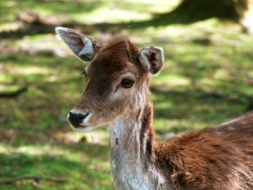 I recall how you went to the Press & Journal and said something to the effect that 'only about one' local resident had contacted you protesting the cull.
You later made private apologies to me and others who indeed had contacted you – you 'accidentally' deleted my email.  (I waited and must have missed it, but I never did see an apology in the Press & Journal for your error. It is almost as if you did not want to set the record straight).
There are dozens of ways in which the deer can be saved (tree guards – which someone told the SNH 'had visual impact' are being used elsewhere in the city such as Forrit Brae; dozens of types of trees are deer resistant, fencing could be used, trees could be planted elsewhere…).  I can only hope that someone with sense within the C ouncil is striving to find a solution other than this cull.
But here, Ms Malone, is my counter-offer to your 'blackmail' demand for £225,000.
Call off the cull and plant the trees after suitable alternatives have been found to protect the deer, and make a public announcement to that effect by 3 May 2011, or:-
I will lodge a formal complaint against you with the Standards Commission for Scotland with a view to its censuring you (I do have rather an impressive list of complaints on your handling of this issue it must be said)
I will start a campaign calling for both internal and external auditing and inquiries into the entire 'Tree for Every Citizen' campaign focussing on who briefed SNH towards a cull and how the public was treated
I will start a campaign calling for your immediate resignation from the Council
I will call on your political party to censure you
I will call on as many people in and outside of Aberdeen to join me in these aims as possible
I expect your reply by 3 May, after which date if there is no halt to the cull, I will begin to take these actions against you and seek legal advice as well on preventing the cull.
Maybe my one letter won't carry much weight with you; maybe no one will join me.  But even if no one else signs this letter and sends it to you, I will continue to fight you on this very sad state of affairs until I have prevailed.
As a reminder, here are the questions I asked you and others by email on 8 March of this year (my comments in red)
When was the cull first planned? – NO ANSWER GIVEN
Can the proposed trees not go elsewhere? –  NO ANSWER GIVEN
What will be the cost of the cull?   – NO ANSWER GIVEN
What is the cost of the alternatives? – NO ANSWER GIVEN
Are we proposing to create a habitat for squirrels and deer as your email suggests – by first culling deer? – (APPARENTLY YES)
What is the cost of fire damage to the 'Gramps'? – NO ANSWER GIVEN
When exactly were the voters of Aberdeen asked if they would prefer to have saplings than deer? – (NEVER HAPPENED)
Was a deer struck and killed by a vehicle during the recent 'capping' exercise? – NO ANSWER GIVEN
You refer to the area as 'Urban' – patently it is not an urban area at all – but is an area in danger of being destroyed by urban sprawl -comment please. – NO ANSWER GIVEN
How many deer precisely are on Tullos Hill? – NO ONE ANSWER GIVEN – RANGES FROM 'A FEW' TO 'ABOUT 30' HAVE BEEN SENT OR SEEN IN THE PRESS
Are all of the rangers and environmental experts convinced culling is the only way forward? – NO ANSWER GIVEN
Which department/arm of the council is charged with preventing further urban sprawl? – NO ANSWER GIVEN
What other deer populations are there in the coastal Aberdeenshire area? – NO ANSWER GIVEN
Have the local community councils been consulted, and if so, do they agree with the cull? – NO ANSWER GIVEN
Scottish Natural Heritage in its 26 November letter suggests that the public might not be in favour of a cull and need careful handling.  They offer to help you with a robust communication plan.  So, Ms Malone:  how is that working out for you?
Yours,
Suzanne Kelly
Also signed by ________________________________________________________________________
Name and Address
(if anyone wishes to sign and send Ms Malone this letter as well, please keep me informed and send a copy if possible to sgvk27@aol.com.  Thank you)
* Aberdeen voice is grateful to Ian Britton and Mark Aert for photographs.