Suzanne Kelly presents her speech which she was prevented from delivering at the crucial Housing and Environment Committee meeting yesterday due to an 'incredible technicality'.
The committee voted down the opportunity to consider input from Ms. Kelly and a representative of Nigg Community Council, thereby ruling out further debate ahead of pressing ahead with the cull, in spite of the receipt of a 2400 strong petition, and 82 letters in opposition to the cull on Monday.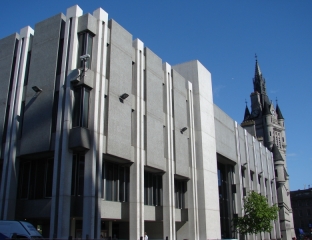 Councillors, thank you for allowing me to address your Committee today.
I am here to echo the sentiments of thousands of Aberdonians as well as national and international people, and ask you to stop any plan for a cull of deer on Tullos Hill.
I would like to propose you adopt one of two positions:
Halt the cull, and then plant trees once non-lethal measures can be put in place or …
re-launch the extremely flawed phase 2 consultation to the public – this time telling them that the tree planting will involve a deer cull.
There are some of you who insist that:
'deer must be culled',
'we have taken advice from Scottish Natural Heritage',
'animal lovers should pay £225,000 for deer protectors'.
Let us examine those positions in a moment.
Firstly, let us consider how extraordinarily un-democratically – how against established good governmental practice the entire issue has been handled.
Irrespective of a Councillor's personal views on animal culling, I hope we are all in agreement that there are established procedures for consulting with the public and consulting with Community Councils which have been wholly ignored.  If you are upholding the law and the rights of your electorate, you must now stop this cull – at least until a proper consultation is launched.
The phase 2 public consultation for 'a tree for every citizen' closed at the end of January.
I read this document on the Council's website; so did countless other people.  The document tells me that there are rabbits in the area, and have been considered.
Who drafted this consultation and why did they omit the cull which was already being planned?  We know the cull was being planned by the date of the letter from Scottish Natural Heritage, which I will come to presently.  Who exactly decided to keep this cull from the public?  Was it just an accidental oversight?  Why were rabbits mentioned but not deer – the effect this had on me personally was to make me reach the conclusion that animals had been taken into consideration when the scheme was planned.
someone at the council or in the ranger service has decided to bypass normal democratic procedure
I can assure you that had a cull been mentioned, I would have most definitely objected to the plan while the consultation was open.  And so would many other citizens of Aberdeen.  I feel as if we have been robbed of our right to be properly consulted.  In view of this point alone, the cull should not go ahead.
Another gross breach of protocol and established practice was the complete disregard shown to Torry Community Council.  The City should by now have received a letter from Torry Community Council; as reported in the Evening Express, the Council voted unanimously at its April meeting to condemn this cull, and to complain that it was not consulted.
The Torry Community Council also confirmed that at no point was it alerted that a cull was part of the tree-planting scheme.  Who, I would like to know, will take responsibility for this breach of established procedure?  The City Council is already widely criticised for its failure to consult the Nigg Community Council concerning development plans for Loirston Loch.  It is incumbent on this Housing Committee to stop any cull plans until it has addressed this procedural failure.
But now we come to the letter from Scottish Natural Heritage to ranger  _________________.  I contacted the ranger to whom the letter is addressed, and he referred me to Ian Tallboys, head ranger, for clarification.
Reading this letter – someone at the council or in the ranger service has decided to bypass normal democratic procedure.
Someone has told the SNH that fencing is a bad idea.  Someone has even more incredibly told the SNH that tree protectors should not be used on Tullos Hill as they have 'visual impact.'  'Visual Impact.'  On a coastal hill.  Tree protectors are in use far and wide throughout this city in areas that have a great deal more traffic than Tullos Hill.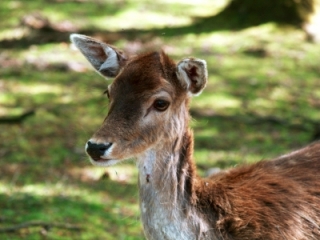 How can anyone for that matter decide for this Committee, for Torry Community Council, and for the citizens who should have properly been consulted that a subjective observation as to 'visual impact' condemn a small herd of deer to death?
Obviously this Committee will now realise that the SNH were led, by a person or persons yet to come forward, to decide that the lethal option was the only solution.
There are many, many non-lethal solutions to this issue of deer eating trees – this Committee acknowledges that the deer do not have to die.
Otherwise it would not have issued its highly controversial demand for money.  The demand for money for fencing and tree protectors itself is a declaration that these are suitable options for deer control.  It is of course a demand that is seen as nothing short of blackmail by myself, by animal charities, and the electorate.
This is one reason the avenue was not pursued:  the City should be responsible for finding money, not citizens.  The City has resources at its disposal – I note your new Robert the Bruce statue in front of the £60 million pound Marischal building, soon to be fitted with brand new furniture.
Are we really to understand that this city, with its vast real estate portfolio – which sells land at less than market value to property developers has no means of finding £225,000?
This city which hopes to borrow nearly £100 million pounds to fill in Union Terrace Gardens?
The suggestion the city has no money and cannot raise money is unacceptable.  This Committee were offered the free services of a deer management expert:  this was turned down.  Some of the non-lethal methods which would work include:  tree guards, fencing, using one of some 3 dozen types of trees which deer do not eat, planting crops nearby which deer will eat, planting the trees elsewhere, planting once the money can be found for these measures, using chemical deterrents on the young trees.
The Scottish Society for the Prevention of Cruelty to Animals calls your proposed cull 'abhorrent and absurd' – a sentiment echoed by thousands of people.  The cull is not a suitable response:  other deer will move into the area, as per the various animal charities I have consulted – many of which have made this plain to the Committee already.
We seem to be talking about a herd size of 30 animals.  This is not over population.
As an aside, it would be nice to see the Council put up roadside 'deer crossing' signs in the area to warn motorists deer do live in Aberdeen.
I just mentioned the herd size.  This was one of a half dozen relevant questions I asked as long ago as 28 February,  Most of my questions were not answered at all.  Some were answered only recently, and some were answered with the phrase that has become a mantra for pro cull councillors:  we have taken advice –  a cull is the only answer.
Well, you have not taken advice.  You briefed SNH as to why you did not want the non-lethal options, and then presented their response to this briefing as being their unbiased professional opinion.  The animal charities all give you non-lethal options, and some of you inexplicably reject them.
Back to these questions of mine.
some person or persons initially said that the tree planting scheme would be completely cost neutral
I asked a number of questions which would have provided material for me to start hunting for an appropriate grant for saving the Tullos Hill Roe Deer.  The timescale was very tight indeed – but the lack of forthcoming answers made it completely impossible for me to try and find any kind of grant or fund.
Again, everything is being slanted towards a wholly unnecessary cull.  The silence of the persons responsible for the 'tree for every citizen' scheme has blocked this avenue.
As an aside, in some of the documentation I read phrases such as 'in a few years the trees will begin to pay for themselves.'  Is this tree scheme meant to be a source of income for the City?  Am I wrong and no such plan to make money from the Tullos Hill plan exists?  Where is there any consultation on this matter?
I will be pleased to hear that no plans for commercial wood exploitation exist, and will report back to the media and Torry Community Council.  It is serious enough that the consultation was slanted, that the SNH were briefed to favour a cull, and that Torry Community was excluded from what should have been a simple scheme.  But to have some form of commercial enterprise in mind that would forever change Torry certainly cannot be going on behind the scenes, and thank you for confirming this is not the case in advance.
To sum up the history of this whole irregular affair, some person or persons initially said that the tree planting scheme would be completely cost neutral.  Anyone with a rudimentary grasp of finance would have realised that planting over 200 thousand trees would indeed be expensive.
It would also seem that the responsible person or persons will not be putting up their hand and admitting their mistake – and instead are pulling out all the stops so that £2,500 is spent on the cull rather than the more expensive, humane, ethical non-lethal options which most definitely exist.
Someone or other briefed SNH that the non-lethal options would mysteriously not work on Tullos Hill.
Someone or other created a public consultation that was by omission of the cull misleading.
Someone or other decided to ignore protocol and kept Torry Community Council's elected members in the dark.
This same person or persons came up with a scheme to ask the public to come up with a quarter of a million pounds before today.
Someone or other sadly forgot to tell the corporate sponsors that a cull was involved.
Someone or other has a good deal to answer for.
What a pity that person or persons did not think to seek funding for fencing themselves as soon as it became apparent there were cost implications they had not previously recognised.
Ladies and gentlemen, whatever your personal feelings are on deer – although Mr Fletcher has made it plain that they are no different to rats or pigeons – you must acknowledge that in these circumstances you must vote against any cull.
If a vote goes ahead in favour of a cull, please rest assured that every aspect of the tree scheme and any cull will be put under a microscope not just by me, but by established animal welfare organisations and legal minds.
The mechanisms for such actions are, I can promise this Committee, most definitely being readied.  The deer are not overpopulated; other deer will move in, and you will have someone killing these animals for some 5 years.
Perhaps you think the animal instantly drops down dead when shot?  This is hardly the usual case.  In many instances, the terrified, shocked animal will try to wander around in agony as it begins to internally drown in its own blood.
Trackers will be needed to follow the blood stains from the wound or from its breathing out of blood droplets  (sometimes very hard to find) and finish the creature off.  There are various types of hits an animal will sustain, this is not by any means the worst case scenario – some animals if not quickly found die an agonising, slow death that takes days.
On behalf of myself, the thousands of Aberdonians who signed the petitions, do not plant a tree for us if you are having a cull to do so.