Deer cull protestors were shocked to learn on 26 April that 22 deer on Tullos Hill have been slaughtered as a precursor to Aberdeen City Council's controversial tree-planting scheme. A planned protest on Saturday 28 April will still go ahead. With thanks to Suzanne Kelly.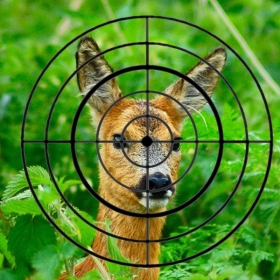 A Freedom of Information Request has revealed that 22 of the 29 deer which roamed Tullos Hill were shot on the orders of Aberdeen City Council.
Despite a 2400-signature petition, over 200 letters of protest and the objections of four local community councils, this cull has taken place.
The council argued that deer had to be slaughtered to advance its
Tree for Every Citizen
scheme, a Liberal Democrat election pledge staunchly supported by Councillor Aileen Malone.
Initially, a small number of deer were going to be killed each year, but the majority of the herd has been wiped out.
Opponents of the cull and the tree scheme included not only large numbers of local citizens and international objectors, but animal welfare organisations.
John Robins of Animal Concern Advice Line has been a very vocal opponent of the scheme and offered the services of consultants, at no cost, to show the city how to plant trees without a cull. The city refused this and other assistance. The SSPCA said when the cull was first announced that it was 'abhorrent and absurd' to kill these deer to protect trees which don't yet exist.
Those who wanted the deer spared cite the following reasons
The consultation on tree-planting made no mention of a deer cull whatsoever, although it did mention rabbit fencing. It did not say that 89,000 trees were going to go on the hill, forever transforming its current meadow ecosystem should they actually grow. The cull was planned in November 2010 and this information was deliberately withheld from the public.
The trees are not likely to take. A government soil report says there is little topsoil and trees would be vulnerable to destruction from winds, which have been recorded gusting at over 90 mph. The hill overlooks the North Sea and salt spray is also likely to inhibit growth.
The previous attempt saw the city leave the trees unprotected from weeds, reportedly a main cause of the trees' failure.
The city did not buy the recommended larger tree guards in a bid to save money, going against government recommendations for planting.
The scheme was, according to Councillor Malone, to be 'cost neutral'. This is not the case. As well as £43,800 returned to the Forestry Commission for the previous failure, a consultant has been paid over £44,000 to date, and over £400 per day has been spent in recent weeks to clear the hill, a former de facto domestic and industrial waste tip, of rubble.
Gorse was cleared in huge quantities from the hill, removing habitat for a variety of birds and small mammals.
Suzanne Kelly, who has been a campaigner against the cull for over a year said,
"There is virtually no-one in this area who wants this scheme. To learn that 22 of 29 deer which roam several different areas in this part of town have been destroyed, despite the stated wishes of the residents, is contrary to the most fundamental principles of democracy,  and it is positively malicious.  We were organising a mock funeral this Saturday at 0930. This will still go ahead. Unfortunately, it is no longer a mock funeral.
"Ms Malone had silenced me and Andy Finlayson from addressing the Housing Committee she chairs; we had both wished to be heard and we represented large groups of people. She used a technicality to prevent open debate then. Ms Malone, I challenge you to a debate now, before the election, in public, at a location and time of your choosing. I will be there. 
"I urge everyone in Aberdeen who loved this hill and its deer, which had roamed for at least 70 years in peace, to think about who you are going to vote for next Thursday. If you support the Liberal Democrats, you are supporting this cull. 
"Finally, please come along on Saturday morning to our funeral protest.  It was initially intended to raise awareness, but now there is a real loss to mourn. These deer have been slaughtered for political vanity. They have not been slaughtered for their own benefit, a ridiculous claim the city seems to think the public will swallow. No-one suggested a cull was needed before the tree scheme came along. At the end of the day, I see this as a tragedy fuelled by ego, greed and money.
"Whatever the election results are, those who sanctioned, approved and carried out this gigantic cull have veritably ended the deer herd on this hill. If they think there will not be a thorough investigation, and considerable public anger, then they are greatly mistaken.
"I decided to run for the City Council in my home area of Torry/Ferryhill largely because of the situation on Tullos Hill. It sadly typifies the city's disregard for the wishes of its people and its existing environment. If I succeed only in throwing a light on how this situation has been handled, then elected or not, I will have accomplished something."
Ms Kelly has compiled a report on Tullos Hill, and together with Labour Councillor Neil Cooney, had been trying to save the hill as a meadowland.
The report can be found here: http://suzannekelly.yolasite.com/