The secretary to Animal Concern Advice Line John F. Robins has written to the Queen on the Tullos Hill deer cull issue.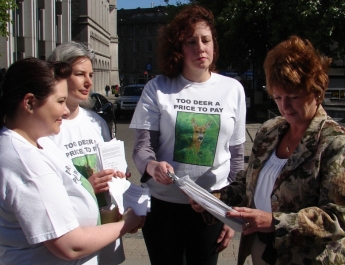 Her Majesty the Queen has been asked to intervene in a row over a controversial cull of roe deer being undertaken by Aberdeen Council.
The deer are being killed to make way for a tree planting operation under the auspices of The Woodland Trust's Jubilee Woods initiative to mark The Queen's Diamond Jubilee and ACC's Tree for Every Citizen project.
Thousands of Aberdonians have signed petitions and written e-mails asking the Council not to kill deer in their names, and it is hoped The Queen, who is Patron of the RSPCA, will not be amused at the thought of the deer being culled in her name.
Aberdeen City Council is killing the deer under advice from Scottish Natural Heritage (SNH). This is the same quango which is putting pressure on landowners, including Her Majesty who owns deer stalking estates in nearby Deeside, to cull large numbers of red deer.
Many estate owners have expressed opposition to what they see as unnecessarily excessive culling targets imposed by SNH, which inherited a policy of mass slaughter of deer when it took over the work of Deer Commission Scotland last year.
John Robins, Secretary of Animal Concern Advice Line states:
"The Queen is Patron of the RSPCA and the owner of large areas of deer forest on her Balmoral and Delnadamph Estates south west of Aberdeen. I sincerely hope Her Majesty will not be pleased to hear that deer are needlessly being killed as part of a project to mark her Diamond Jubilee.
"Aberdeen City Council has refused to listen to thousands of local voters, at least three local community councils, and numerous animal welfare and conservation bodies who are all opposed to the cull. If we can persuade Her Majesty to express concern over this cull perhaps Aberdeen City Council will listen to her."
For further info/comment please contact John Robins on: 01389841111 or 07721605521.
Below is a copy of the letter to Her Majesty.
, 
Sunday, 22 April 2012
The Private Secretary to
Her Majesty The Queen,
Buckingham Palace,
London SW1A 1AA
Dear Sir,
I write to inform Her Majesty the Queen of a controversial project being carried out in Her Majesty's name by Aberdeen City Council (ACC) and The Woodland Trust (WT).
The project in question is planting of trees on Tullos Hill, Aberdeen under the auspices of the WT Jubilee Woods initiative and the ACC Tree for Every Citizen project.
On the advice of Scottish Natural Heritage (SNH) and Forestry Commission Scotland (FCS), ACC are embarking on a long-term culling operation to stop any potential damage to saplings by the roe deer herd which has been established on Tullos Hill for at least 80 years. I am quite sure that Her Majesty and the managers of Her Majesty's Scottish Estates are fully aware of the controversial and, according to many, unsound nature of the vehement deer culling policy being aggressively promoted by SNH and FCS throughout Scotland.
Much of Tullos Hill is old landfill covered with a thin layer of topsoil. Gases from the buried waste are vented off at the site. Tullos Hill is exposed to the full force of North Sea gales. A previous tree planting operation on the Hill failed for reasons other than deer browsing and, given the nature of the site, it is highly unlikely that, even if there were no deer in the area, any number of trees would survive to maturity.
ACC have refused to employ deer deterrence equipment such as tree protectors and deer fencing to minimise or eliminate deer related tree damage. ACC have also ignored the widespread local opposition to the deer cull. Thousands of people have protested to the Council through petitions, e-mails and letters.
Three local Community Councils have written an open letter to ACC asking for the deer cull to be stopped. Many animal welfare organisations, including the SSPCA and at least one woodland conservation charity, also wrote to ACC condemning the cull.
Tullos Hill has naturally regenerated into a valuable wild flower meadow and in its current state is an important wildlife habitat and community resource for those living nearby.
As these deer are being needlessly culled in a project to celebrate the Diamond Jubilee of Her Majesty, we ask her Majesty, both as Monarch and as Patron of the Royal Society for the Prevention of Cruelty to Animals, to intervene and make it known to Aberdeen City Council that they should not be killing the roe deer on Tullos Hill in the name of Her Majesty The Queen.
Yours faithfully,
John F. Robins,
Secretary to Animal Concern Advice Line.