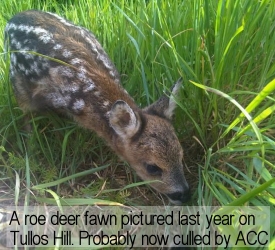 With thanks to
 Suzanne Kelly.
A candidate in the Torry/Ferryhill area of the city for City Councillor, has hit out at Aberdeen City Council for the slaughter of 22 Roe deer on Tullos Hill.
Suzanne Kelly  has been researching, reporting on and campaigning against the 'Tree For Every Citizen' scheme (a LibDem election pledge) for over a year.
Kelly says:
"The Council are hiding behind new legislation and insisting the deer were overpopulated and had to be culled.  This is a nonsense.  Firstly, the roe deer have lived on Tullos Hill in stable numbers for over 70 years .  Some of those who joined us at the Mock Funeral yesterday grew up with the deer, and are well aware that deer move from area to area.  I want to set the record straight:  there was absolutely no need to try and turn this meadow into a giant forest.  It is the city's idea to do this against the written wishes of three of its community councils representing tens of thousands of people.
"The idea that this council is so keen to enforce any laws is laughable to people who live here.  We have had overcrowded classes, cuts in services to people with special abilities without proper consultation, higher than EU limit air pollution (Wellington Road), and years of men and women working for the council without equal pay.  A new law, open to interpretation, is no excuse for this long-planned determination of the city to destroy these deer.
The SNH and the City were planning as long ago as November 2010 as to how the public should be 'managed' over the cull.
"An initial public consultation for the tree scheme said that rabbit fencing would keep rabbits out.  This consultation was live when – as I proved – the cull had already been planned.  The city did not tell its citizens the trees would be at the expense of the deer, even though they knew it.  
"They knew full  well the scheme would have not passed an honest consultation.  They also never said a massive 89,000 trees would be put on this hill.  People are justly outraged.  The city now feebly claim that 'the consultation was not about the method' of the tree-planting.  Explaining that rabbit fencing would be needed is obviously to do with method.  In fact, the SNH and the City were planning as long ago as November 2010 as to how the public should be 'managed' over the cull.  This is not democracy:  this is scheming.
"The Scottish SPCA said it was 'abhorrent and absurd' to kill deer to protect trees that don't even exist yet.  The Scottish SPCA is very vigilant and effective in my area:  if the deer had been suffering or starving, they would have ordered a cull long ago.  Other animal welfare groups likewise think the deer were fine as they were.  As far as we can tell, there has never been a cull on this hill.  That is because these animals lived in sustainable numbers, and lived only 6-7 years.
"I was not surprised that the police decided to attend our peaceful funeral protest.  However, when they showed up at the Aberdeen branch of Lush where I was to speak later, I was somewhat bemused.
"We tried proving that the soil is scant (there is a Government soil report proving this and showing trees would be likely to topple in the rocky ground).  We tried showing that the public didn't want this cull or a giant forest.  Since reason, democracy and public opinion didn't work, we were forced to stage this funeral.
"It was a blow to all of the campaigners when we found out the funeral was not going to be the mock event it should have been.  It is now clear the city was given permission to shoot outside of the normal deer hunting season, and have been destroying these deer since February.
"John Robins of Animal Concern Advice Line, Deb from Lush Aberdeen, and Fred Wilkinson of Aberdeen Voice are three of the people who have helped bring this situation to light and help fight it.   They have the thanks of all the campaigners – who themselves have been amazing.
"Councillor Neil Cooney and I have been trying to promote the idea of keeping the hill as a meadow – we have no idea how much public money has been wasted so far on the trees.  The first batch didn't take – due largely to weeds – and this cost the public £43,800.  The 'expert' who claims the deer must go has a vested interest:  they have been paid £44,000 so far that I know of.  Expensive deer fencing has been installed.   This is in a city with a massive budget deficit.  The whole thing is a disgrace, a farce, and an environmental disaster.
"On my way back down the hill after the protest, I passed huge swathes of land which had been cleared of gorse (home for birds as well as deer).  I remembered seeing in January a deer leap out of a gorse thicket.  The gorse thicket has been destroyed now – and I guess that deer has been shot.    People who live nearby tell me they fed deer by hand on occasion.  What an unnecessary, violent waste."
Further information: