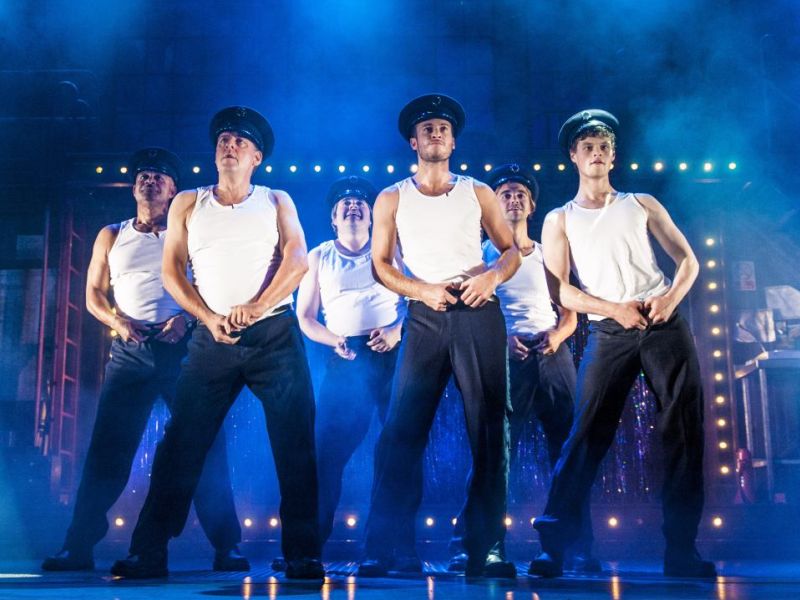 The Full Monty at HMT. A review by Duncan Harley.
It was clearly only a matter of time before this tale of missing trousers came to the Aberdeen stage.
Is it a mere tribute to the film, or is the stage production of Simon Beaufoy's award-winning screenplay breaking new ground?
The story explores the issues faced by a group of laid-off steelworkers. The steel mill has closed and the de-skilled men have been chucked on the scrap heap.
The government of the day has little to offer other than the so called Job Club. Impotence, poverty and despair are central themes.
Even suicide by hanging is an option, and in a slapstick but shocking scene the audience are forced to make a decision as to whether to laugh or cry!
Of course it's all metaphorical. The shedding of clothes in the Chippendale scenes reflects the claiming back of dignity and the casting off of the impotence of mass unemployment. The hanging scene where Bobby Schofield's Lomper is first rescued, then abandoned, before being taken into the fold reflects on issues to do with the uncertainties of celibacy.
The spectre of a female peeing up against a wall not only challenges gender beliefs, but also further emasculates the jobless men. She has a role to play and they don't.
At points the lampooning of Thatcherite Britain resembles a Donald McGill seaside postcard and there were cracks. Kate Wood's Linda was a case in point. Despite her best efforts, the characterisation appeared slightly wooden, and the dialogue disappointingly sparse. Kate's high spirited Bee and Annie more than made up for this.
In the big scheme of things however this is a superb production. Beside the political moralising the entertainment value shines through. With feelgood galore, plus one of the funniest hanging scenes ever performed on an Aberdeen stage, this hilarious tale of willy waggling in the industrial heartland of England had the audience in stitches from start to finish.
Directed by Roger Haines – Cabaret, Godspell and Driving Miss Daisy – and with choreography by Ian West – The Dog Ate My Homework and The Blues Brothers – this is writer Simon Beaufoy's first foray into writing for the stage, and he freely admits having to learn a whole new set of skills to make his original screenplay work in a theatrical space.
Of particular note was Brook Exley as Nathan. I have to date yet to see another young lead deliver so many lines so faultlessly.
With a stage set worthy of Fritz Lang's Metropolis and pounding numbers such as Hot Chocolate's 'You Sexy Thing' and the Tom Jones classic 'You Can Leave Your Hat On' you'll get good entertainment value from The Full Monty.
The Full Monty plays at HM Theatre Aberdeen until Saturday 4th April.
Tickets from Aberdeen Performing Arts Tel: 01224- 641122
Words © Duncan Harley, Images © Matt Crocket