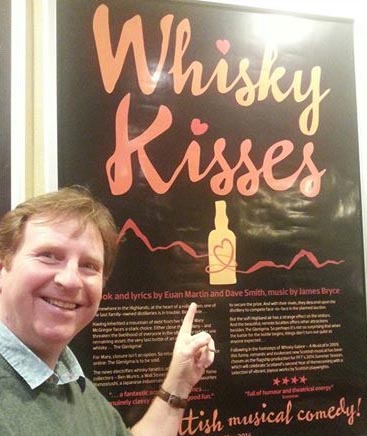 Whisky Kisses – A musical Glenigma which has matured nicely. Reviewed by Duncan Harley.
When the Scottish musical comedy Whisky Kisses came to Aberdeen's Lemon Tree in 2010 it shone out as a production full of humour, energy and in the end some romance.
Described as a musical Glenigma and a battle for the bottle it came across to the Aberdonian audiences as a thoroughly enjoyable and truly Scottish musical starring amongst others Masashi Fujimoto of Mr Banzai fame.
The creators – Euan Martin, Dave Smith and Edinburgh based composer James Bryce all have a strong artistic connection with the Granite City and many Aberdonians were hard pressed to find a ticket for the first run.
Now chosen by those who know best in Scottish Arts such as Sir Cameron McIntosh's Highland Quest, Whisky Kisses has been selected as the flagship show in Pitlochry Festival Theatre's Summer Season for 2014.
Whisky Kisses is a hilarious musical show about a rare and ancient single malt whisky called The Glenigma and only one bottle of the golden nectar remains in the entire world.
The bidding race is on to decide who in the world will own it. A battle for the 100 year old bottle set in a beautiful remote highland distillery is on course. What could possibly go right?
Featuring Ben's gay secretary Jeff plus Duncan and Lachie the two loyal distillery workers and a Mr Yomo of Japan the production is an absolute hoot from start to finish.
As with all Rightlines Productions however, there is a deeper message which in the case of Whisky Kisses is the question of how to live with heritage, how to share it, and how to enjoy it; while also knowing when to let it go, and to stop living in the past.
With hits such as "The Accidental Death of an Accordionist" and "Watching Bluebottles" the Rightlines team are on a winning ticket with this new production of "Whisky Kisses" and four years on from the original run, Whisky Kisses – like all good malts – has matured nicely.
Tickets are available from the box office at boxoffice@PitlochryFestivalTheatre.com and the 40 night run starts on May 23rd 2014.
Comments enabled – see comments box below. Note, all comments will be moderated.