By Suzanne Kelly.
February 4, 2014 – BrewDog launches the world's first protest beer – 'Hello My Name is Vladimir'.  Within 24 hours the flagship Aberdeen bar had completely sold out of its stock of 'Vladimir' both bottled and draft beer. 

"Hello My Name is Vladimir mocks Putin's discriminatory legislation ahead of the Winter Olympics in Sochi"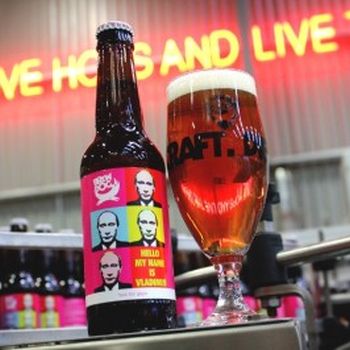 Scottish craft brewery, BrewDog has today launched Hello My Name is Vladimir, a craft beer apparently 'not for gays' that carries an image of the Russian premier wearing make up on the label.
The ale is the world's first 'protest beer', aiming to support LGBT communities by undermining the potential of the Winter Olympics to deflect attention from Russia's recent law banning 'homosexual propaganda'.
50 per cent of profits from the sale of Hello My Name is Vladimir will be donated directly to charities that represent oppressed minorities around the world.
 BrewDog has also sent a case of the limited edition beer to President Putin himself.
Hello My Name is Vladimir is a 8.2% ABV double IPA containing Limonnik berries, an ingredient regarded by some Russian hunters to enhance sexual performance in men.
As well as claiming the beer is 'not for gays', the label carries a garish Warhol-style image of Putin wearing eye shadow and lipstick and suggests the beer 'may contain traces of sarcasm'.
The Putin-inspired double IPA is the latest in a long line of BrewDog beers making an impact during major events. In 2012, the brewer launched Never Mind the Anabolics, a beer laced with steroids, mocking Heineken's sponsorship of the Olympic Games in London, whilst in 2011 BrewDog's Royal Virility Performance beer was laced with herbal Viagra to mark the Royal Wedding and 'take the wheels off the bandwagon' being ridden by breweries manufacturing saccharine celebratory beers.
Hello My Name is Vladimir will be available for £2.89 per bottle in all BrewDog bars and brewdog.com from 4th February 2014.
BrewDog is trying to mount global social media pressure on Putin using the dedicated hashtag #NotForGays
James Watt, BrewDog co-founder commented: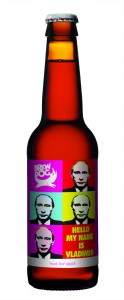 "We sincerely hope that when Vladimir Putin is tired from a busy day riding horses with his top off, grappling with burly men on the Judo mat or fishing in his Speedos, he reclines on a velvet chaise longue and has one of his handsome helpers wet his whistle with a glass of Hello My Name is Vladimir."
"As Hello My Name is Vladimir is clearly marked 'not for gays' we should bypass the legislation introduced by Putin outlawing supposed 'homosexual propaganda', so Vlad shouldn't have an issue with it.
"He might even invite us to ride bareback with him in the Siberian mountains."
"It's been our mission at BrewDog to upend the status quo in whatever form it occurs.
"Whether it's the stranglehold the mega brewers have had on beer production in Europe over the last 50 years, or in the case of Russia, the sick legislation that discriminates against millions of its citizens.
"Our core beliefs of freedom, integrity and passion drive all our actions. Since we started in 2007, we've always striven to strike fear at the heart of the gatekeepers and establishment, the launch of Hello My Name is Vladimir is simply a continuation of that tradition."
 Comments enabled – see comments box below. Note, all comments will be moderated.